Well, folks. It's over. After almost 7 years of weirdness, Kim Kardashian announced in February 2021 that she was putting the kabbash on her marriage to Kanye West. Although they're getting divorced, their relationship will continue to be talked about for years to come. That's just how it goes. There's nothing else going on in this world. In honor of this occasion, let's take a trip down memory lane and look at a few other celebrity ex-couples who made a huge splash in happier times.
1. Gwyneth Paltrow and Chris Martin
The actress and lead singer of Coldplay got married in December 2003, in a quiet ceremony. After 10 years, Paltrow proclaimed a "conscious uncoupling," which is just weirdo speak for "we're getting divorced, but still get along a-okay." Their marriage would produce a daughter (Apple) and a son (Moses). We will be left to wonder for all eternity what a third child would have been named. Our hunch is Tupperware™. 
2. Katie Holmes and Tom Cruise
The most memorable thing about the marriage between Holmes and Cruise was the notorious way in which Tom announced it: by appearing on Oprah and jumping up and down on her couch like a mad man as he professed his love (for Holmes, not Oprah. Although that would have been interesting). Things were okay for a while, but it sounds like Scientology got in the way of their marriage. Holmes filed for divorce in 2012 after 6 years. 
3. Miley Cyrus and Liam Hemsworth
The couple began dating in 2009 and it was one of those off-and-on relationships until they finally decided to tie the knot in 2018. But after a mere 7 months, apparently understanding why things had been so unstable through the years, they were donezo. Cyrus went on to date singer/actor Cody Simpson, but that was short-lived as well. 
4. Melanie Griffith and Antonio Banderas
Unlike the other celebrity couples on this list, this one lasted more than just a few years. Try two decades; married in 1995 at the peak of their careers, they remained together until 2015. Together they had a daughter — Stella del Carmen Banderas. Griffith has a tattoo of Banderas' name on her arm, and her daughter Dakota Johnson has referred to Banderas as a "bonus dad." 
5. Ryan Reynolds and Scarlett Johansson
Reynolds and Johansson were married from 2008 to 2010. Johansson went on to marry a French owner of an advertisement agency, and when that didn't work out, Saturday Night Live co-head writer and Weekend Update co-host Colin Jost, whom she married in October 2020. Reynolds, on the other hand, won the Blake Lively Sweepstakes.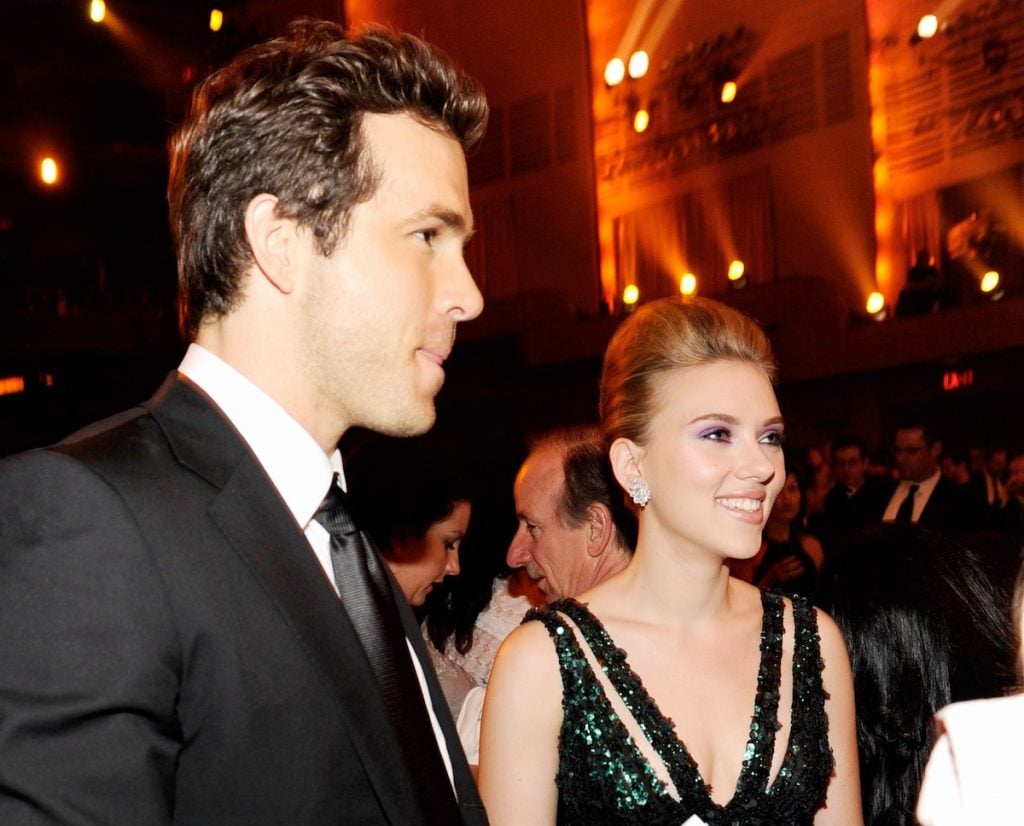 6. Jennifer Garner and Ben Affleck
After appearing together in 2001's Pearl Harbor and 2003's Daredevil, the romance between Garner and Affleck blossomed, culminating in their 2005 marriage. Sadly, it wasn't meant to be. In 2015 they announced their intention to divorce, and it became final in 2018. However, post-relationship Garner continues to provide emotional support for Affleck as he deals with his alcohol problems. 
7. Justin Timberlake and Britney Spears
Two of the biggest pop singers on the planet and alumni of The All New Mickey Mouse Club, they seemed like the right fit at the time. But things got pretty messy, with Timberlake penning "Cry My a River" as a revenge song and boasting in an interview about taking Britney's virginity. He recently apologized for all the horrible things he said. It only took 15 years. 
8. Brad Pitt and Angelia Jolie
They met on the set of Mr. & Mrs. Smith when Pitt was still married to Jennifer Aniston, and in short order Aniston filed for divorce and Brangelina was born. Although an item beginning in 2005, they didn't formally make it official until 2014. In 2019, Pitt reportedly got drunk during a private flight and it led to some altercation with one of his children. That was apparently enough for Jolie to call it quits. 
9. Miranda Kerr and Orlando Bloom
From 2010 until 2013, the Australian supermodel was married to the Lord of the Rings elf. The couple had one child together —  Flynn Christopher Blanchard Copeland Bloom. That's a lot of names to remember! Although the marriage is but a memory, but all turned out fine for the both of 'em. Kerr would go on to marry Evan Spiegel, the billionaire founder of Snapchat while Bloom recently had a child with fiancée Katy Perry. 
10. Justin Bieber and Selena Gomez
Of all the off-and-on-and-off-and-on relationships, this is the off-and-on-and-off-and-onest of them all. The pop singers dated sporadically from 2010 until 2018, often sharing their drama with the world through lyrics in their songs. Their relationship evidently came to an end "forever" when Bieber married Haley Baldwin. But as this article demonstrates, there are no guarantees in life or love.