Think you need a gigantic mansion to be truly happy? Think twice, because these tiny houses will turn your world upside down. People are starting to realize that less is more and you don't need to own a castle to live a happy life. On the contrary, the more mobile you are the better! Life on the go is not for everyone, that is true, but you can still live in a small house in the midst of the forest, in a tree, or near the ocean, and be the happiest person on Earth. With cities getting overcrowded with pricey accommodations that aren't getting any cheaper, wouldn't you like to have a little dream home of you own? Here are 15 tiny houses that look amazing. Check'em out!
Eco Bike Trailer
Originally designed to travel around the Burning Man Festival, this small house can accommodate only one. And there's no restroom, so you'll have to use whatever you can find outdoors. Yet Paul Etkins designed it to be powered by a wind turbine. There's also a solar-powered oven if you'd like to cook something.

Rollit Homes
Ever wondered what it's like to feel like a hamster in a wheel? Now you can! German students from the University of Karlsruhe came up with a fun and interactive home design. You can change the way it looks by walking in the center of the structure. It will rotate and reveal new sections of the house. This is pretty genius!

Toronto's Little House
This might not be the smallest house in the world. Tucked between its normal-sized neighbors, this small structure is gaining more and more attention these days. Even Ellen DeGeneres has expressed interest in buying this tiny house!


The 330-square-foot Apartment in Hong Kong
One of the perks of being an architect is knowing how to build things and, more importantly, how to transform them. Gary Chang installed a number of panels (okay, a lot of panels) into his small apartment and turned it into a real-life constructor. There are 24 room combinations that can be created in this home – with bathrooms, kitchens, living rooms and what not. Gary Chang called his home the 'Domestic Transformer'.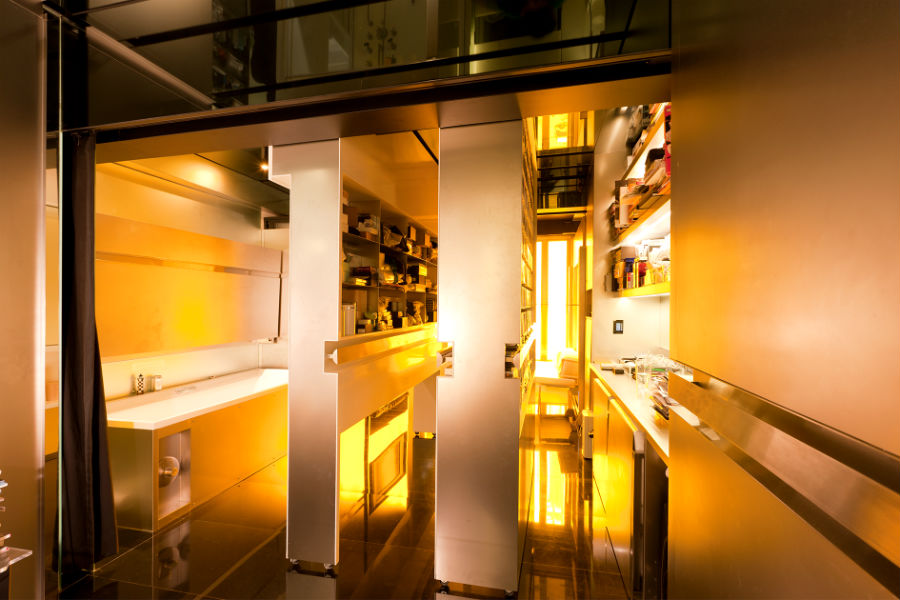 Micro Compact Home
Can you imagine living in a 2.6-meter cube? Well, somehow Micro Compact Homes make it possible to live inside a space that's about as big as your average closet. Inside you'll find a dining space, a foyer, a bathroom, a double bed and a kitchen. Seriously, this home is a miracle.

The Quay House
The smallest house in Great Britain is located in a small town of Conwy in Whales. Formerly occupied by a pretty tall fisherman, this tiny house measures only 10 feet by 6 feet. Now it attracts hundreds of tourists who are eager to see the tiniest home in Britain.


Twelve Cubed Mini Home
The designers at Twelve Cubed have come up with something really fun and efficient. They wanted to create a sustainable design with a bathroom, closet, dishwasher, a microwave oven, and plenty of natural light. This house is tiny, cute and has everything you might need inside.

Villa Hermina
This Pepto-colored little weirdo on a hill is a masterpiece created by Czech architects. Although it looks like a small box (with a slant, might we add), inside it is incredibly designed and even has a movie theater with raked seating as per client's request.

A Solar-Powered House in Spain
The idea here was to get as much solar energy as possible, which is a great concept in and around the sunny Madrid area. It's thermally efficient, low-cost; a compact structure with a shaded outdoor space. It's ideal for the hot weather in Spain!


The Ovoid-shaped House in Antwerp
Made with polyester, this house has a grid-like storage system that works like shelves for things, clothes and even furniture. Inside you'll find a shower, plus there's a lot of natural lighting. This nano house looks almost perfect!

Nano House
Nano House is the answer to the global housing crises that's been getting worse over the past few years. This 25 square-meter home can accommodate a family of four and has all the necessary amenities inside. There's solar heating and convertible rooms inside.

ONE+ Houses in Sweden
Designed by the Danish architect Lars Frank Nielsen, these mini houses are being mass produced in Sweden. It's a modular design that can easily be expanded by adding an extra unit. These One+ houses can be put anywhere and they are delivered in one piece. This is Scandinavian quality we are talking about!


XS-House
The Extra Small House is exactly what it is – really small, just 7 ft. by 10 ft. This efficient construction has everything one person might need inside a house – a shower, a kitchen, a bedroom (or rather a bed), plenty of lighting, microwave oven and a table to sit by. This is an ideal solution for living alone, yet the house is too small for couples and families. The house was designed by Jay Shafer, founder of Tumbleweed.

weeHouse
Alchemy Architects built this tiny house literally in the middle of nowhere for a violinist with the Minnesota Orchestra. She and her family really enjoy living off the grid, and that is exactly what this house offers. This little cutie cost $60,000 to build and has all the necessary amenities inside.

Single Hauz
Can you imagine a house that was inspired by the look of roadside billboards? Well, here's one. Despite its weird look Single Hauz can be built into any space, even as a raised house over a body of water! Polish designers from Front Architects wanted to create an independent single house that's ideal for the Western Man.