It's been almost nine years since the first Hunger Games movie was released on March 23, 2012. Over these past nine years, its actors have starred in many other incredible projects and even managed to arrange their personal lives. So let's see where the cast of the Hunger Games is now!
1. Willow Shields (Primrose Everdeen)
You may remember Willow as Katniss's younger sister. Shields played the main character in the 2020 sports drama Spinning Out, which, unfortunately, got canceled after the first season. Aside from that, Willow is also the youngest member of Dancing with the Stars, where she appeared in season 20.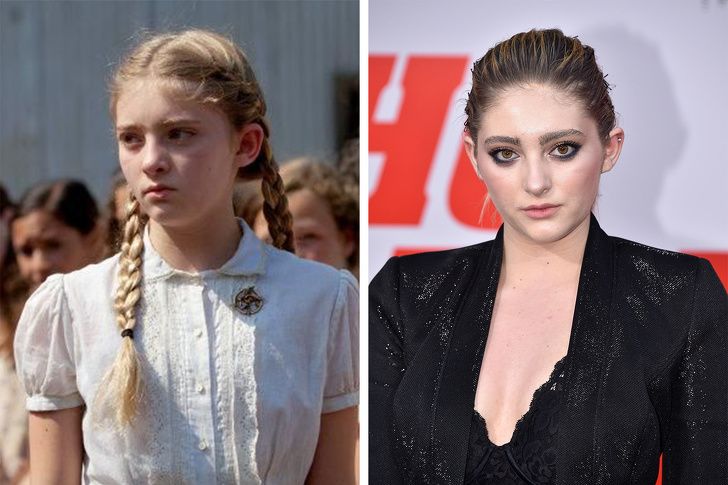 2. Elizabeth Banks (Effie Trinket)
After her stellar performance in the Hunger Games, Banks focused more on directing and producing. Unfortunately, she appeared in the controversial Charlie's Angels reboot, along with Kristen Stewart and Naomi Scott. That was a bad decision.
3. Toby Jones (Claudius Templesmith)
Claudius was the announcer at the Hunger Games and shoutcast about what was happening in the arena. He's best known to the Marvel fans as Arnim Zola — a Nazi scientist from the Captain America movies, who may or may not be still alive out there. Toby also played the greedy auctioneer, Mr. Eversoil, who tried to make a fortune selling live dinosaurs in Jurassic World II.
4. Amandla Stenberg (Rue)
It's been a smooth ride for Amandla, when it comes to her career — lots of great movie roles and all that. But her personal life was much bumpier. When she was 18, she identified herself as non-binary and came out as bisexual. Sometime later, she changed to pansexual and finally realized she was gay. That must have been a very nerve-racking journey for the young actress.
5. Josh Hutcherson (Peeta Mellark)
In the Hunger Games, Peeta had a crush on Katniss since they were kids, and eventually, they got together and even had a couple of kids. In the real world, however, Josh Hutcherson is happily married to Claudia Traisac. Aside from the Hunger Games, he's been recently a star in his show, a sci-fi comedy series Future Man.
6. Woody Harrelson (Haymitch Abernathy)
Woody played Haymitch, Peeta and Katniss's mentor, who won the Hunger Games before. After the Hunger Games, Harrelson did only one good movie — Zombieland 2, where he played a badass zombie slayer. I can't wait to see him as Carnage in the next Venom movie!
7. Lenny Kravitz (Cinna)
Lenny Kravitz played the stylist who designed all the beautiful costumes for Katniss. He's usually more of a singer, but sometimes he gets offers for movie roles or TV shows. The 56-year-old artist released a fresh new studio album in 2018, but that's pretty much it. He's probably working on a new single or something.
8. Liam Hemsworth (Gale Hawthorne)
Out of all the Hemsworth brothers, Chris and Liam are the most popular actors. In Liam's most recent big hit, Isn't It Romantic, he shared the screen with the famous and talented actress Priyanka Chopra. In December 2018, the actor finally married Miley Cyrus, after many ups and downs over the years, only to get divorced a year later.
9. Jennifer Lawrence (Katniss Everdeen)
After playing Katniss, Jennifer joined another big and very promising franchise — X-Men. This was a reboot-slash-prequel-slash-retcon where she was playing the shapeshifting mutant Mystique. Soon after, we found out that Jennifer got married to Cooke Maroney, and they're still living happily together.