What's not to love about horror comedies? These spooktacular films are so perfect for fall that you can even watch them with your kids or younger siblings. You still shouldn't, but you can. From gory monster flicks with a knack for punchlines to hordes of undead zombies with a sense of humor, this list has it all!
So grab your pumpkin spice-flavored popcorn and prepare for a side-splitting, spine-tingling Halloween movie night. Here are the best horror comedies from the past 20 years!
1. Shaun of the Dead (2004)
Saun lives a boring life, doing his daily routine, playing video games with a friend, and feeling sad about breaking up with his girlfriend. This continues until the zombie apocalypse suddenly hits London. Now, Shaun and his best friend must use every tool and trick up their sleeves to protect their loved ones in the most unexpectedly hilarious ways. And you know the movie is going to be fire when Edgar Wright is the director.
2. Zombieland (2009)
A Columbia College student is on his way home to visit family. At this time, most of the country had already turned into bloodthirsty zombies. Along the way, he meets survivors of the apocalypse, and they all decide to go to the amusement park, hoping that the zombies won't get them there.
3. Tucker and Dale vs. Evil (2010)
Two loveable redneck boys, Dale and Tucker, come to their lake house in Appalachia for the weekend, but their fun is cut short by a group of paranoid students who came to party nearby. They've watched too many horror flicks and are afraid that the two dudes will skin them alive, only to get killed by their own stupidity.
4. The Cabin in the Woods (2012)
The plot is similar to the classic horror comedy The Evil Dead, where a group of students rent a cabin in the woods to spend the weekend. In the basement, they find an ancient book with freaky spells. They summon hordes of monsters, who begin hunting the poor victims. The plot progresses like an actual thriller until one of the best movie twists in the history of cinema comes into play, changing the entire narrative.
5. This is the End (2013)
A gaggle of comedians (Seth Rogen, Jonah Hill, Craig Robinson) went to a huge party at James Franco's Hollywood home and got caught up in the literal Rupture—the end of the world. Blue light from the sky zaps the citizens, and a hellish fissure appears near Franco's house, where a giant Biblical monster appears. All the actors in the movie play themselves, but some of the most unexpected cameos include Rihanna, Emma Watson, and the heavenly Backstreet Boys.
6. What We Do in the Shadows (2014)
What We Do in the Shadows is a mockumentary directed by Taika Waititi about three vampires who rent a house together. The vampires from the movie are more than three centuries old; they try to live the ordinary life in Wellington, meet people, have affairs, and look for fresh victims to feast on their blood. Nothing ever goes as planned, which makes it such an enjoyable dumpster fire to watch.
7. Happy Death Day (2017)
In this dark comedy, where Scream meets Groundhog Day, our main character is a birthday girl who gets killed over and over in an endless time loop and has to figure out how to stop her assailant. Who is this guy in a funny baby mask, and does it keep happening?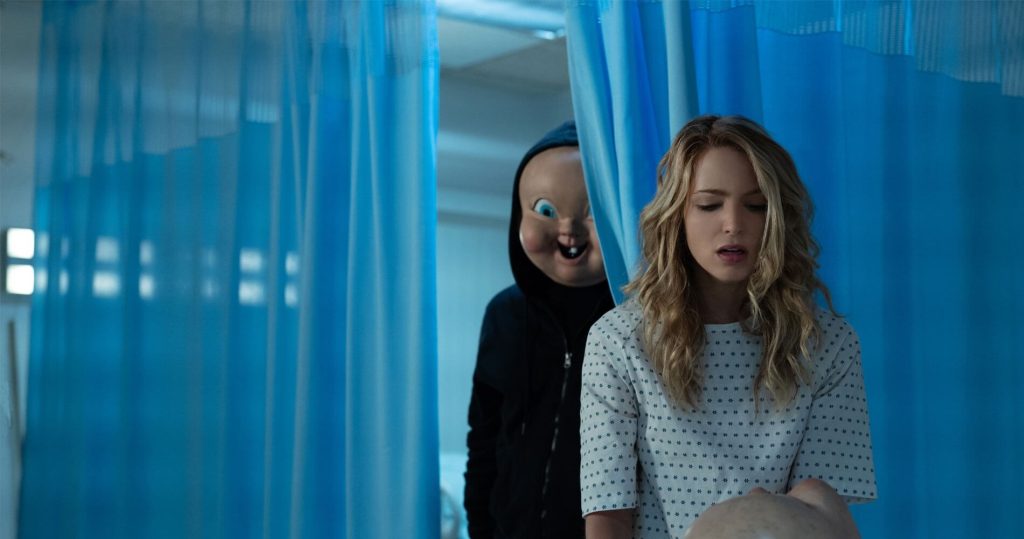 8. Freaky (2020)
A particularly dangerous psychopath named the Butcher escapes from a mental hospital for deranged criminals to hunt his next teenage victim. The fun part begins when he switches bodies with a hot high school student, and now the serial killer will have to go to school while the girl in his old body is doomed to get hunted by the police.
9. Willy's Wonderland (2020)
You know it's a banger horror flick when it has cursed animatronics and Nick Cage. The story is quite simple: a guy gets to work as a security guard in an old abandoned fun house, where animatronic dolls suddenly come to life to kill people, and now he has to survive the night. You may as well add Willy's Wonderland to your list instead of watching the new but boring Five Nights at Freddy's.
10. Renfield (2023)
And at the very top of the list, we have yet another gem featuring Nick Cage – Renfield. This 2023 movie is about the faithful servant of Count Dracula, who hunts people in New Orleans to bring them to his master. Renfield joins a therapy group where he finds victims for Dracula, but soon realizes that he himself is in a toxic relationship with the eldritch vampire and decides to get rid of him. Accidentally saving a policewoman from death, Renfield finds a new meaning in life.