Almost ten years ago, we got to witness the start of a huge franchise — "The Game of Thrones." Millions of people tuned in and instantly loved the premiere. The best part about the earlier season was that we never knew who would kick the bucket. Naturally, if it weren't for the talented actors, none of this would have mattered. Let's take a peek at how the actors have changed since they appeared on Game of Thrones.
1. Richard Madden
Robb Stark survived for so long on the show we actually thought he'd at least be the King in the North, but alas. Richard was even nominated for a Screen Actors Guild Award for Best Performance in 2012 and 2014. His next big role will be in Marvel's Eternals later this year.
2. Jason Momoa
Khal Drogo was one of the most epic and brutal characters on GoT. Remember that scene with the gold crown? Now that's a ruthless ruler. Nowadays, he's primarily riding the coattails of Snyder's Justice League as well as his solo Aquaman movie.
3. Iain Glen
Iain, of course, played Jorah Mormont, a loyal subject of Queen Daenerys and the king of the friendzone. These days, he's popping up here and there, but nothing too fancy.
4. Jack Gleeson
Ever since Jack drank that poisoned cool-aid in the series, he has not been seen on the screen up until 2020. In fact, he admitted he was ready to sack his acting career then and there. But thankfully, something changed, and the now-28-year-old Jack appeared in the comedy series "Out of Her Mind."
5. Charles Dance
Tywin Lannister was not a likable character, but he was still relatable in many aspects. Charles Dance, on the other hand, is so easy to love! Just take any one of his works, and you're already in awe.
6. Kristofer Hivju
Before portraying Tornmund, one of the leaders of the wildlings, the Norwegian actor Christopher Hivju starred in films that no one outside Norway even saw. Sadly with the newfound fame, nothing has really changed.
7. Hafthor Björnsson
Gregor Clegane was the first big role for the Icelander Haftor Bjornsson but hopefully not the last one. Outside of acting, he is a famous powerlifter with the "Strongest Man on the Planet" title on his hands.
8. Natalie Dormer
The lovely Margaery Tyrell, played by Natalie, left the story too soon. I was really rooting for her, but unfortunately, you can't outrun the wildfire. Her latest role was on Penny Dreadful: City of Angels, where she played multiple people. Let's just leave it at that.
9. Sean Bean
Boromir from LotR, Odysseus from Troy, and of course, Eddard Stark — say what you want about Sean Bean, but that man can act (and die on-screen spectacularly). And if it wasn't for Eddard, who'd tell us that winter was coming?
10. Ross Mullan
I bet you don't remember seeing Ross in GoT, and that's because he was covered in makeup head to toe. That's right, he played the spooky White Walker!
11. Rose Leslie
Before she got the role of Jon Snow's wildling lover Ygritte, Rose Leslie starred in "Downtown Abbey." And look at her now: married to Kit Harrington in real life, and recently had a baby! Maybe it's time to focus on the family for a while.
12. Hannah Murray
The resourceful wildling Gilly was not Hanna's first acting gig, far from it. You've seen her before on Skins, and God Help the Girl, where, in both cases, she played a character named Cassie. Weird, huh?
13. Isaac Hempstead-Wright
Here he is, the one and only Bran Stark — a young boy who discovered supernatural powers after witnessing a gruesome scene. You know which one. He couldn't take it and jumped off the tower. After claiming the Iron Throne, Isaac is getting ready to steal a rare post stamp in the heist movie — The Blue Mauritius.
14. Sophie Turner
The passionate Sansa Stark, who became the Queen in the North, was not going to stop at just that. X-Men: Apocalypse and X-Men: Dark Phoenix were supposed to be Sophie's best work, but instead, we got some mediocre mutant action.
15. Maisie Williams
Arya Stark became a killing machine after watching her father's head bounce off the executioner's axe. But in real life, Williams is nothing like Arya. Instead of slaying undead enemies, she prefers dancing, gymnastics, and jumping on a trampoline.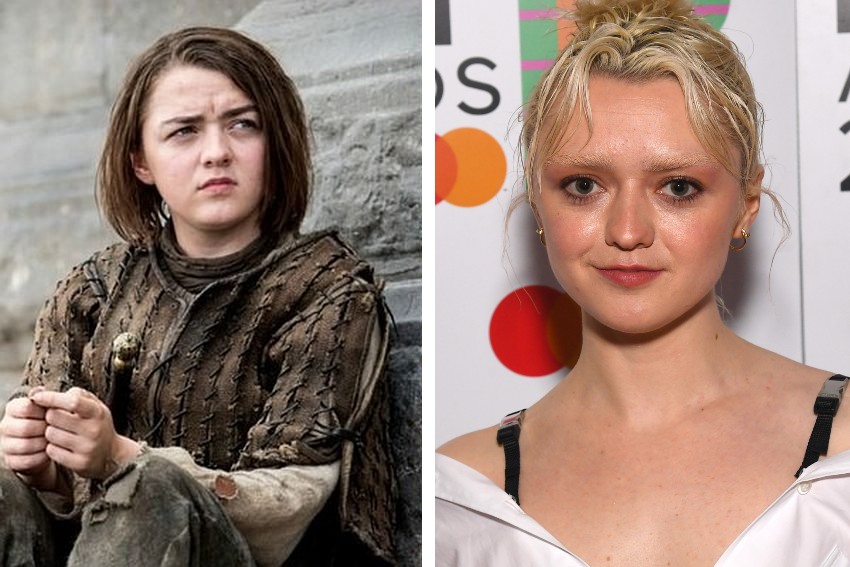 16. Alfie Allen
In addition to Alfie's phenomenal performance as Theon Greyjoy in GoT, you probably also remember him from John Wick or the most recent Predator movies. Nothing too crazy in the nearest future, but we'd love to see more of him!
17. Kit Harington
Playing Jon Snow was what made Kit famous almost instantly. But he did not stop at one project. Harington expanded his filmography with Silent Hill 2, Seventh Son, How to Train Your Dragon, and the upcoming Marvel's Eternals.
18. Lena Headey
Lena Headey's Cersei was one of the most iconic movie villains of the XXI century. Despite being busy filming GoT, she found time for other projects like Fighting With My Family, 300, Wizards, and many more.
19. Nikolaj Coster-Waldau
Nikolaj played Jaime Lannister, a one-handed sister-lover with a potentially amazing character that was mercilessly squandered by the writers in season 8. His last movie, the Silencing, was pretty entertaining, so go watch it.
20. Peter Dinklage
You, of course, remember Tyrion Lannister, Cersei and Jaime's brother, famous for his love for wine and women. In real life, Peter is a real gentleman and a first-class actor who will appear in the new Toxic Avenger and Cyrano, both of which should be huge hits.
21. Rory McCann
Scottish actor Rory McCann played Joffrey's bodyguard Sandor Clegane, nicknamed the Hound. In addition to Game of Thrones, McCann starred in Jumanji 2, xXx: Return of Xander Cage, and the new Netflix series — the Irregulars.
22. Aidan Gillen
Peter Baelish, aka Littlefinger, was one of the most memorable GoT characters. Such a cunning and mischievous mastermind could never go unnoticed, especially when portrayed by someone like Gillen. In addition to Game of Thrones, you might have seen Aidan in such movies as The Dark Knight, The Maze Runner, and the newest one — Those Who Wish Me Dead.
23. Conleth Hill
Hill, who played Varis, the chief of the royal spies, devotes more time to theater than movies. But even despite that, his filmography is huge! Over 60 acting credits in 30 years is not a small feat.
24. Emilia Clarke
Did you know that the role of Daenerys Targaryen turned Emilia into a feminist? That's the power of a well-written script. As to her other projects, there are a lot of them, from Terminator Genisys to the upcoming Secret Invasion mini-series from Marvel.
25. Carice van Houten
The role of Melisandre, priestess of the Lord of Light, was flawlessly portrayed by the lovely Carice van Houten. She also worked on projects like The Black Book, Underworld, and the 2020's drama series Red Lights.
26. Gwendoline Christie
Gwendoline Christie finally got to the big league after playing Brienne of Tart. She was completely fascinated by this badass character after reading the books and always wanted to portray Brienne on the screen. Among her upcoming projects, there's one that definitely catches people's attention — The Sandman. Yes, Gwen will be playing Lucifer Morningstar! How cool is that?