Have you ever dreamed of flying over city streets like Superman? Some lucky Londoners will soon have a chance to have such an experience. There is only one tiny difference – instead of wearing a superman costume, they will have to put on a swimming suit, as they will be floating in the first-of-a-kind 'sky pool' suspended between two buildings and above thousands of people.
The glass-bottomed pool will allow residents of Embassy Gardens – a new development in London's Nine Elms quarter – to swim between two apartment blocks while enjoying magnificent views of the Houses of Parliament and the London Eye. The developers desire to push the engineering and construction boundaries with this 90-feet-long, 19-feet-wide, and 10-feet-deep amenity. It will be made of impressive 7.9-inch thick glass as well. The residential blocks will also feature rooftop bars, a spa and an greenhouse.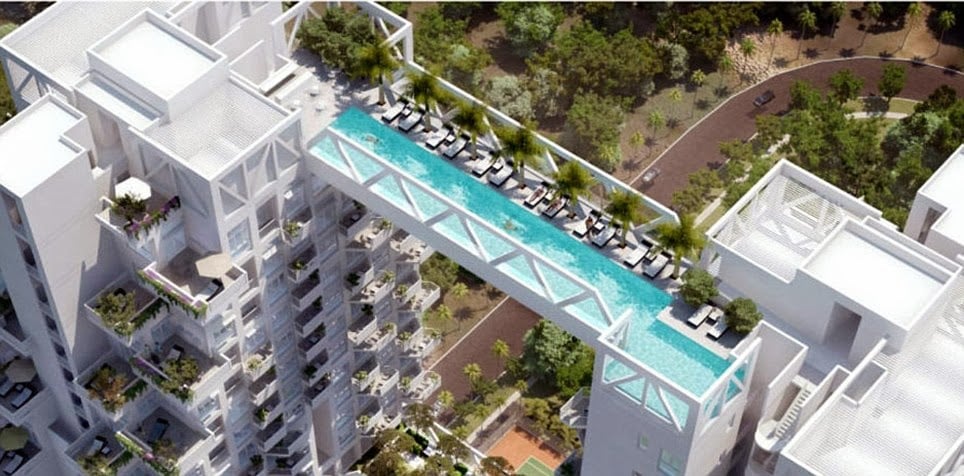 'Sky pool' is a brilliant example of the use of significant technological advances to come along in construction over the last decade. But there's a fly in the ointment. If you want to find out how it feels to be a fish swimming a huge aquarium above Londoners' heads, you'll have to dip into your pocket to the tune of almost a $1 million. This is the price of the cheapest flat in this luxury condominium complex. Due to its accessibility only to the city's wealthiest residents, the 'sky pool' project has already caused a wave of media outrage. For many, this translucent pool is a symbol of London's inequality, as it will clearly be one of the most flaunting building improvements in the city currently facing an affordable-housing crisis.