Ginnifer Goodwin and Josh Dallas (Once Upon a Time)
"Once Upon a Time's" Snow White and Prince Charming are a perfect couple, maybe even the most iconic couple of all time, and, needless to say, when the two actors playing them fell in love with each other, no-one was actually surprised. It's the power of fairy tales, after all! Ginnifer and Josh even got married and had their first child not so long ago.


Nina Dobrev and Ian Somerhalder (The Vampire Diaries)
The on-and-off sizzling-hot vampire couple on The Vampire Diaries – Nina Dobrev and Ian Somerhalder, actually had a fling for a while a couple years ago. After a while they split up and found other lovers. No kids, so that's a plus!


Jennifer Morrison and Jesse Spencer (House M. D.)
House MD, how many hours were spent binge-watching this series? A lot, that's for sure. The House M.D. costars didn't escape the fate of falling in love with one another, and even tied the knot… but it was on TV. Sadly their real-life marriage didn't pull through and was cancelled.


Kat Dennings and Nick Zano (2 Broke Girls)
First 2 seasons of this show had some of the funniest joke delivery by Kat. Endless fun and eternal happiness awaits those who seek funny, sometimes a bit dirty humor – give "2 Broke Girls" a try. Especially since you're about to find out that 2 of the main characters started dating after they landed on the show.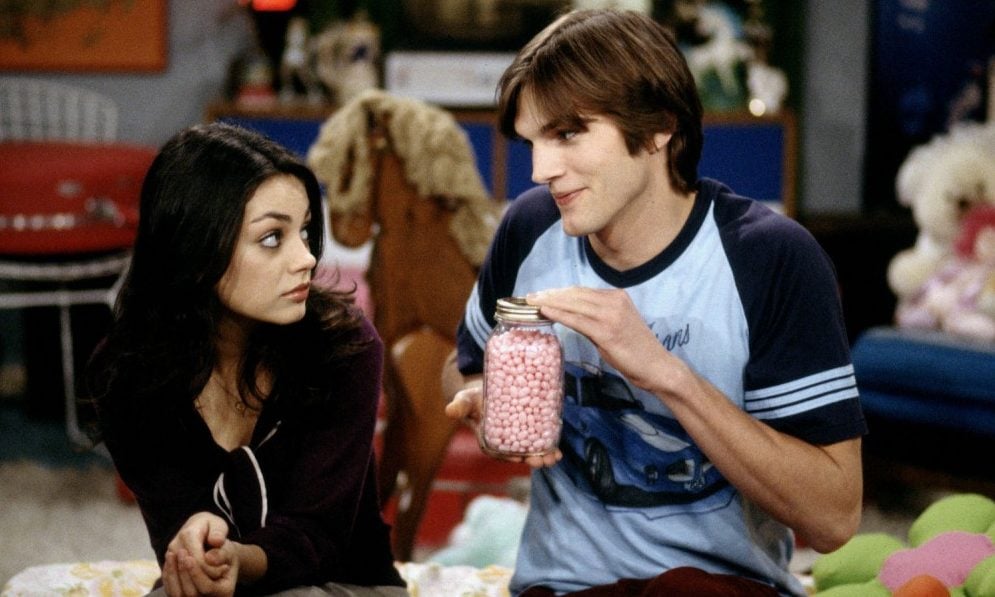 Mila Kunis and Ashton Kutcher (That 70's Show)
You've seen them in countless shows and movies but it's "That 70's Show" that got them together. They've played Jackie and Kelso and they were freaking perfect! Lucky for us Ashton decided to break up with the frisky cougar Demi Moore.


Melissa Benoist and Blake Jenner (Glee)
Currently Melissa stars in the "Supergirl" TV show (you should also give it a try, BTW) and she's doing a real bang-up job, but earlier she was on Glee and had a little something on the side with her co-star Blake Jenner. They've kept their private life under the tabs and decided to engage only in 2013 and get married a year after that.


Rose Leslie and Kit Harington (Game of Thrones)
Ygritte the Wildling and Jon Snow the royal Bastard fell in love after some interesting pangs of loyalty from Jon's side. aaaand then they were separated, and reunited again for a brief moment that makes you hate all the kids everywhere. You know what I'm talking about. Just like in the show, Rose and Kit dated, than split up, and got back to square 1 in 2014. At least there are no arrows involved, right?


Kaley Cuoco and Johnny Galecki (The Big Bang Theory)
The Nerd and the Hottie! Kaley Cuoco and Johnny Galecky both star on "The Big Bang Theory" and are one of the longest-running TV couples, but did you know that the two were secretly dating for nearly 3 years? Too bad Kaley is now married to someone else, though.


Milo Ventimiglia and Hayden Panettiere (Heroes)
Milo and Hayden weren't actually a couple on the screen but it's close enough! He was her uncle or something, I can't remember, it's been a while. The fact is that they both started dating in real life, although some people think it was a PR trick to create a buzz around Heroes.


Ben McKenzie and Morena Baccarin (Gotham)
I gotta say, when they announced they're an item a few months ago, I could not believe it. I couldn't imagine Morena, the sexiest Companion from Firefly, dating Ben, detective Jim Gordon from Gotham, and he even got her pregnant? Boy, he really got into the role, didn't he? But's face it, who wouldn't? Yeah, thought so.