Who agrees with me that streets are totally awesome? I see almost everybody's hands up. Except for the guy who always disagrees with me just to be a jerk. Seriously, think about it: if streets didn't exist, how would we ever find each other? It would be like, "Hey, let's meet up this evening. Where? How about on some famous street in the city? You're telling me that streets aren't a thing? Well, I guess we won't be able to meet then and that's sad." Another reason why streets are pretty sweet is because their smooth surfaces are convenient for escaping in the getaway car. Certainly better than driving through a cornfield with all those bags of money. But that's a story for another time. Here's a look at the 15 most famous streets in the world.
1. Nyhavn, Copenhagen
This 17th century waterfront and canal is notable for its brightly colored buildings and the historical wooden ships that harbor there. After World War II, its relevance as a key shipping port began to wane and by the 1970s much of the street was used as boring ol' parking lot space. But revitalization efforts in the 1980s – including creating a pedestrian walk – has made this a popular place for tourists who want to visit the many cafes and shops. Unsurprisingly, the water is also said to be full of mermaids.
2. Nanjing Road, Shanghai
Big fan of shopping, ladies? Then get yourself a tourist visa to China, make the flight to Shanghai, and visit the dozens of luxury goods and fashion stores that make Nanjing Road one of the world's busiest shopping streets. They've got Old Navy. Tommy Hilfiger. Calvin Klein. And even a Lego store! Go ahead and max out that credit card. Don't be weird.
3. Svobody Avenue, Lviv
Looking for a true Eastern European cultural experience? Head on over to Lviv, Ukraine and wander around Svobody (Freedom) Avenue. Catch a performance at the Lviv Opera House. Try out the culinary masterpieces that are served up at the McDonald's. If pizza is your thing, Da Vinci makes a pretty passable version of it. On Sundays they even close off the street to traffic so that you can enjoy the atmosphere without all those crazy Lviv drivers. This doesn't always stop cars from driving through, but what can you do?

4. Long Street, Cape Town
Dream about living a Bohemian lifestyle? Live out these fantasies by visiting Long Street in Cape Town. It gets its name because it is literally a long street, see? Logic. It's a diverse area with lots of cafes to sip coffee in, bookstores where you can pretend to be all smart and stuff, and plenty of nice looking Victorian buildings with wrought iron balconies if that strikes your fancy.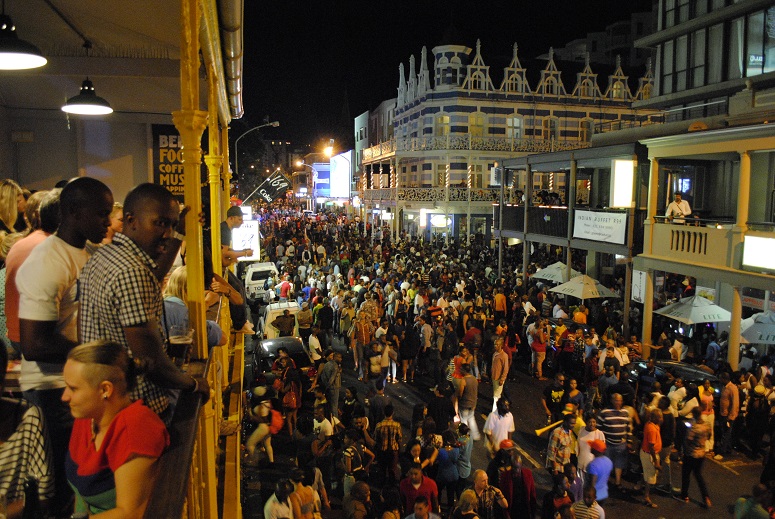 5. Lombard Street, San Francisco, CA
Want to visit one of the world's crookedest streets? So do 2 million other people, apparently. This famous street located in the Russian Hill neighborhood consists of really windy turns. You're even welcome to drive your car down the street, but make sure to keep yourself busy as you wait in the cue as it can sometimes take 30 minutes or longer before you get your turn.
6. 11th Street, Davenport, IA
Fan of handmade chocolate? Enjoy a good grilled burger with a beer freshly-brewed in-house? The Village of East Davenport is the best place to hang out on a Friday night. In 1980 it was listed as a historic district on the National Register of Historic Places, and with good reason. It was the location of 5 Civil War army camps and many of the 150+ year-old buildings from that era still remain, having been converted into the specialty shops and taverns that you can find there today.
7. Istiklal Street, Istanbul
Located in the historic Beyoğlu district of Istanbul, this famous avenue is sometimes visited by as many as 3 million people in a single day. It's lined with theaters, cinemas, pubs, restaurants, art galleries, chocolateries and nightclubs where you can dance to all of the hit music that you absolutely despise. It's also a very diverse place where you'll find Orthodox churches, synagogues, and mosques all along the avenue. Also, if you're a citizen of countries like France, Russia, the UK or Spain and you find yourself in trouble, don't worry. Your embassy can be found on that street and the staff are sure to help you fix this mess.
8. Wall Street, New York City
Interested in visiting the center of the universe? You will need a spaceship and probably a billion years to spare. But traveling to the financial center of the universe is much easier: just take the New York Subway to Wall Street. This eight-block district is home to the two largest stock exchanges (NYSE and NASDAQ) and is full of the narrow streets and skyscrapers that characterize Manhattan as a whole. As you stare at the powerful people with custom suits and briefcases, it's hard not to imagine that they have amassed enough wealth to buy you several times over.
9. Khao San Road, Bangkok
If you are a young hipster still trying to find your way in the world, Khao San Road has to be on your list. High school gap year graduates, Israelis fresh out of military service and college students on vacation rule this area of Bangkok. Known as the "backpack ghetto" the street is lined with everything from cheap youth hostels to decent hotels. You can also help yourself to pirated CDs, DVDs and even fake IDs if you're too young to legally pray to the porcelain god. The nights bring barbecued insects and ping pong shows, so if you're going to visit, it's best to leave your morals at home since they'll only prevent you from discovering the true you.
10. Rodeo Drive, Beverly Hills, CA
If shopping for dresses with a price tag of less than $15,000 brings you great shame, you'll feel right at home on Rodeo Drive. Sales associates at the posh retail stores along this 3 block stretch of Beverly Hills will literally shun you if you don't look the part, and you certainly don't need that! So make sure to carry your pet Chihuahua (whom you've named Cupcake) in a limited-edition Gucci tote bag at all times. The streets are full of European-style architecture that will please your eyes. Also, if you time things well, perchance you will come across a celebrity or twelve sipping on their $12 orange mocha lattes.
11. Piccadilly Circus, London
Are you into clowns and bears on roller skates or whatever? Sorry, but you won't find them on Piccadilly Circus. In this context, "circus" actually refers to "circle" as in a round open space at a street junction. But still, you'll find a lot of stuff to do in one of London's most popular areas for tourists. You've got your share of shops, restaurants, theaters, and all of those illuminated signs that almost make you think you're in New York's Time Square. But you aren't. If you're lucky, you might just cross paths with Prince William and Duchess Kate! You won't.
12. Chandni Chowk, Delhi
Also known as Moonlight Square, Chandni Chowk is one of the oldest and busiest markets in Old Delhi, India. If you are claustrophobic or are easily grossed out, this is the perfect place to overcome your fears! There are restaurants galore and more than a 1,000 shops that sell pretty much everything from trinkets and brightly colored fabrics, jewelry and spices and even firecrackers, if tiny explosions are your thing. For generations fathers have passed their shops off to their sons and the cycle continues. Pretty cool. Also, don't forget about those firecrackers that I brought up three sentences ago.
13. Dill Street, Burlington, IA
Located in a quaint little town along the Mississippi, Dill Street is especially famous for Perkins Park where kids can play baseball in the summer and go sledding down the modest slope in the winter. It was also home to the world-famous Apple Tree Museum until 2007 when The Man decided to move it into the town's old public library. As an added bonus, if you go up the street you'll find a gas station convenience store where you can find those hot dogs that petrify under those heat lamps. Culinary magic at its very best!
14. 5th Avenue, New York City
Want to pretend you're the hottest thing on skates? Venture out to 5th Avenue in NYC. It is considered one of the most expensive and elegant streets in the world. You'll find all of your favorite designer shops. Tiffany's has $500,000 necklaces to sell you. Upper Fifth contains "Millionaire's Row," an exclusive residential neighborhood containing mansions that 19th tycoons and barons used to call home. In other words, the kind of building you'd need to win at least a couple of Powerball lottery jackpots in order to afford. We've taken a look at the odds so you don't have to: 1 in 292 million.
15. La Rambla, Barcelona
Barcelona is hands-down my favorite city in Europe. There is just so much to do there and it all starts with walking along La Rambla. Spanish poet Federico García Lorca once said that La Rambla was "the only street in the world which I wish would never end." This super long pedestrian avenue stretches for more than a kilometer and is lined with trees and narrow sidewalks. Many of the city's architectural landmarks are located there, and there is no shortage of cafes where you can swig on sangria till your heart's content.