India is a land of ancient legends, beautiful garments, spectacular gods, delicious foods, and dozens of breathtaking festivals to reflect all that. Some festivals have become popular far outside of India like the famous Holi festival that has people throwing different dyes at each other, yet others are less known and far more unique. Here's a list of 9 most unusual festivals of India you need to see at least once.
Jaisalmer Desert Festival
This peculiar festival takes place in the sandstone city of Jaisalmer, mere 6 hours from famous Jodhpur, featuring a great variety of camel activities and bizarre contests like Mr. Desert (with the longest and coolest facial hair) and turban tying tournaments. It's one of the most colourful and fun festivals of
India!
Thimithi Festival
Thimithi is an unusual festival celebrated in the state of Tamil Nadu, where devotees of Draupadi walk on burning coals to commemorate this fearless woman who did the same to prove her innocence. The story was mentioned in the Indian epic Mahabharata.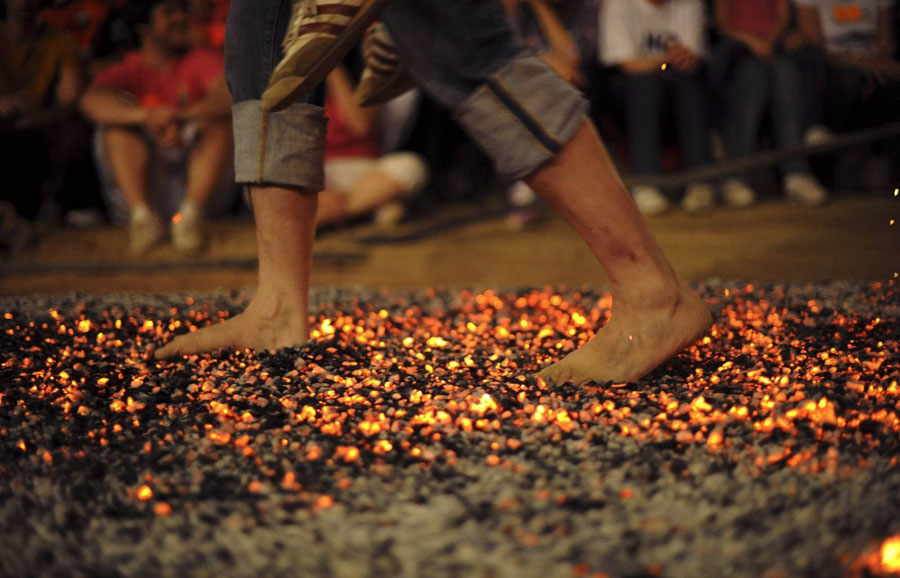 Hemis Festival
Hemis festival is being held in Leh, Ladakh, to honour the life and work of Guru Padmasambhava, the founder of Tantric Buddhism in Tibet. During this festival, which takes place in the richest Buddhist temple of the region, lamas put on bizarre masks and costumes to perform the special Masked Dance. It's a truly grotesque and unusual sight!
Onam Festival Pulikali
This unusual festival takes place in Thrissur, Kerala, and has people dressing up as tigers! Yep, you heard that right. The name Pulikali literally means "tiger dance", and that's exactly what's happening during the festival with men dressed up and painted as tigers. The whole painting process can take up to several hours as there have to be a few layers of paint. It's no easy task to perform like this!
Rural Olympics Festival
Also known as Kila Raipur Sports Festival, this unusual event features some of the most bizarre competitions and performances you've ever seen. Over 4,000 participants gather to show their skills in cart racing, horse dancing, camel racing, and tug-of-war. You will also see some pretty crazy activities like people pulling cars with their hair, lifting bicycles with their teeth, and much, much more!
Lath Mar Holi Festival
Everyone knows about the colourful Holi festival, but do you know about the Lath Mar Holi celebrated in Vrindavan mere days before the actual Holi event? During this festival the women of Barsana playfully beat the men with special sticks (lathis) to recreate the story of Krishna who visited this very same village to see his beloved Radha and ended up teasing her and her lady friends. That's when women of Barsana reacted and chased him away with sticks.
Karni Mata Festival
While most people are not really fond of rats, they are considered to be sacred animals in Karni Mata temple, which is home to thousands of these little creatures. Here they are offered shelter and food as it is believed that the souls of temple's devotees reside inside them. The temple is dedicated to ancient mystic who is believed to be the reincarnation of fearless Goddess Durga. That's why a few times a year devotees come to Karni Mata to worship the goddess and all its incarnations as well as thousands of sacred rats.
Nag Panchami Festival
Snakes are considered holy creatures in Hindu religion and there's a whole festival dedicated to them only. On the auspicious day of Nag Panchami dozens upon dozens of snakes are dug out and put into pots for everyone to worship them. People go around with these pots, dance, play music, and in the end a ritual is being performed where snakes are fed milk for good luck. Lately the festival has become somewhat controversial as many snakes get hurt during the event and can't digest the milk they're given.
Kumbh Mela
Kumbh Mela that takes place in Allahabad every 12 years is one of the biggest and holiest festivals of India that attract millions of people from all over the world. Hindu devotees and sadhus come to Allahabad to take a dip at the confluence of two sacred rivers – Ganga and Yamuna. It is believed that a dip in these waters during Kumbh Mela will wash away all the sins of your ancestors and set their souls free.