If you think traveling alone is sad and you'll be lonely the whole time – you couldn't be more wrong. Solo travel is the best kind of travel. You get to plan the trip exactly the way you want it, you get to do what you want, stay where you want? Eat at the places that you like, choose the activities you want to try, and the cherry on top is that you don't have to feel any guilt or take anyone's opinion or interest into consideration. It's the perfect time to be as selfish as you want. What's not to like?
1. New Zealand
If your goal is to get away from the hustle and bustle of your hometown and go someplace chill and beautiful New Zealand is the perfect country. The people here are very laid back, it's very safe, the scenery and nature are absolutely gorgeous. Wellington and Queenstown are great cities to explore if you want a city vibe. Otherwise, you're welcome to climb Mount Cook, explore various hiking opportunities, stare at beautiful lakes and just enjoy what New Zealand's unique nature has to offer. And let's not forget about Hobbiton, it's a mecca for Tolkien fans.
2. Mexico
For those who live in the US, it's a short trip but definitely a fun one. You get to enjoy real Mexican food, experience the culture, there are beaches for those who like to lay in the sun and chill, there's a lively party scene for those who are up for some fun. And it's a pretty touristy and affordable place so you'll probably meet some new friends while you're here. And don't forget that it's not all about food and parties here, there's also beautiful nature to see.
3. France
When you think of France you probably think of Paris and how it's the city of love and usually a destination for couples. But first of all the rest of France is just as charming as Paris, if not even more. And Paris is just as lovely even when you're there on your own. In fact, going solo means you're very likely to experience some French romance. While there are certain parts of Paris has all the museums, and art exhibitions you will ever want to see and foodies will find the cuisine to be exceptional. And you can always go to one of those small villages or a chateau next to a vineyard. Enjoy some of the best croissants in the world, sip some French wine and feel like you're on the set of a French movie.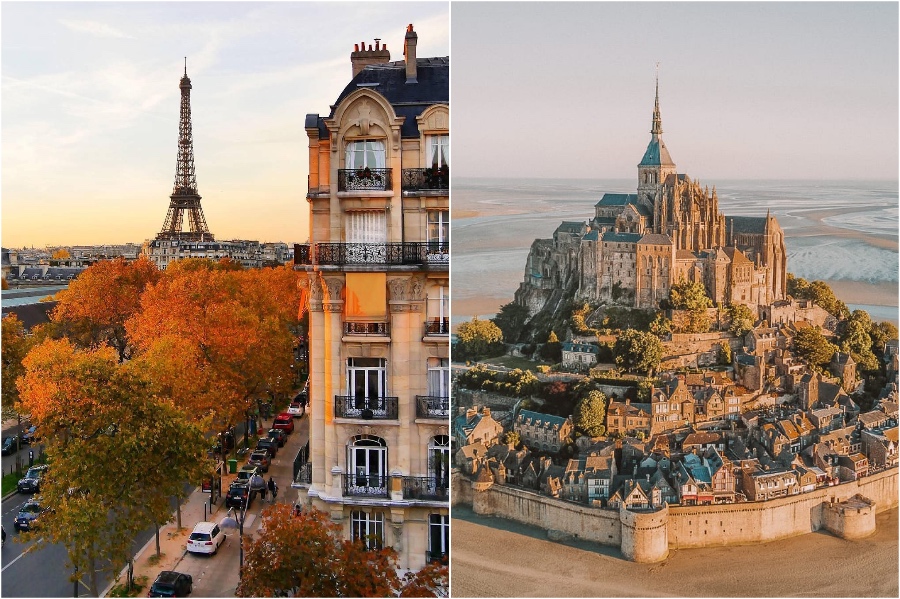 4. Spain
Spain is another great country for solo travel. The people here are very warm and inviting. You'll love the culture, there's a great art scene and the food is to die for. In terms of parties and fun, you don't even have to look for specific places to go. The Spanish love to have fun, it's in their blood, so you're guaranteed to stumble onto some sort of celebration and be invited for a dance.
5. Scotland
Most people focus on England when they go to the UK, and while it's a lovely country to explore we urge you to visit Scotland. You'll find the people here to be much more likely to strike up a conversation, the sense of humor is great, the accent is charming and the nature of Scotland is just stunning. Seriously go to the Highlands, go see some castles, visit Edinburgh for the gothic vibes, comedy festivals and the cutest cobble streets ever. Glasgow is a must-see for art geeks and party people. And you know, while you're here you might wanna go see if the Loch Ness Monster is real or not.
6. Ireland
Ireland is a bit similar to Scotland yet different and definitely worthy of a trip. The country is very safe and as a solo traveler, you will never feel like you can't explore on your own. It's also quite a small country so if you base yourself in Dublin you'll be able to take a day or weekend trips to visit other charming towns, cliffs and just enjoy the splendid green hills and valleys Ireland has to offer. If you're looking for pointers Cliffs of Moher are a must, Dingle Peninsula should be on your list and the more castles you visit – the better. And of course, go to a pub and have a pint of Guinness, that's practically a law there.
7. Iceland
Iceland is a magical place that you just need to see in your lifetime, and not just because you can see the Northern lights there. It's just like no other country in the world. Nature and the scenery are just mind-blowing, you should definitely take a dip in hot springs while being surrounded by snow, you can go whale watching here, the caves and glaciers are incredible and did we mention the hot springs and waterfalls? Reykjavik is lovely but don't limit yourself to the city, the great outdoors is the best part of Iceland so definitely go on an adventure and explore.