White sand beaches are boring, guys. Those are where everybody goes. Why not do something original this year and choose a black sand beach this year? Your Instagram followers will probably thank you or whatever. Since you're probably wondering, black sand beaches get their color from the volcanic activity that takes place nearby, resulting in black basalt. Here are 6 beaches worth checking out.
1. Kaimu Beach, Hawaii
It's probably not a shock that Punalu'u Beach isn't merely an amazing black sand beach, it's one of the best beaches in the world regardless of type. You have a whole lot of options when you come here. You can make your way to the line of coconut trees, relax and soak in the sights of the bay. When you swim, you've got the warm ocean water below and cool fresh water on top, or go snorkeling and see if you can spot a mermaid or two.
2. Reynisfjara beach – Iceland
If you dream of visiting another planet, but don't have the patience to wait for spaceships to be invented, head on over to Reynisfjara Beach. The best time to come is during the sunrise and sunset so that you can take pictures of the scenery. It's also one of Iceland's warmest destinations.
3. Perissa Beach – Greece
Located along the southern coast of Santorini beneath the rocky mountain of Mésa Vounó, you don't even need to stay at a resort or pay a fee to get in. As long as you purchase food and drinks at one of the many restaurants located along the shore, you're welcome to use their umbrellas and get some sun. As a bonus, you get the same beautiful weather as you would at nearby Kamari Beach, but without the larger crowds of people.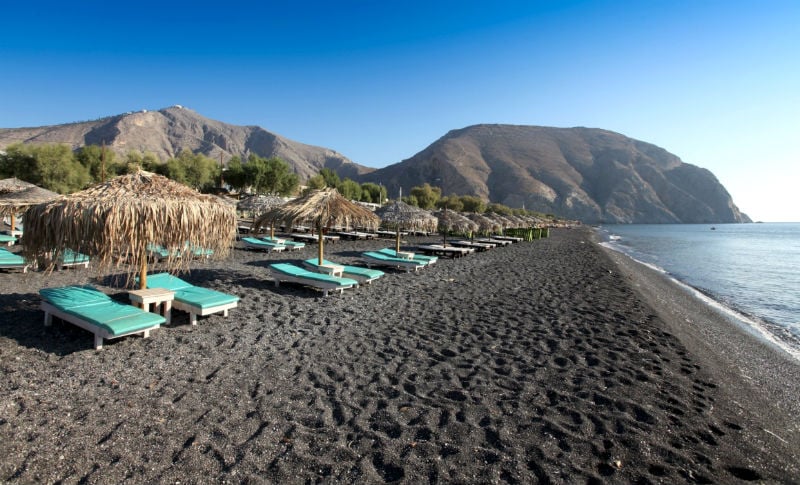 4. Lafayette Beach – Tahiti
Lafayette Beach is located in front of the Tahiti Pearl Beach Resort and is the perfect place if swimming in shallow waters is your thing. There's also a pretty nifty lighthouse that's just a few minutes' drive away along with Point Venus, another black sand beach that's a hit with the surfers.
5. Black Sand Beach – Prince William Sound, Alaska
This is another beach with incredible contrasts. Here you'll see huge tidewater glaciers, beautiful waterfalls and green hillsides, the wildlife here is also very rich and diverse.
If you're looking for beach activities beyond the usual swimming and volleyball, kayaking is a must!
6. Black Bay – Marigot, Grenada
If you're looking for a black sand beach far, far away from civilization and a challenge to get to, Black Bay is where you'll want to go. To get there, you'll need to travel across unmarked paths and hike through a jungle. You won't find restaurants, beach beds, or anything like that. But if your goal is to find some solitude, you'll probably find it there.