Do you have a favorite city that you've been dreaming to visit? A city with a signature look like Dubai, London or New York? Most of us have must-see places like that, but not many of us realize that these cities have transformed in appearance fairly recently. In fact, just a mere 100 years ago we wouldn't have recognized them! LA was built almost from scratch – a sleepy little Spanish pueblo town at it's roots. Similarly, Moscow has lots of skyscrapers now and London has become virtually unrecognizable. Here are 25 photos of the world's most spectacular cities before and after.
LA, California: 1878 and now
The barren lands of Los Angeles gave birth to a hi-tech city of the future. BTW Los Angeles has always had smog – it's the "Valley Effect".

Moscow, Russia: 1896 and now
From Soviet chic to modern skyscrapers.

Kuala-Lumpur, Malaysia: 90s and now
This city has been developing rapidly over the last few decades and it really shows.

London, Great Britain: 19th century and now
It's like a totally different city! London has changed greatly over recent years.



Chicago, Illinois: 1909 and now
The roads were just as busy then as they are now! And we really miss those vintage-looking trams. Chicago was immortalized by poet Carl Sandberg in 1916 as "The Hog Butcher For The World". Chicago is still an edgy city as it makes its way in the 21st Century being America's homicide capital.

Tokyo, Japan: 20s and now
Tokyo has undergone the most spectacular transformation in quite a short amount of time.

Toronto, Canada: 1930 and now
The skyline of Toronto is unrecognizable now! It's a transformation no one could have foreseen.



Taipei, Taiwan: 20th century and now
One might say that Taipei used to look gloomy back in the day. Yet now it is one of the most striking cities we've ever seen.

Boston, Massachusetts: 20s and now
The city was almost flat, but now it's all about skyscrapers and glassy buildings!

Dubai, UAE: 80s and now
Dubai has turned into a completely different city in just a few decades. It looks like a miracle!



Buenos Aires, Argentina: 50s and now
The city's obelisk is probably the only thing that remained unchanged in Buenos Aires.

Singapore: 70s and now
The rapid growth of Singapore has become somewhat of a legend during the last decade. The city is perfectly spectacular!

Panama, Panama: 30s and now
It's hard to believe how much can change in a span of less than 100 years. The city is impossible to recognize now!



New York, USA: 20s and now
New York never ceases to amaze us with its grace and beauty. 100 years ago the city was already dotted with skyscrapers and elegant monuments.

Fortaleza, Brazil: 1970 and now
What once seemed to be an eternal tropical paradise is now a blooming city with close to no coastline at all.

Berlin, Germany: 1945 and now
It's painful to see the city in the state it was back in 1945. But now its beauty and grandeur has been restored!



Hong Kong, China: 60s and now
The somewhat modest cityscape of former Hong Kong has changed drastically over the last few decades.

Sydney, Australia: 1950 and now
Sidney has definitely retained its classy feel and there seems to be as much greenery as it was back in the day.

Miami, Florida: 30s and now
The once flat coastline of Miami is now dotted with elegant skyscrapers. The view is unforgettable!



Seoul, South Korea: 1950 and now
How much can a city change in just 60 years? A lot, obviously. Seoul has grown rapidly over the last few years along with other Asian cities.

Jakarta, Indonesia: 1960 and now
It's hard to connect the 'before' photo with the 'after' image of Jakarta. It's like we are looking at two completely different cities!

Abu Dhabi, UAE: 1975 and now
It seems that Abu Dhabi, unlike other cities, has become only greener with the passing years!



Nairobi, Kenya: 60s and now
The largest city in Kenya has been developing non-stop and has turned into a really spectacular city over the years.

Beijing, China: 50s and now
It's like the city stepped out of the Middle Ages right into the hi-tech future of the 21st century. It's a truly remarkable transformation!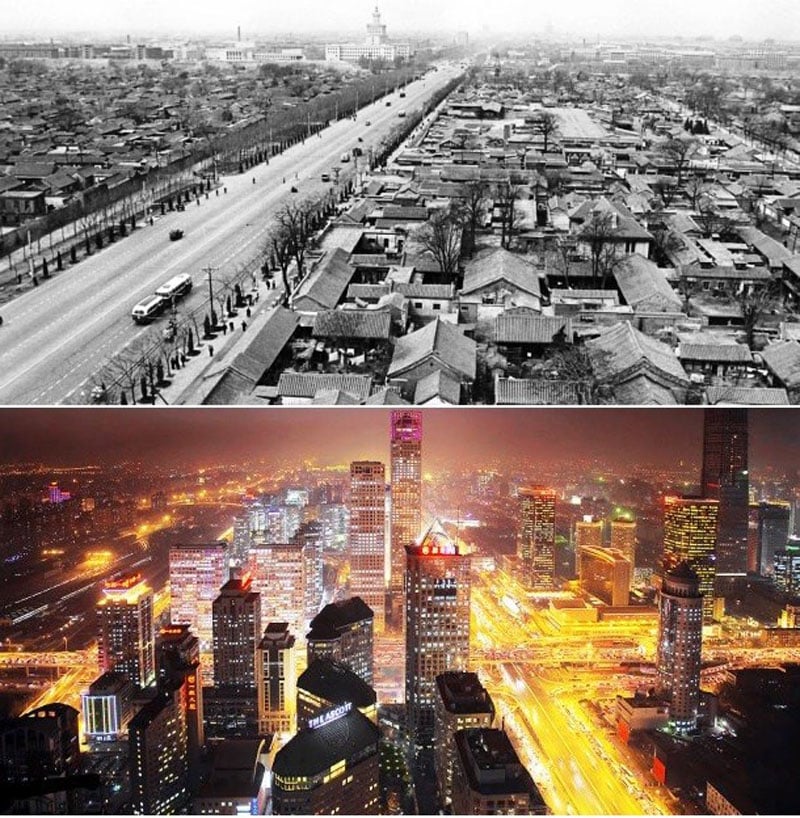 Ulaanbaatar, Mongolia: 50s and now
The capital of Mongolia is the largest city in the country. It is also a big cultural, commercial and historic hub that draws thousands of visitors each year. The city is simply breathtaking!