After nearly five years of insane all-out war, and 30,000 reported deaths, the battle of Aleppo is slowly dwindling down. People can now safely leave the besieged areas, thanks to the ceasefire agreement that has been recently signed. The rebel-held areas in Idlib province, and pro-government forces, are now taking in anyone and everyone from the Syria's biggest city. Or at least it used to be one of the biggest cities.



Another 20,000 people are thought to have been displaced from Aleppo. This place used to be a popular tourist destination, it now is a horrible mess, full of ruined houses, schools, malls, and whatever else got in the way of Russian bombers. Not to mention the city's ancient heritage, like the Great Mosque, built in the 8th century, and the citadel of Aleppo – one of the largest and oldest castles on the planet.



It's true, the bombings stopped, but most of the damage has been already done. These are some of the most heartbreaking photos of Aleppo before and after the devastating events. Most of the locations look nothing alike. It's like some twisted alternate reality where humans, as species, have really fucked shit up. Not dividing into races, nations, or gender, just Homo Sapiens in general. How did we let this happen?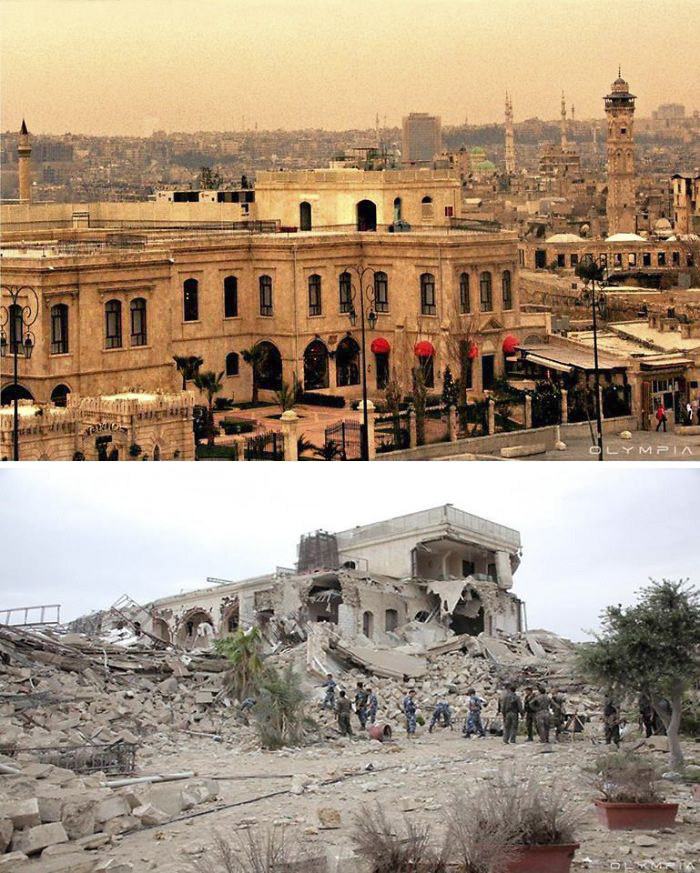 The shops are gone, the churches and mosques – completely destroyed, even kids in kindergartens couldn't escape their fate… I personally don't know who or what started this mess, I'm no news reporter, but I can tell you for sure that killing 30,000 people for ANY reason will have consequences sooner or later. That is all.