Working together is a serious test for any couple, especially when both are actors. Being under stress all the time, with almost no sleep and specific roles that need to be performed – all this can destroy even the healthiest relationships. Actors break up like all ordinary people sometimes do, but unlike us mere mortals, they can't just drop the movie to get away from the ex-girlfriend or ex-boyfriend. Here are a few couples whose relationships ended after working together.
Angelina Jolie and Brad Pitt (By the Sea)
Angelina Jolie confessed that it was tough during the movie, where she and her on-and-off screen husband had to scream at each other all the time. Yet she stated that their love only grew stronger because they had to fight on screen so much. Was it true or not? We'll probably never find out. Soon after the movie was finished Jolie filed for divorce and now the famous Brangelina is no more.





Tom Cruise and Nicole Kidman (Eyes Wide Shut)
The two met on set of Days of Thunder and completely fell for each other. Back in the day Tom Cruise was still big on scientology and his new affection for the daughter of a psychologist wasn't approved of. The first years of their marriage the couple was happy, yet it all came to an end after the filming of Kubrick's Eyes Wide Shut. Many people blame the movie, others believe that the divorce has something to do with the Church of Scientology. We'll probably never know for sure!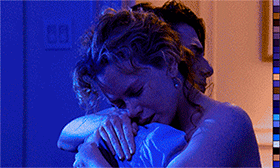 Kristen Stewart and Robert Pattinson (Twilight)
It's easy to see why these two fell for each other. If you fake love on screen long enough, no wonder if you fall in love in real life as well. Yet Rob and Kristen's romance hardly survived the movie's end. After the Twilight Kristen went on starring in Snow White and the Huntsman, and was seen cheating on Robert with the movie's director. The couple broke up soon after the incident.





Aishwarya Rai and Vivek Oberoi (Kyun! Ho Gaya Na?)
The couple was big news in Bollywood and has made it to numerous tabloids. They have fallen in love on set, and continued performing together in the movie Kyun! Ho Gaya Na? The movie was an utter flop and the couple broke soon after it was released.



Jennifer Garner and Ben Affleck (Daredevil)
We were all heartbroken to see this couple split in 2015. Jen and Ben met on set of Pearl Harbor, yet Ben says that they have really fallen for each other while filming Daredevil together. After having been together for over 10 years, they still decided to split. Yet you can still see them doing a lot of stuff together because they are worried for their kids and want to make their family work no matter what. They are a truly lovely non-couple!





Emma Stone and Andrew Garfield (The Amazing Spiderman)
The British heart-throb Andrew Garfield has fallen for the sweet Emma Stone right on set of The Amazing Spiderman. It's not hard to imagine them falling in love – the couple had amazing chemistry on screen. They kept their relationships private for a few years, until they became public and finally ended. It's a pity, this couple has been a sight for sore eyes!



Amy Poehler and Will Arnett (Spring Breakdown)
It hurts to see such a lovely couple break up after 9 years of marriage. The two have appeared together in numerous movies, with Spring Breakdown being one of them. Amy states that they have just lost the spark as a couple and that they broke up amicably. Amy and Will have two kids together and are looking forward to bringing them up despite their divorce.





Woody Allen and Diane Keaton (Play It Again, Sam)
Diane met Woody Allen through the magic of theater back in 1968. Their feelings for each other grew stronger during the production of the Woody Allen's Play It Again, Sam. They went on making a screen adaptation for the play, but by the time it was ready, their spark was already gone. Yet they remained close friends and made 7 more movies together that brought them success. Some people just work better as colleagues!