The odds of becoming a wealthy, massively popular celebrity are minuscule no matter how you slice it, but some have the odds stacked significantly in their favor. For example, Adam Levine, the lead singer of Maroon 5, had the luxury of having a father who founded a retail chain. Bill Gates Sr., the father of the Microsoft founder who shares his name, was a successful, rich lawyer and civic leader in his own right. On the other hand, when somebody who comes from a broken home — or doesn't have a home at all — makes it big, it's a true rags-to-riches story that we can all get behind. Here are 8 such entertainment figures who went from zero to hundreds of millions.
Jay-Z
Rapper Jay-Z — born Shawn Carter — has been a huge deal for almost 2 decades. He is part-owner of the NBA's Brooklyn Nets, owns a clothing line, a record label, and has a handful of hits. Oh, and he's married to Beyoncé who's a force in her own right. But while Jay-Z is worth $800 million today (plus another quarter of a billion dollars if you include his wife's net worth), when he was growing up in the projects of Brooklyn, he was selling crack to make ends meet.
Eminem
When Eminem (Marshall Mathers) was a young child, his parents were in a small-time band called Daddy Warbucks, performing at hotels in farflung towns in Montana and the Dakotas. His dad left the family and moved to California, and Eminem and his mom frequently moved around from town to town in Missouri and Michigan before finally settling in Detroit, where they were among the only white households in a Black majority area of the city. Eminem got held back in 9th grade three times due to poor grades and truancy. He dropped out of school at 17 and worked several jobs to support himself and his mom. These days he lives a life of luxury with a net worth of $230 million.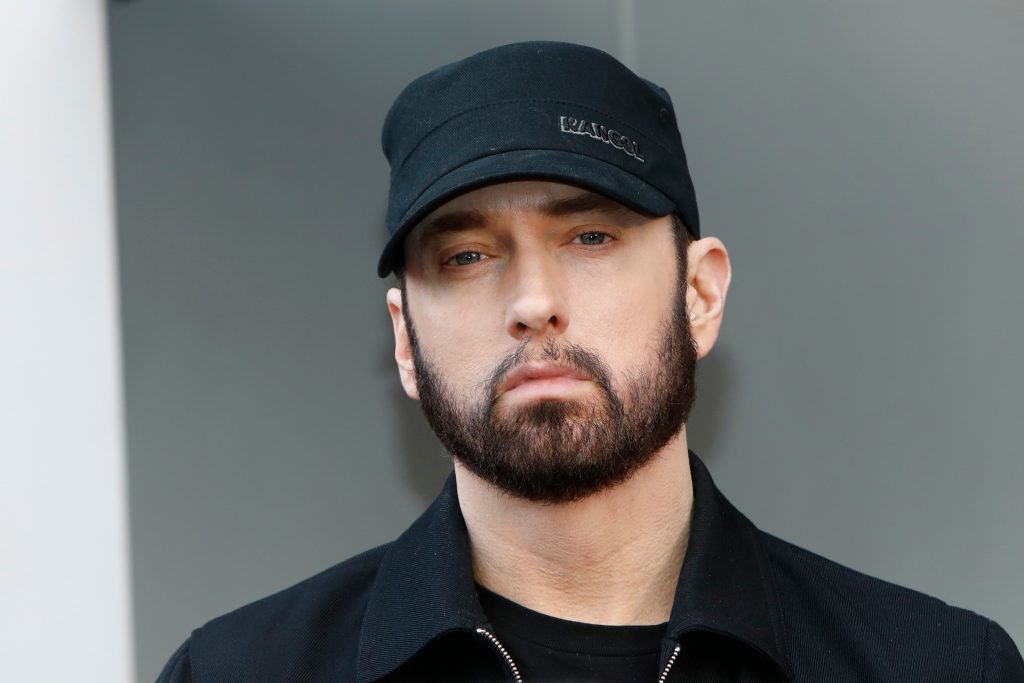 Jim Carrey
Carrey grew up in the suburbs of Toronto and at one point his parents experienced financial struggles serious enough to leave them homeless for a period of time. They lived in a Volkswagen van and even in tents at a local park along the shores of Lake Ontario. As a teenager, Carrey and his brother John worked as security guards and janitors at a tire factoring, doing 6pm-2am shifts. Eventually, Jim realized he had what it took to make a living through stand-up comedy. He promised his father that once he became rich, he would write him out a check for one million dollars. Sadly, the elder Carrey died of lung cancer just as his son started commanding millions for his movies. But he kept his promise. He wrote out a million-dollar check and placed it in his dad's coffin.
J.K Rowling
As a teenager, the future author of the Harry Potter novels had to deal with a variety of problems. Her mother was struggling with multiple sclerosis, and she had a strained relationship with her father. Her adult life was also turbulent as she went through an abusive marriage, divorce and had to raise a daughter on her own. She even had to live off welfare for a time. But now that she has the equivalent of around $700 million in her bank account, money is no longer an issue.
Dolly Parton
Parton grew up in rural Tennessee living in a one-room cabin along with her parents and 13 siblings. Her father – who was illiterate but whom Parton described as an extremely intelligent, business-savvy guy – compensated the doctor who delivered her with cornmeal. Her mother would sing songs and tell folk stories, which inspired Parton to start performing at the age of 10. She's accumulated around $500 million in wealth and at the age of 74 remains very relevant in country music, having released 51 studio albums in total, including 5 in the past 10 years alone.
Nicki Minaj
Onika Tanya Maraj was born in Trinidad and Tobago to a financial executive father and gospel-singing mother. But her upbringing did not go as smoothly as it should have. Her father was violent-tempered and had a substance abuse problem, even burning down their house in anger when Minaj was five. She moved to the Bronx and had great potential in the performing arts, but couldn't get an acting career off the ground. As a teenager, Minaj has stated she was fired from at least 15 jobs — including a waitressing job at Red Lobster — because she wasn't very courteous towards her customers. She's far more successful as a rapper, having racked in $80 million so far.
Justin Bieber
The Bieb's parents, who had him when they were teenagers, never got married. As a result, Justin grew up in low-income housing, raised by his mother Pattie but remaining in regular contact with his father Jeremy. While Pattie held a series of low-paying jobs to make ends meet, Bieber maintained a 4.0 GPA in school and learned a variety of instruments. He got his big break when record producer Scooter Braun, who was searching through videos on YouTube, actually clicked on Justin doing an Usher cover song. The rest is history, and Bieber is now worth $300 million.
Selena Gomez
Justin Bieber's one-time girlfriend Selena Gomez also grew up in a less-than-stable household. Her mother had her at the age of 16, and when Gomez was five her parents divorced. Her mom worked three jobs and Selena recalls at times having to search for quarters just to put gas in the car. She first got into acting when she appeared on the children's show Barney & Friends and she's been a successful actress, singer, and fashion designer ever since. Her current net worth is $75 million.