You know, I can do these intros about "celebs then and now" only so many times before I realize you're here for the pics. And today's that day! The internet has once again delivered yet another celebrity-related fad to boggle our minds. I hope you didn't come here to see random cat GIF's, because you're about to see exactly what's in the title. Just to reiterate: there will be pictures of various actors and actresses in some of their first and last roles. I can already tell you've stopped reading, so let's go!
1. Jackie Chan
Half a Loaf of Kung-Fu, 1978 – Skiptrace, 2016.

2. Keanu Reeves
Youngblood, 1986 – John Wick: Chapter Two, 2017.

3. Sylvester Stallone
No Place to Hide, 1970 – Creed, 2015

4. Jean-Claude Van Damme
Bloodsport, 1988 – Pound Of Flesh, 2015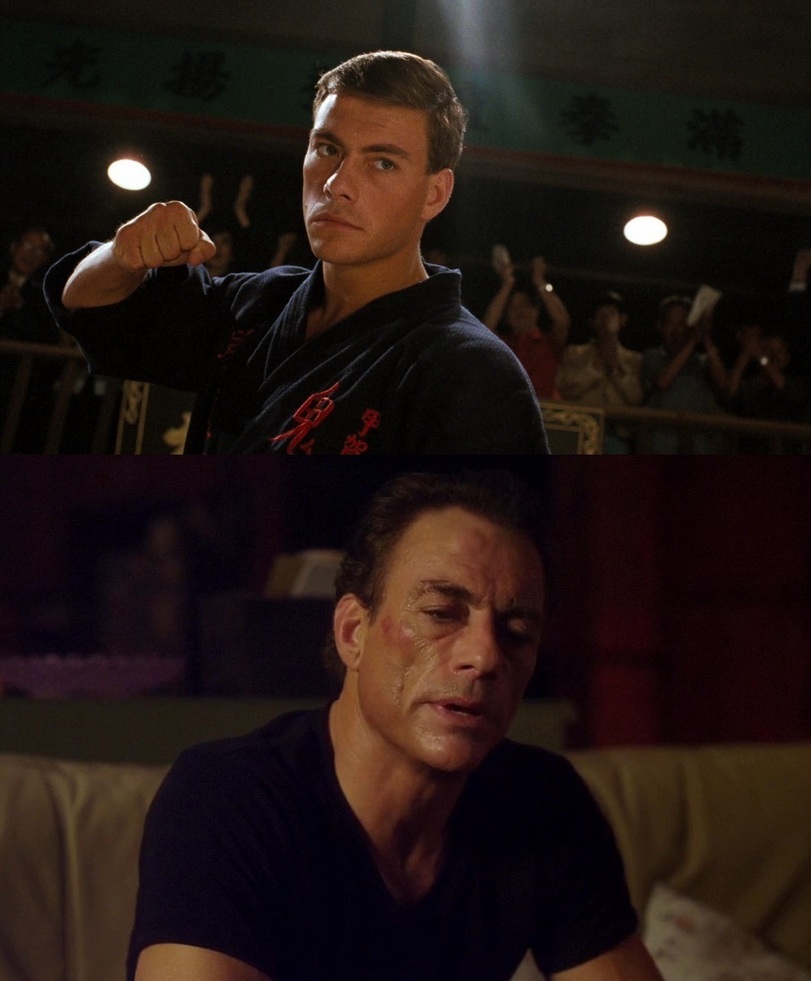 5. Ben Affleck
Daddy, 1991 – The Accountant, 2016

6. Mickey Rourke
Rumble Fish, 1983 – Ashby, 2015



7. Tom Hanks
Mazes And Monsters, 1982 – Inferno, 2016

8. Leo Di Caprio
Critters 3, 1991 – The Wolf of Wall Street, 2013

9. Jim Carrey
Once Bitten, 1985 – The Incredible Burt Wonderstone, 2013

10. Harrison Ford
Journey to Shiloh, 1968 – Star Wars: Episode VII – The Force Awakens, 2015

11. Arnold Schwarzenegger
Hercules In New York, 1969 – Terminator Genisys, 2015



12. Bruce Willis
Blind Date, 1987 – Death Wish, 2017

13. Mel Gibson
Mad Max, 1979 – Blood Father, 2016

14. Nick Cage
Valley Girl, 1983 – Dog Eat Dog, 2016

15. Tom Cruise
Taps, 1981 – Jack Reacher: Never Go Back, 2016

16. Chuck Norris
Path of the Dragon, 1972 – The Expendables 2, 2012


17. Steven Seagal
Above the Law, 1988 – End of a Gun, 2016



18. Eddie Murphy
48 Hrs., 1982 – Mr. Church, 2016

19. Adam Sandler
Going Overboard, 1989 – The Do-Over, 2016

20. Bill Murray
Stripes, 1981 – Rock the Kasbah, 2015

21. Chevy Chase
Foul Play, 1978 – Vacation, 2015

22. Robert Downey Jr.
Baby It's You, 1983 – The Judge, 2014



23. Johnny Depp
A Nightmare on Elm Street, 1984 – Mortdecai, 2015

24 Brad Pitt
Cutting Class, 1989 – Allied, 2016

25. Matt Damon
Mystic Pizza, 1988 – Jason Bourne, 2016

26. Jason Statham
Lock, Stock and Two Smoking Barrels, 1998 – Mechanic: Resurrection, 2016

27. Natalie Portman
Леон (Léon, 1994) – Планетариум (Planetarium, 2016)

28. Sigourney Weaver
Alien, 1979 – A Monster Calls, 2016



29. Kirsten Dunst
The Bonfire of the Vanities, 1990 – Hidden Figures, 2016

30. Mila Yovovich
Return to the Blue Lagoon, 1991 – Resident Evil: The Final Chapter, 2016

31. Alyson Hannigan
My Stepmother Is an Alien, 1988 – American Reunion, 2012

32. Tilda Swinton
Caravaggio, 1986 – Doctor Strange, 2016

33. Kate Beckinsale
Much Ado About Nothing, 1993 – Underworld: Blood Wars, 2016



34. Woopie Goldberg
The Color Purple, 1985 – Teenage Mutant Ninja Turtles, 2014

35. Charlize Theron
2 Days in the Valley, 1996 – Mad Max: Fury Road, 2015

36. Michelle Pfeiffer
The Hollywood Knights, 1980 – The Family, 2013

37. Liam Neeson
Pilgrim's Progress, 1978 – Silence, 2016

38. Ben Stiller
Empire of the Sun, 1987 – While We're Young, 2015

39. Will Smith
The Fresh Prince of Bel-Air, 1990 – Collateral Beauty, 2016



40. Ewan McGregor
Lipstick on Your Collar, 1990 – Our Kind of Traitor, 2016

41. Simon Pegg
Faith in the Future, 1995 – Absolutely Anything, 2015

42. Elijah Wood
Back to the Future Part II, 1989 – Dirk Gently's Holistic Detective Agency, 2016

43. Dwayne Johnson
The Mummy Returns, 2001 – Furious 7, 2015

44. Mark Wahlberg
The Substitute, 1993 – Patriots Day, 2016



45. Vin Diesel
Awakenings, 1990 – xXx: Return of Xander Cage, 2017

46. Kevin Costner
Malibu Hot Summer, 1981 – Criminal, 2016

47. John Travolta
Carrie, 1976 – I Am Wrath, 2016

48. Jeff Bridges
Fat City, 1972 – Hell or High Water, 2016

49. Michael Douglas
Napoleon and Samantha, 1972 – Beyond the Reach, 2014

50. Jack Nicholson
Ride in the Whirlwind, 1966 – How Do You Know?, 2010



51. Gerard Butler
Mrs Brown, 1997 – London Has Fallen, 2016

52. Morgan Freeman
Brubaker, 1980 – London Has Fallen, 2016

53. Steve Martin
Pennies from Heaven, 1981 – The Big Year, 2011

54. Christopher Walken
The Happiness Cage, 1972 – Eddie the Eagle, 2016

55. Jean Reno
Subway, 1985 – Mes trésors, 2017



56. Antonio Banderas
Pestañas postizas, 1982 – The 33, 2015

57. Robert De Niro
Greetings, 1968 – Dirty Grandpa, 2016

58. Tom Hardy
Legion of Honor, 2002 – Taboo, 2017
59. Christian Bale
Mio min Mio, 1987 – The Big Short, 2015

60. Al Pachino
The Panic in Needle Park, 1971 – Misconduct, 2016

61. Anthony Hopkins
When Eight Bells Toll, 1971 – Misconduct, 2016



62. Tommy Lee Jones
Jackson County Jail, 1976 – Jason Bourne, 2016

63. Samuel L. Jackson
Ragtime, 1981 – xXx: Return of Xander Cage, 2017

64. Clint Eastwood
Per un pugno di dollari, 1964 – Trouble with the Curve, 2012

65. Charlie Sheen
The Boys Next Door, 1985 – Mad Families, 2017