For an animation/movie company that's been around for over 90 years, you can bet there would be countless curious tidbits and unexpected twists during the production of some of the most iconic animated movies in the world. Today you'll learn a bit more about your favorite company and that's a small victory already!
1. The real face behind Ariel, the Little Mermaid

If looking at Ariel's face you get the "I've seen her before somewhere" vibe, you're absolutely right! Little Redhead's facial features were inspired by none other than Alyssa Milano, widely known for her roles in Charmed and Who's the Boss. No wonder Ariel is so cute!
2. The Lion King controversy

This is one of those cases where you need a really keen eye to even spot a pattern in the first place, before you figure out it spells out SEX. The animators claim that the dust cloud actually says SFX, as a nod to the special effects guys, who worked on the movie. Those animators knew exactly what they were doing.
3. Every Hyena matters!

Disney was once sued by a hyena biologist (is that a guy who studies hyenas or a nerdy hyena studying science?) for portraying cute little hyenas as villains in The Lion King. Dude, the other lion was the real villain! *smh*
4. Is Beast a mutant?

Who or what is Beast from "Beauty and the Beast"? How many animal parts does this dude have? Let's see, a head of a buffalo, the angry brow of a gorilla, the body of a bear, the mane of a lion, the tusks of a boar, and the legs and tail of a wolf. No bats? For shame! Giant bat wings would be awesome.
5. Disney-ception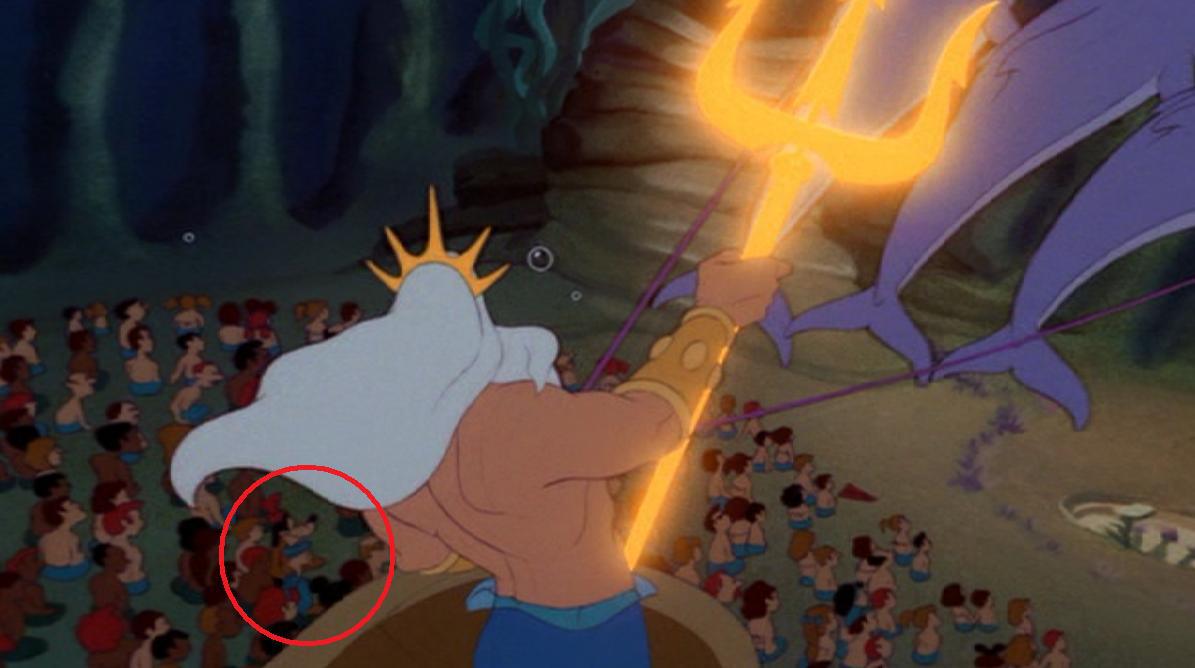 Have you noticed Mickey, Goofy, and Donald in The Little Mermaid? I sure have not. BRB, gonna re-watch and sing-along to all the songs.*sings* "Under the sea, under the sea…
6. If Finding Nemo was factually accurate

… Darling, it's better down, where it's wetter-" oh, hey, speaking of "down, where it's wetter", if the events of "Finding Nemo" actually happened, and his mom got eaten for breakfast, Nemo's dad would have developed female sex organs and bred with Nemo. Sorry, not sorry. Also, damn, nature!
7. Disney is amazing sometimes

A 10-year old girl with cancer really wanted to watch the movie Up, so Pixar sent over their employee with a DVD of the movie. 7 hours later she passed away. I sure hope that private screening made her smile one last time.
8. J M Barrie – you da real MVP!

J M Barrie, the creator of Peter Pan, gave all the rights to his fantastic story to a children's hospital, so they'd always get that sweet-sweet royalty money whenever someone wants to use the characters. Smooth move, J M!

9. Eve's fantastic design

WALL-E, who was named after Walt Disney himself, is one of those movies that make you think and go "d'aaawww" whenever the little roach is in the shot. People have been saying for years that Eve, Wall-e's robo-lady, looks a lot like Apple products and there's a good reason for that – she was designed by the same guy who worked on the iPod, iMac, and iPhone. Case closed!
10. Outlandish idea!

How did "The Brave Little Toaster" get John Lasseter fired from Disney? Almost 30 years ago John had an audacity to pitch "The Brave Little Toaster" as an amalgamation of both traditional and computer animation. Preposterous, right?
11. Don't kiss the frogs

After the release of "The Princess and the Frog" almost 50 kids were hospitalized with salmonella and, oddly, none of the frogs turned into a prince. I guess, those kids will think twice before doing something stupid they saw on TV.
12. Disney owns half a world!

And last, but by no means least, here's a small list of the companies Disney currently owns: LucasFilm, Marvel, Pixar, a whole bunch of movie distribution and music publishing companies, ABC network and many-many other smaller companies, theme parks, and stuff. The biggest two, in my opinion, are the LucasFilm and Marvel. You can't go wrong with either Star Wars or Marvel movies!
In fact, Disney folks, if you're reading this – please do a Guardians of the Galaxy/Star Wars crossover! You know you'll make billions, just do it! Don't let our dreams be dreams!