Things will never be same, but the history repeats itself and who knows maybe someday these dance moves will be in style once again. Remember Harlem Shake? Nobody really cares about it now. But these dance moves will last forever…Get Your Groove On!
1. PSY – GANGNAM STYLE
PSY's amusing dance moves made this dance really popular, after his viral video everybody wanted to learn a couple of these moves, for real! It looks simple and brings the positive vibe to those who listen to music and have fun.
2. Michael Jackson – Moonwalk
This dance move always looks impressive. A dancer moves backwards while atempting to walk forwards. Since Michael Jackson started this movement, everyone was crazy about his dance and tried to jack his style. This dance made him the superstar of his era. Also we can notice different variations of moon-walking in numerous hip-hop videos.


3. Las Ketchup – Asereje (The Ketchup Song)
This song was nothing but a straight fire, If you know what I mean, just imagine the beach full of girls moving their tanned bodies side to side and singing this pop banger. Now this song is a classic one. People of different European countries went crazy about this song. Word!
4. Kaoma – Lambada
For those who don't know the Lambada is the coolest dance of Brazilian origin. Kaoma's single
made the whole world diddy bopping and rocking to this song. This dance is a very simple one, but very passionate and funny at the same time .


5. Village People – YMCA
People have to use their arms to spell these magical letters, this song and dance became popular in the Disco Era, but even now this song is jamming at sporting events all over the world.
At the same time YMCA is a gay anthem, whether you like it or like it not.
6. Shakira – Whenever, Wherever (Belly Dance)
There are whole lot of things we can talk about regarding this dance. It was the first internationally by Shakira. The music video was dope, the way Shakira rocked her hips was fantastic. Girls gone crazy about her belly dancing.


7. Madonna – Vogue (face frames)
The army of her followers liked her dance so much. After releasing this video everybody wanted to vogue, Madonna has started a new trend. If you really want to know how to do this dance right, you have to let your body move to the music and go with the flow.
8. Elvis Presley – Jailhouse Rock (Shaking leg)
Just right-to-left wave moves, nothing special, right? But Elvis made this dance so innovative for his time that even now people like to dance it.


9. Beyoncé – Single Ladies
This dance is the best thing to rock at any party. Pop, lock and drop it, if you are looking for some lover for tonight. LOL. This is not just a dance, it's the way girls are actually flirting. When girls do this dance they will be like' hey, sweety, I got some'thin fo' ya'. Bounce!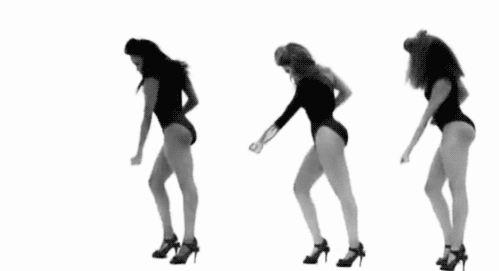 10. Miley Cyrus – We Can't Stop (Twerk)
Even after releasing this video Miley just can't stop twerking ( I see you girl) Not sure if she's twerking or just shaking her butt, but this video is hard to forget. So, if you are ready to rock the party, go ahead and twerk it like Miley! (Whooop)


11. One Direction – One Thing (Elbow Shuffle)
All girls under 16 can't stop elbow shuffling while others are twerking. Just Kid'N!
This lovely, simple and romantic dance makes everyone feel happy in this cold and lonely world (Aww) While you are waiting for a call from your boyfriend, put this song on play and try these simple moves. Let your heart feel the fire of love!

12. Utah Saints – Something Good '08 (Running Man)
One of the greatest street dances ever. It was performed by MC Hammer, Bobby Brown, Milli Vanilli, Vanilla Ice, Janet Jackson. This dance doesn't require any special skills and it's hella funny!


13. Chuck Berry – Nadine
What more can we say. This old school rock N roll dance is a crazy one. When Chuck Berry performed it everyone felt the energy and positive vibrations that rocked the funk out of abuilding. It was a favorite dance of Marty McFly from The Back To Future movie. All rock N roll heads know how to do it the right way.
14. Michael Jackson – Thriller
People are still performing his Zombie Dance after it first exploded onto the music stage.
This is one of those story telling music videos that you will watch over and over again. Word!
And for the history, Thriller was the first music video that was added to the United States Library of Congress.
15. Chubby Checker, "The Twist"
It was the first song performed in front of a live audience, and became a real sensation after Checker performed it on Dick Clark's American Bandstand. Even peeps from high society loved this song.Twist was a number one dance of celebrities, it was hard to imagine the party without this dance. Let's twist!
16. Macarena, Los del Rio
This Spanish dance song about a woman of the same name rules the world for 20 years! So, no need for words, just turn up the music loud and start dancing! Macarena… Macarena… Macarena… Aaay !