There's just something about a picture of a gorgeous dad taking a nap with his baby. Most celebrity dads seem to be somewhat aware of this and are capitalizing on social media with some extremely cute photos that are making us all swoon. Here are the hottest famous dads that make fatherhood look incredibly fine.
1. Chris Hemsworth
Chris Hemsworth is the proud dad of three young kids, whom he fathered with fellow actor Elsa Pataky. Their daughter, India Rose, is 11 years old, while their nine-year-old twin boys are named Tristan and Sasha. But not so long ago, those three were just wee lil' ones, and Chris was at the height of hot fatherhood.
2. Chris Pratt
This "Guardians of the Galaxy" actor is more than just a superhero in movies. He's a superhero to his kids in real life as well. After his split with actress Anna Faris, he wed Katherine Schwarzenegger and soon after had their daughter Lyla Maria, who is now three years old. Then, they had another little one, Eloise Christina, who is only a year old.
3. Channing Tatum
Although Tatum is no longer with his ex Jenna Dewan Tatum, he's a proud father to their daughter, Everly. Although Everly is ten years old today, it seems like just yesterday that the two were holding hands and wearing matching onesies on Halloween. A sense of humor and a great father to boot? Now that's hunky.
4. John Legend
John and Chrissy Teigen are major couple goals. First, Luan Simone Stephens was born in 2016. Then there was Miles, who was born in the summer of 2018, and finally, little Esti Maxine Stephens, who was born in January 2023. The talented singer is clearly a proud dad, and it shows in the pics.
5. Kanye West
Kim and Kanye have some of the cutest kids in Hollywood, and while Kanye has had his share of issues living in the spotlight, it's clear that he loves his children North, Saint, Chicago, and Psalm very much. He often name-drops his kids in his songs and takes co-parenting very seriously, despite splitting with Kim.
6. Josh Duhamel
This salt-and-pepper zaddy is the spitting image of his little boy, Axl Rose, who he shares with Fergie. Now, he's expecting another child, this time with his wife, Audra Mari. Audra is currently pregnant with their first child, so you can bet on seeing more adorable photos of smoldering Josh holding babies in the future.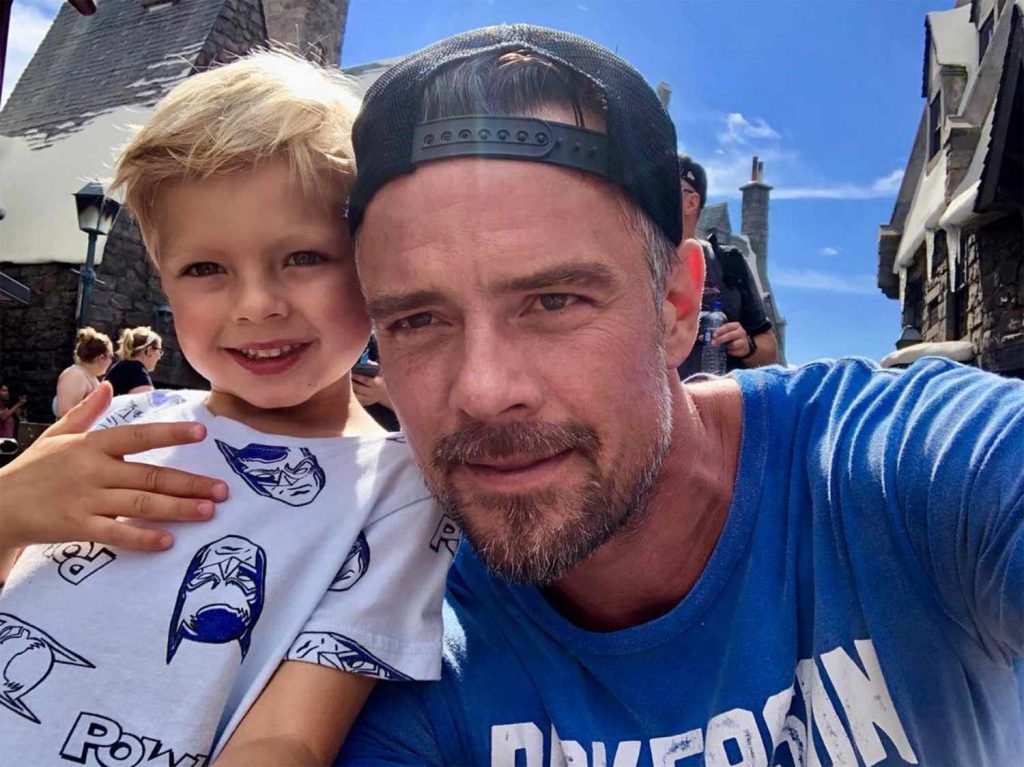 7. Jamie Foxx
Jamie Foxx has two daughters, Corinne and Annalise. While Corinne is practically grown at 24 years old, his younger daughter Annalise was born in 2009 and is entering her teenage years. It's obvious, based on the looks in their eyes, that they're both total daddy's girls!
8. David Beckham
Soccer star and underwear model David Beckham has four kids with his Spice Girl wife, Victoria Beckham. They call their children their "greatest achievement." Out of Brooklyn, Romeo, Cruz, and Harper, Harper is the youngest and debatably the most adorable. One thing's for sure: David is giving serious DILF energy.
9. Tom Brady
The king of the Superbowl just split with his wife, Gisele, but there's no denying that he still prioritizes his kids Jack, Benjamin and Vivian, above all else. Although they're all in double digits now, Brady hasn't stopped putting his kids first and really relishes his role as a dad.
10. Louis Tomlinson
This young One Direction dad became a dad to Freddie when his ex-partner, Briana Jungwirth, gave birth in July 2016. We didn't think things could get any cuter after we saw baby pics of Freddy with dad Louis, but according to musical collaborator Steve Aoki. The relationship they have is "beautiful."
11. Idris Elba
It's a no-brainer that a dad who was voted the sexiest man alive in 2018 would make the list. Elba is the proud father to a daughter Isan, whom he shares with his ex-wife, Hanne "Kim" Nørgaard, and Winston, whom he shares with his ex, Naiyana Farth. In 2017, he commented to PEOPLE that his kids are a part of him and keep him motivated through difficult times.
12. Ryan Reynolds
Reynolds has dad humor, but he definitely doesn't have your classic dad bod. Instead, this mega babe shares four babies with his wife, Blake, and in 2016, PEOPLE even named him "Sexiest Dad." At the time, he had 13-month-old James. Even today, this duo are pretty much the coolest parents in Hollywood.
13. Will Smith
Even though his kids have grown up over the years, Smith has somehow found the fountain of youth because he hasn't aged a year. He's currently 55 years old, and even that slap debacle with Chris Rock couldn't take away his hot dad status, which is undeniable.
14. Ryan Gosling
Although he'll forever be known for his role in "The Notebook," which was filmed over a decade ago, this hunky daddy looks just as good in the 2023 movie "Barbie" as he did back then. Seriously, there's something about that eye contact that makes us immensely jealous of Eva Mendes. The two share two daughters; adorably, they were both his behind-the-camera "coaches" for "Barbie."
15. Prince Harry
Prince Harry is incredibly adorable whenever he's photographed with his two little ones, Archie and Lilibet, and his wife Megan calls it "the most beautiful thing to watch." With that ginger hair and blue eyes, he was already swoon-worthy, but when we see his smile as he holds his little ones, our hearts simply explode.