Indian mythology is as rich and vibrant as the country itself. Hinduism is a truly ancient religion, which means that myths, legends, and all kinds of amazing stories intertwine with each other, creating a culture, where Gods and demons walk among men and fantastic beasts are not just a figment if someone's imagination. You'd be surprised just how grand and marvelous these creatures are! Here are 8 truly amazing creatures from Indian mythology.


Aditi
Aditi in a form of a cow is said to be the Mother of all. Treating her with respect, like a calf would treat his mother, would guarantee prosperity for the whole human race. Her name means 'limitless', and it's from Aditi's body that all the God's can to be.



Makara
Makara is a creature that dwells in the sea, but you can often see it guarding the entrances to Hindu and Buddhist temple. Considered to be a vehicle of Goddess Ganga, the sacred river that flows through the most part of the country, Makara is depicted in various forms. Usually it's a kind of chimera with a body of a fish, feet of a lion, elephant's trunk, the tail of a peacock, and monkey's eyes.





Airavata
This beautiful sacred elephant was born out of two egg shells, from which hatched the mythical Garuda. He also stands behind the belief that elephants can bring clouds and rains. According to the story, when Indra defeated the demon of drought Vritrasura, his elephant Airavata reached deep down to the waters of the underworld and then spread this water above the dried land, creating clouds. Then those clouds produced the rain, ending the drought.

Snake around Shiva's neck
It is said that during the churning if the Cosmic Ocean many wonderful things came to happen, but there also was poison that put our existence in danger. To save everyone, Lord Shiva drank the poison and stopped it from spreading into the world. Vasuki, the king of snakes, and his followers also drank the poison (hence, becoming poisonous snakes). Impressed by this fearless act, Shiva took the Snake King on to his neck, so Vasuki keeps the poison from spreading all over Shiva's body.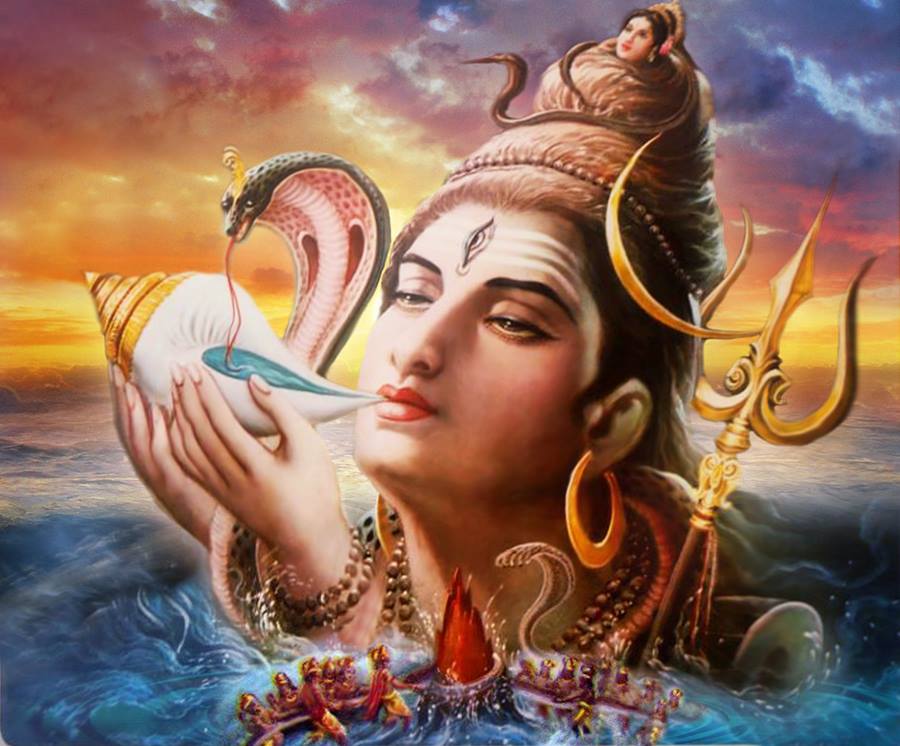 The Rainbow Fish
Also know as the Rainbow fish, this huge animal is responsible for eating Buddha himself, the Incarnation of Vishnu. After the fish was captured and Buddha freed, the whole country was eating the meat of the fish for more than a year!





The mouse of Ganesha
All Hindu Gods have a vehicle of sorts, and Ganesha is no exception! The huge mouse he rides is a former musician who was cursed to become a mouse as huge as a mountain. Naturally, it caused lots of destruction wherever he went. Once the mouse reached Ganesha's ashram, it was captured, but begged for its life, becoming the vehicle of the god as a result.

Timingila
In Mahabharata, an ancient Hindu epic, there's a mention of the greatest ocean predator that has ever lived. His name is Timingila and he was so big that he could swallow a whole whale! Whenever it went on a hunt, the whole ocean could feel the turbulence it created.





Nandi
Whenever Lord Shiva needs to go somewhere, he rides his beloved bull named Nandi, the protector if all animals. Once Kamadhenu, the mother of all cows, gave birth to so many calves, that the milk flooded from her abode and interrupted Shiva's meditation. A bolt of lightning came out if his third eye and struck the cows in a fit of anger. That's when gods presented Shiva with a special bull named Nandi, a son of Kamadhenu herself.