Most of us would never spend this much on a damn burger, but it's good to have some variety. Of course, the fact that all those ingredients are extremely rare and expensive doesn't mean that the burger is going to taste better than a double cheese at McDonald's, am I right? Here are some of the most extravagant burgers in the world, that you will probably never eat because who in their sane mind buys this crap for that kind of money?
7. DB Royale Double Truffle Burger, DB Bistro Moderne, New York
Cost: $140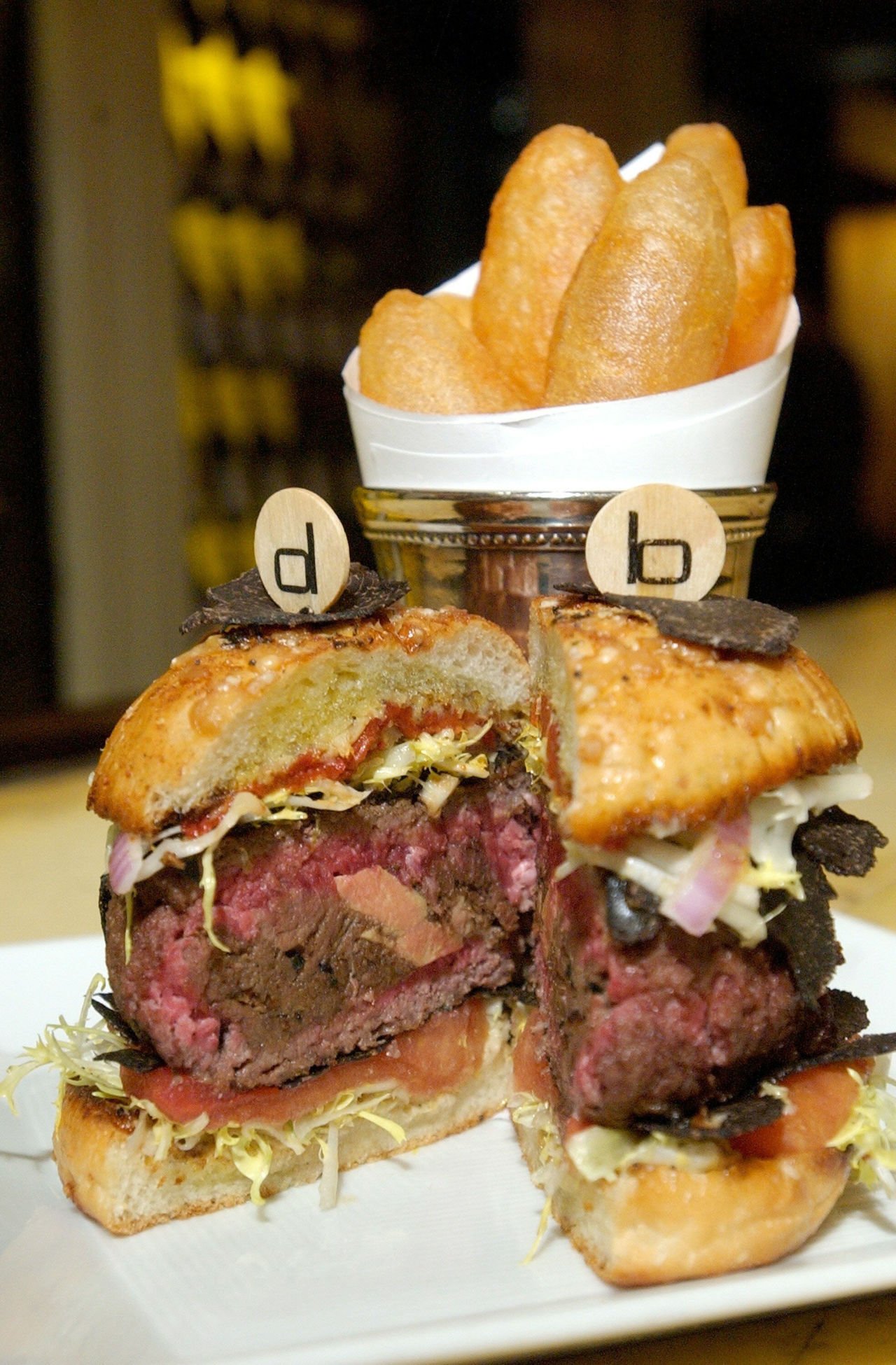 One day Daniel Boulud decided to start his quest of reinventing the burger. He took some juicy ground sirloin prime rib, stuffed it with goose liver, added wine-braised short ribs, some green stuff, and a lot of black truffles on top. Because of those truffles, the burger is available only in winter and only if you have extra $140 lying around. I gotta say, this burger sounds pretty gross.

6. The Richard Nouveau, Wall Street Burger Shoppe, New York
Cost: $150
Before WSBS shut down in 2011, they were selling two of their Richard Nouveau's every week. In their fight for the "rich" burger market, WSBS created this $150 monster specifically to beat the "DB Royale Truffle". They've added gold flake-laced truffle mayo (whaaat?) on top, more foie gras, more truffles, mushrooms, and amazing Gruyere cheese. I'd personally go with DB's burger. It at least had some ribs in it!

5. The Burger, Burger King, London
Cost: $200
Write it down, people, it's a super easy recipe! Cook some Wagyu – finest quality beef you've ever tasted, some white truffles, a few slices of pata negra, Cristal onion straws – if you're into that sort of thing, a pinch of Himalayan rock salt, and a whole lot of shallot mayo. And a diet Coke! That's Burger King style, all right.

4. Le Burger Extravagant, Serendipity 3, New York
Cost: $295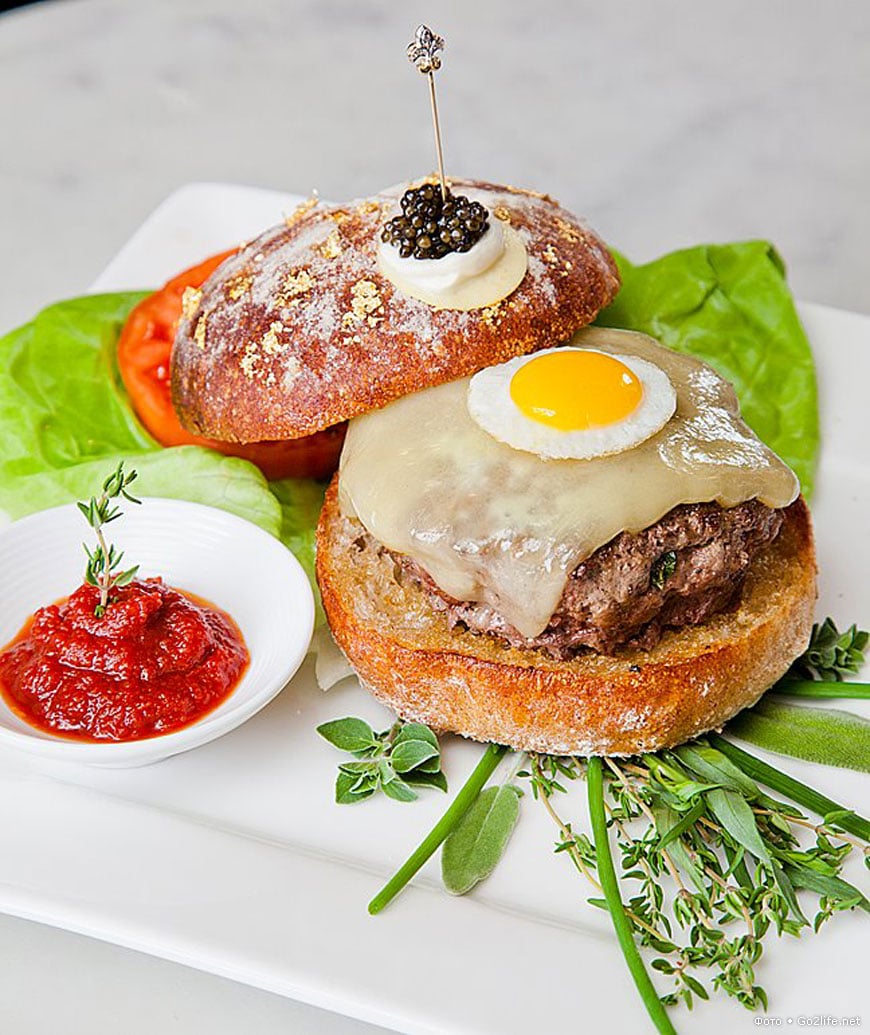 Let's look inside… Butter-infused Wagyu meat, more of those pesky black truffles, some stinky ancient cheddar, smoked sea salt, super expensive Kaluga caviar, a fried quail egg (just one?), and a heap of pancakes. All this yummy stuff is held together with a diamond-encrusted gold toothpick, which probably costs half of the burger's price.

3. The Douche Burger, 666 Burger, New York
Cost: $666
This piece of overpriced meat and buns is a real "f-you" to the rest of the expensive burgers, that rich people care about. Quite possibly, TDB is the most pricy food truck item in the world. Take some lobster, truffles, caviar, stuff the Kobe puck with foie gras and douse the whole thing with Kopi Luwak coffee bean BBQ sauce. And don't forget a gold leaf wrapper! Here's the funniest thing: the guy who sold TDBs wore actual mink coats. Like, for real. Too bad "666 Burger" truck is not around anymore.

2. The Absolutely Ridiculous Burger, Mallie's Sports Grill & Bar, Detroit
Cost: $2000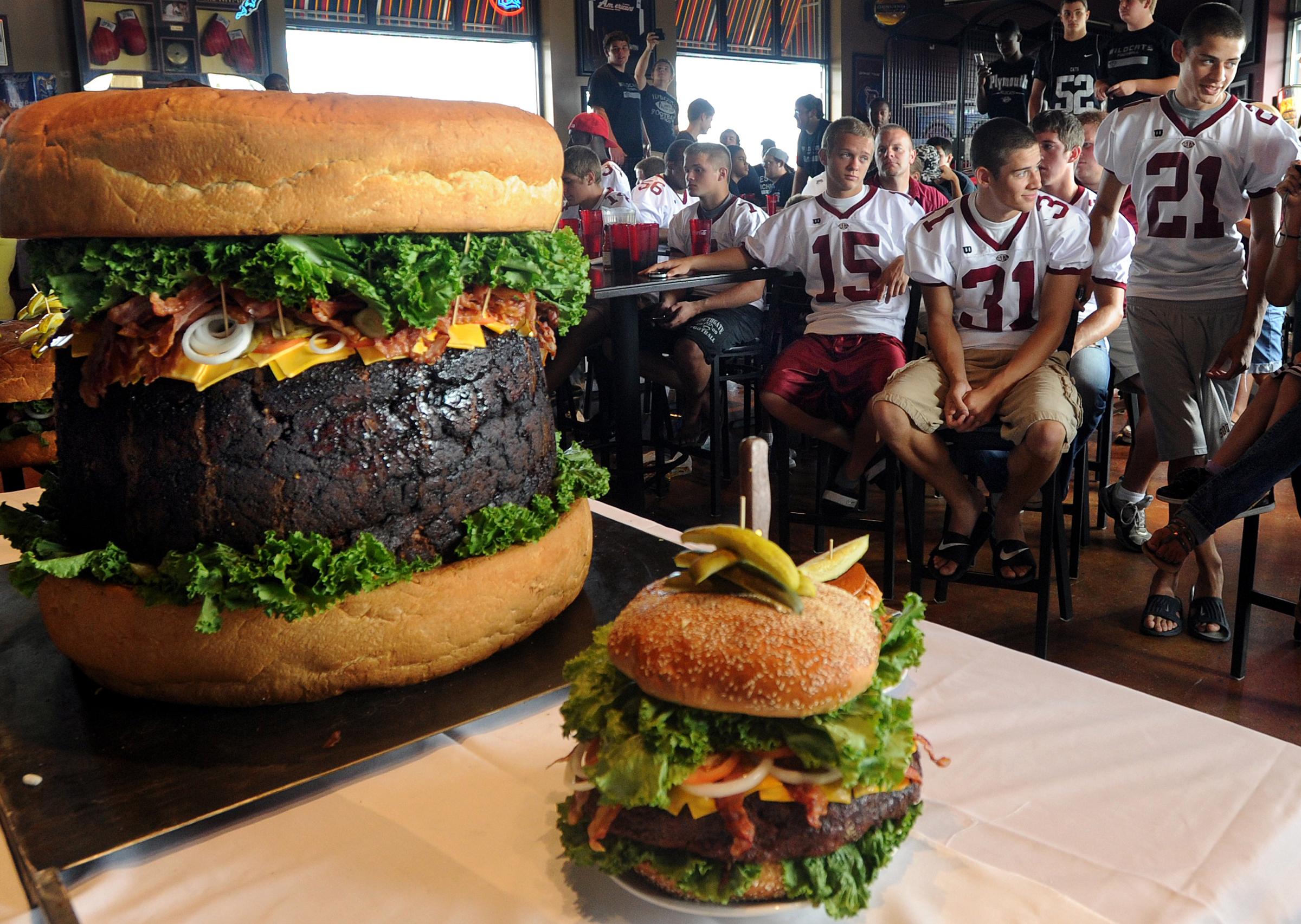 Have you noticed how almost all of the previous burgers could be found in NY? Well, to chow down on this Absolutely Ridiculous Burger, you'd have to visit Detroit. In fact this may be the only great thing about Detroit. The burger is not fancy, there are no truffles, no Wagyu beef, not even a single diamond-encrusted gold toothpick! So, what makes it cost $2000? Its sheer size. It is simply gigantic! It even broke a Guinness record in 2012 for the largest burger, weighing 338 lbs, including 30 lbs of sizzling bacon and 36 lbs of delicious cheese.

1. Cultured Beef Burger, Maastricht University, Netherlands (cooked in London)
Cost: $330,000
What's the priciest burger doing in a university? What, you thought fancy meat grows on trees? No, it grows in petri dishes! Just 5 oz of this artificial meat will cost you $330,000. Would you be willing to dish out that much for a few pieces of man-made meat? Add truffles, champagne and all that good stuff from the previously listed entries and you're looking at a whole new tier of burger pricing. It's what the traffic will bear and yes people do like these petri-burgers. Maybe it's the V.A.T. tax that drives up the price. Bon appetit!