Over the past few years, "snackwave", a trend intended to celebrate junk food as an antithesis to the unhealthy media obsession with the healthy food culture-turned-religion, has become an alternative mainstream culture in its own right. Unsurprisingly, lots of female Instagram users, who aren't afraid of public display of affection with fast food, embraced this trend and started posting their selfies with carbs to the social network. However, this protest against 'health madness' turned into a highly controversial topic. Snackwave divided the Internet community into those who consider it as a statement against the gluten-free diet and an exploration of the fun side of snacking, and those who find it insulting that skinny beautiful women stuff their faces with glutenous food to create social media buzz in the obesity-ridden world.
Indeed, fast food is a never-ending debate. We have different metabolisms and diet habits, and our relationships with our bodies differ as well. However, let's face it – snacking is an integral part of modern life. It can be adored, it can be hated, and it is clearly fetishized in popular culture.
Here are 5 Instagrams and a Russian-speaking social media account that display women (seemingly) not giving a damn about eating unhealthy food. They are aimed at different audiences and have different goals, but each of them definitely catches the shift in the zeitgeist.
This popular account features pretty girls with flawless bodies who aren't afraid of indulging in their guilt-laden fast food pleasures and showing it to the world. It caused an outcry among the proponents of healthy diet claiming that this slender-models-eating-fatty-foods account is an example of outrageous junk-food propaganda in the country with the 40% obesity rate, but 45 K followers seem to be excited to drool over beauties chowing down on unhealthy delights like cinnamon rolls, pasta and doughnuts.



If Michelangelo from Teenage Mutant Ninja Turtles had Instagam, he would definitely follow this account, as it features a variety of gorgeous women nibbling slices of delicious pizza pies. Marta Freedman, the woman who created this cheesy account, takes Polaroids of her lovely subjects displaying their love affair with pizza. Once a picture is developed, she places it on a pie and takes a shot for Instagram. Thus, she combines two opposites – the digital and the analogue, as well as the beautiful and the greasy.



One can easily characterize Sarah Bahdah's style as "food eroticism". The Aussie photographer posts to her Instagram account pictures of beautiful semi-naked models posing suggestively with various junk food like pizza, doughnuts, fries or cheeseburgers that are used to cover up the models' naughty parts. The results look delicious in every sense of the word!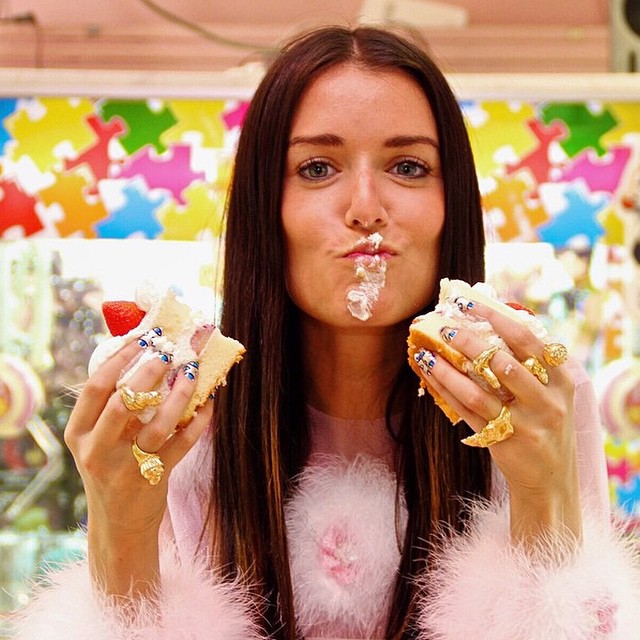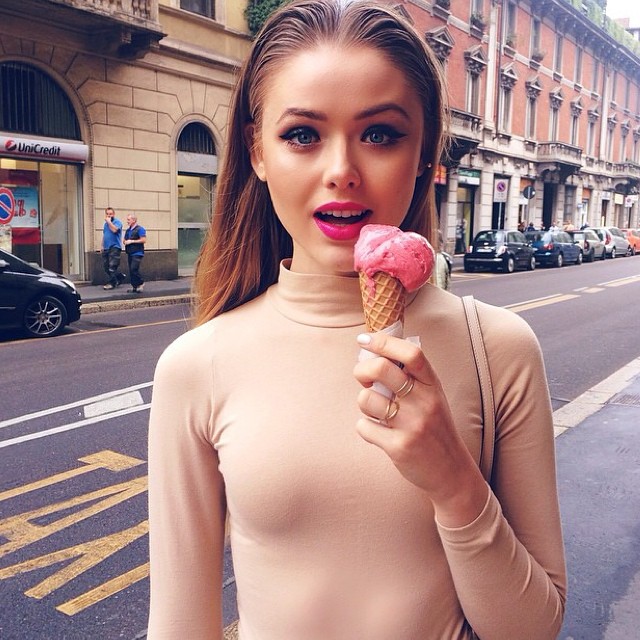 One more account that features models posing with food? It's actually not quite the same. The anonymous woman behind this account pulls images of regular or famous slim beauties who are allegedly pretending to eat the sugar-coated and glutenous food they are posing with. Over 140 K followers seem to agree that girls with perfectly toned bodies are just faking their obsession with yummy desserts and fatty snacks.

Young pretty women and teenage girls posing for photos while holding doner kebabs, also known as schawarma, is the latest sexy meme on the Russian-speaking Internet. Tons of girls and their boyfriends send pictures like these to a group called 'Pretty Girls And Schawarma' on VKontakte that is the largest social media for Russian-speaking users. This Turkish snack has gained considerable popularity in post-Soviet countries over the last few years. It has become the post-Soviet cheeseburger – both unhealthy and just a few minutes to make. This is why it was just a matter of time before someone would decide to fetishize this junk food, as one can clearly see that eating schawarma is a playfully naughty way to hold something phallic near one's mouth and share it on social media.