Have you ever enjoyed something without context or even basic explanation? These GIFs right here are just like that. Let them soothe you with their perfection. Just watch a loop of Slinky going down the treadmill for five minutes, and don't ask why. Have fun!
So close… Woah! TOO close!

Why do I have serious Titanic vibes from this?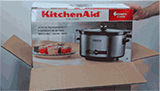 Is this a taffy machine? Sweet!

This is for all you painters and art enthusiasts.

When you know the music is good.



I need this kettle in my life right now! It's like a lava lamp, but less… trippy.

Heated knife + beeswax = perfection

This looks both soothing and aggravating.

And now you want a chewing gum, am I right?



Almost there… Just a few more steps…

Now you know what those grooves are for!

Insanely satisfying paper cutting guillotine.

Moar! MOAR CHOCOLATE!

I just want to know what this is. Is it a jello spring? Or maybe it's CG animation? I need to know this, goddamit!



This is exactly how I absorb my pizza.

Slower, you slut!

This is going to be the best damn cake ever.

You know this feeling all too well, don't you?



Glazing freshly baked donuts may not look like much, but keep watching…

Honey, I think I'm being hypnotized.

It's almost like the Thunderdome motto: Two sticks enter – one stick leaves!

Water in slow motion is one of those things you can watch forever.

Don't ask why, just accept the fact that cheeseburgers are super aerodynamic.



You jelly?

I'll take 10 of these, please and thank you!

Mind-altering art installation

Oh the tension! The action! THE THRILL!