Guys, royals are people too. The only difference is that they get to live in palaces and castles, wear fancy things on their head, and can hypothetically demand that their staff hand feed them grapes. Think about it. Are you going to refuse Princess Eugenie's orders when she has a craving for fruit? Anyway, since all humans are social animals, it is logical that Duchess Kate is going to want to hang out with her friends (frienemies?) just as much as you do. With that in mind, let's take a look at 12 royal friendships that you might not have expected.
1. Angelina Jolie and Duchess Camilla
At first, the pairing of the free-spirited Jolie and serious Camilla might seem odd. But both of them are passionate about bringing awareness to the issue of sexual violence, so it makes sense. A few years ago, the actress was in London giving a talk on the issue at a global summit when she crossed paths with Prince Charles' wife… and the rest is history. Camilla isn't the only royal that Jolie has rubbed elbows with. Due to her humanitarian achievements, the Queen herself knighted her.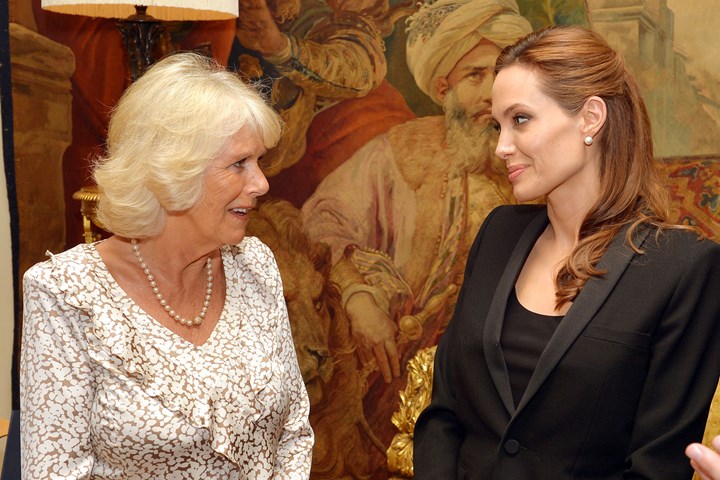 2. Will.i.am and Prince Andrew
How would the lead singer of the Black-Eyed Peas befriend Queen Elizabeth's second son? Turns out, through the Prince's ex-wife Sarah Ferguson. Mr Will.i.am and Prince Andrew have been putting out albums together ever since. Not really. But they did create a charity together that encourages young people who are seeking to start their own digital businesses. By the way, guess where Will.i.am's bandmate Fergie (real name Stacy Ferguson) took her nickname from way back when? From Sarah, of course! Coincidence? Or proof of an Illuminati-like conspiracy? You decide.
3. Rihanna and Prince Harry
Once upon a time in 2016, Rihanna went back to her native Barbados to celebrate that country's 50th year of independence. Who else showed up? None other than Prince Harry! The two reportedly got along well and all the weirdos in the Twitterverse hoped that love was in the air. But, alas, it wasn't meant to be. The Prince married Meghan Markle earlier this year, obviously. But Rihanna must have been a guest at the wedding, right? Nope. Sorry. They aren't that tight anymore, apparently.
4. Eddie Redmayne and Prince William
Long before the actor was learning where to find fantastic beasts, Redmayne was schoolmates with the Prince at the prestigious Eton College. They were even teammates on the school's rugby team, although the way Redmayne describes it, William was the one who faced the brute of their opponents' wraith. It's only logical though. Who wouldn't want to someday tell their grandchildren that they tackled the future King of England. And legally even!
5. James Blunt and Prince Harry
As everybody and their dog knows, Prince Harry has been up to a lot lately, especially basking in the glory of being the husband of the lovely Meghan Markle. As for James Blunt, known for precisely one hit – although to be fair, "You're Beautiful" still gets a lot of airplay for having been released in 2004 – not so much. However, that didn't stop the Prince from inviting him to perform at the Invictus Games in 2016, a sports competition for wounded veterans. Turns out, they served the same regiment in the British Army as well.
6. Queen Victoria and Abdul Karim
Your eyes aren't playing tricks on you. We're talking about the legendary monarch here. The one that has lakes and falls and probably many other water-related things named in her honor. Back in the 1870s, Abdul Karim arrived from India to act as a servant to the aging and lonely queen. From this the most unlikely friendship formed. When Queen Victoria passed away in 1901, the rest of the family probably showed their gratitude by knighting him, right? Sadly, no. Not being the most enlightened of royals and having disapproved of the friendship, they sent him back to India. But at least he gets his name mentioned in a Brainberries article!
7. Ashton Kutcher, Mila Kunis and Princess Beatrice
They take vacations together, attend weddings, and – get this – even shared an Uber ride in New York City! When Kutcher, Kunis and the Princess get together, we can only imagine the zany hijinks that ensues. It has been reported that the trio met through Princess Trixie-Bell's ex-boyfriend Dave Clark. Hopefully not the same Dave Clark who sang in that 1950's rock band since he's like 80 years old now.
8. Prince Harry and the Obamas
Harry met up the Obamas at the same aforementioned Invictus Games where James Blunt presumably played his only hit in an endless loop. Prior to the competition, the Prince, the Queen and the Obamas did a little playful trash talking, challenging each other to "bring it." We assume they meant tea and crumpets. Anyway, Prince Harry still keeps the 44th President on his speed-dial, even getting a chance to interview him on radio in 2017.
9. Prince Charles and Joan Rivers
Prince Charles doesn't have a reputation for being a particularly jovial man, so on the surface it would seem pretty strange that he was friends with famous late comedienne. But in fact he dabbled in comedic acting while at Cambridge. Rivers performed at the Prince's 60th birthday and she was a guest at his wedding to Camilla.
10. David Beckham and Princes William and Harry
Regarding Beckham's friendships with William and Harry, it's not just one of those "we sort of know each other" situations. It's pretty legit. The soccer…football…um…sockball star attended both Princes' weddings, after all. Beckham has even had an audience with Queen Elizabeth at Buckingham Palace on a couple of occasions. Said Beckham about hanging out with the most famous royal on the planet, "The first time we met, it was pretty awesome. The second time it was like, great, I'm here again with the Queen or whatever." Just kidding, don't sue us! His actual quote was, "I've been here a couple of times now, and every time it is very special."
11. Princess Diana and Elton John
The late Princess and legendary musician originally met in 1981 after Sir Elton performed at Prince Andrew's birthday. From there, their friendship blossomed. Oh, there were catfights to be sure. But they mended fences shortly before Lady Di's death. In fact, those of you who are old enough might remember that he even played a revised version of "Candle in the Wind" (originally written for Marilyn Monroe) at her funeral.
12. Meghan Markle and Serena Williams
Before she became a member of the British Royal Family, the Duchess of Sussex became friends with Serena after attending a celebrity flag football game. They immediately hit it off. Texting each other. Getting lunch. Markle cheering on Williams at tennis matches. Williams pausing from her serves to cheer on Markle for being such a good friend. Not really, but that would be fun to witness.