Guys, royals are people too. The only difference is that they get to live in palaces and castles, wear fancy things on their head, and can hypothetically demand that their staff hand feed them grapes. Think about it. Are you going to refuse Princess Eugenie's orders when she has a craving for fruit? Anyway, since all humans are social animals, it is logical that Duchess Kate is going to want to hang out with her friends (frienemies?) just as much as you do. With that in mind, let's take a look at 12 royal friendships that you might not have expected.
1. Angelina Jolie and Duchess Camilla
At first, the pairing of the free-spirited Jolie and serious Camilla might seem odd. But both of them are passionate about bringing awareness to the issue of sexual violence, so it makes sense. A few years ago, the actress was in London giving a talk on the issue at a global summit when she crossed paths with Prince Charles' wife… and the rest is history. Camilla isn't the only royal that Jolie has rubbed elbows with. Due to her humanitarian achievements, the Queen herself knighted her.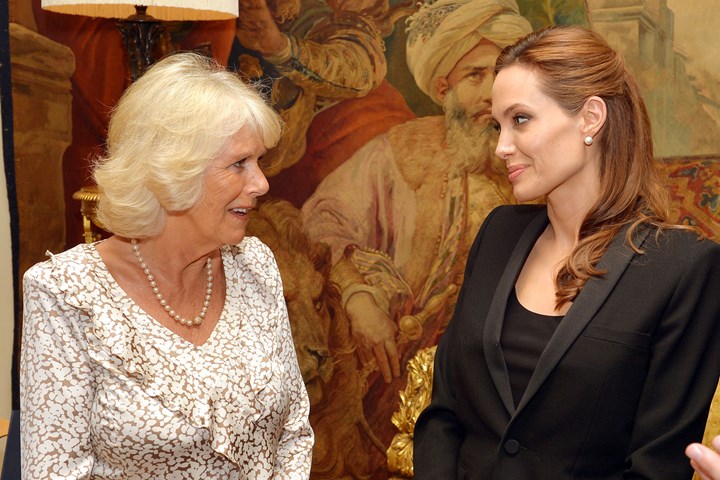 2. Will.i.am and Prince Andrew
How would the lead singer of the Black-Eyed Peas befriend Queen Elizabeth's second son? Turns out, through the Prince's ex-wife Sarah Ferguson. Mr Will.i.am and Prince Andrew have been putting out albums together ever since. Not really. But they did create a charity together that encourages young people who are seeking to start their own digital businesses. By the way, guess where Will.i.am's bandmate Fergie (real name Stacy Ferguson) took her nickname from way back when? From Sarah, of course! Coincidence? Or proof of an Illuminati-like conspiracy? You decide.
3. Rihanna and Prince Harry
Once upon a time in 2016, Rihanna went back to her native Barbados to celebrate that country's 50th year of independence. Who else showed up? None other than Prince Harry! The two reportedly got along well and all the weirdos in the Twitterverse hoped that love was in the air. But, alas, it wasn't meant to be. The Prince married Meghan Markle earlier this year, obviously. But Rihanna must have been a guest at the wedding, right? Nope. Sorry. They aren't that tight anymore, apparently.
4. Eddie Redmayne and Prince William
Long before the actor was learning where to find fantastic beasts, Redmayne was schoolmates with the Prince at the prestigious Eton College. They were even teammates on the school's rugby team, although the way Redmayne describes it, William was the one who faced the brute of their opponents' wraith. It's only logical though. Who wouldn't want to someday tell their grandchildren that they tackled the future King of England. And legally even!