It's December, so you know what that means – it's time to think about the holidays, presents, and decorating that evergreen giant your dad just brought home 3 weeks earlier than necessary! But let me tell you, no matter how hard you try, you'll never have a Christmas tree as fancy as what you're about to see.
Almost every city, town, and village have their own Christmas traditions (those that celebrate X-mas, of course), including dressing of the main tree using thousands of lights, any and all available decorations.
Without further ado, here are 10 most memorable Christmas trees from around the world!
1. Floating Christmas Tree, Brazil, Rio De Janeiro
This giant 279-feet-high tree was packed with fireworks on the sides, oh and it's also a tiny floating island. What's not to love?
2. The Biggest Christmas Tree, the Mount Ingino, Italy
Anyone can decorate a single tree, but what about dressing up hundreds of those green giants? As you can see, this is actually the biggest Christmas tree in the world, because it's a 2000 foot long tree made of smaller trees.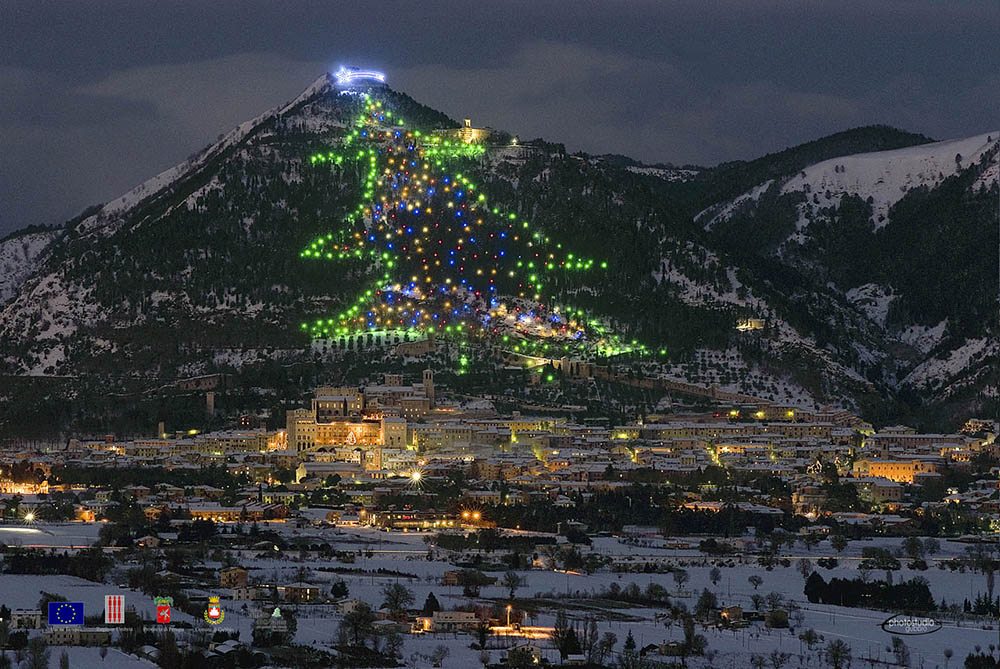 3. The World's Shiniest Christmas Tree, Osaka, Japan
This year's X-mas tree in Osaka, Japan, has set a new Guinness world record as the most illuminated tree ever. With 550,000 lights wrapping this green monster, you can't even see a single branch!
4. Most Expensive Christmas Tree, Abu Dhabi, The United Arab Emirates
Usually, when you lose or break an ornament, you'd get scolded or, if you live alone, you just buy a new one. It's not a big deal, generally speaking. Unless, of course, your Christmas ornaments are made of gold and gems. This tree in Emirate Palace Hotel has a "dress" that costs $11 million in jewelry and gemstones!