The larger the screen, the better – no one will argue with this, but sometimes a small size is also a good thing, depending on how you use your cell phone. And you won't believe just how minute they can get! A spare phone that can work for weeks without recharging and can easily fit in the smallest pocket is a perfect solution for tourists, kids, and spies, and it could save your life in a tough situation.

Here are the top 10 tiniest mobile phones on the planet!

1. MAFAM A10 – 90 x 50 x 8 mm
It comes with 2 Gb of storage, but you can tweak that by putting an 8 Gb memory card in it. 10 Gb, 2 SIM cards, a battery that will last you for 5 hours, and the most stylish-looking metal case are all the things you didn't know you needed!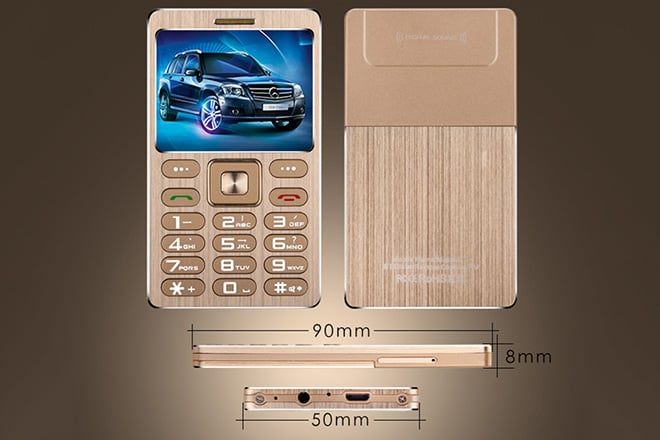 2. Haier Elegance – 89 x 32 x 19 mm
It looks cool and can keep you talking for 5 hours. Alternatively, you can listen to music for 11 hours. Haier Elegance is sort of "just there" for people who can appreciate its design. It's a phone for Pete's sake, not a coffee machine!
3. Samsung SGH-E888 – 87 × 43 × 23 mm
This phone can deal with email, SMS, MMS, MP3, JPG, PNG, and many other acronyms; works up to 5 hours in conversation mode, and up to 200 hours in standby. The only thing it does not support is 3G.
4. Pantech C300 – 86 x 43 x 20 mm
If you like flip phones, then this is the smallest flip phone in the world! Very thin and weighing 70 grams, this is an old model, with a crappy camera, but, if you love those flip phones…
5. NEC N930 – 86 x 54 x 12 mm
The TFT touchscreen of this phone can recognize handwritten characters, and it works with a stylus, which is very convenient for such a small screen. The phone comes with a leather case the size of a business card holder, and in general looks pretty stylish.

6. LG Migo VX1000 – 82 x 46 x 22 mm
This button-filled device weighs a mere 70 grams, and you can use it as a conventional key chain. You can slap it on your keyring and use it as a device for finding those keys, in case you misplace them.
7. Melrose s9 – 86 x 43 x 9 mm
This ultra-thin smartphone is rocking a dual-core processor and has 4 Gb of storage. Even though this gadget's screen size is only 2.5″, it has a 2 MP camera. At the same time, the phone itself is barely bigger than a regular lighter.
8. Modu T phone – 72 x 38 x 8 mm
The lightest phone according to the Guinness Book of World Records is the silver finalist of the TOP 10 smallest mobile phones. It has a touchscreen, a color display supporting 65,000 colors, Bluetooth, and a pretty good battery.
9. Newmind F1 – 69 x 20 x 10 mm
This phone may look like a toy, but it can last up to 6 hours in conversation mode. There's a screen, a media player, Bluetooth, but no camera. Why would you need one anyway?
10. XunChi 138 – 67 x 33 x 20 mm
This microscopic baby has a 1.3″ touchscreen, a camera, can play media files, receive and make calls, send SMS, and even has Internet access.