Bird Box is the new sensation everyone just can't stop raving about. In reality it's quite a mediocre movie with some top-shelf acting from the likes of Sandra Bullock and John Malkovich. For some reason it got over 45 million views in the first week! Now add the shared accounts, and the pirated views and you're looking at what could be the top grossing horror/suspense of 2018 if it were released in the theaters. It's a lot like the "Quiet Place", but instead of not talking or making sounds, people use blindfolds to prevent them from seeing these horrifying eldritch demons, and essentially, killing themselves for no reason. It's a hair-thin premise but it works.
So, where do the memes come on? Shortly after the release Twitter (ha-ha) users started filling out their timelines with Bird Box memes. A couple of days later the whole internet was burning up!
Here are 9 hilarious Bird Box memes!
1. 2 straight days, people!

2. When you're trying to avoid people "Bird Box" style.

3. No tip – no service.

4. Sandra's still got it, no matter what people say.

5. This meme physically hurts.



6. Imagine if Sandra was an Uber driver on weekends.

7. Damn right, only positive mood in 2019!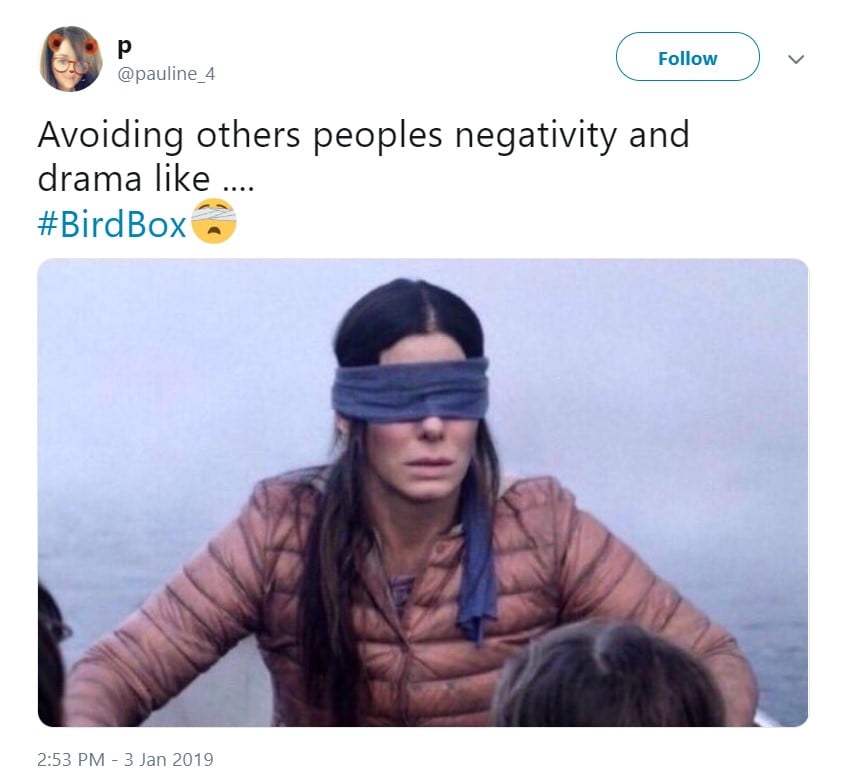 8. It's just a speed bump! A speed bump that cracks under pressure.

9. Until today I had no idea what the Bird Box challenge was all about. I was blessed.