Every year Valentine's Day causes a lot of uproar and forms this big divide between the people. Some run around with flowers, cards, and gifts, while others believe that this holiday is a well-thought-out marketing ploy imposed on us by the Western overlords. But the stench of romance flowing from every nook and cranny inevitably affects even the loneliest of skeptics. Maybe this year, things will be different with the COVID around, but love conquers all!
All this struggle is reflected in the funny corners of the Internet, so let's have a laugh at these hilarious Valentine's Day memes.
The first thing you must learn to love is yourself. And only then can you get poppin'.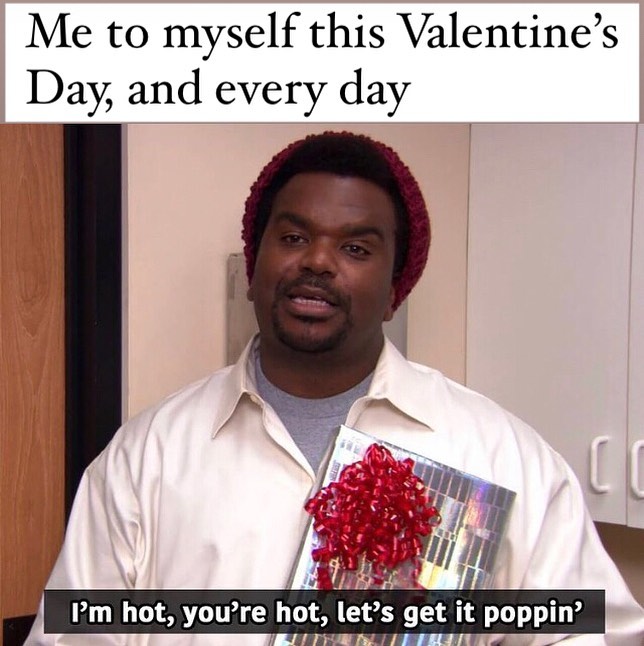 Nothing screams "Valentine's Day" like a bag full of pepper sprays.
That's true, you alone all the time, you don't need anybody!
In case you feel like running around nekkid, use this V-card.
Displays of affection are just gross. Ew! Chuch a shoe at them.
The designer of this plushie must have known what he was doing, right?
Bernie is popping off this month, so why not use him to your advantage?
Customer care will always lend you a friendly ear. 
Free food is much more important than a couple of dates and your family.
Desperate boys looking for that perfect V-Day present, hoping they can still get some.
Actually, this is a solid plan. Change it to "Watch out! She's got crabs!" and I'm in.
What a sweet couple, awww. Oh, wait, that's… Never mind.
Spread the love, but here's a Plan B. Just in case you spread too much of it.
This looks like a perfect day, not gonna lie. However, the beachball may be too much.
Mowing lawns in February? That can't be right.
I'm down to find just one more meme. The best one, I promise!
Told you it would be finger-lickin' good!