Bridges are not just a safe way to get across a body of water or a deadly chasm, it's also a symbol of unity. Man and nature, two lovers, land and water – you get the idea. It's not just some architectural masterpiece… until it is. Some bridges look as if they weren't meant to be walked on. But they look so spectacular!
Here are 6 most picturesque bridges in the world.

1. Golden Bridge, Vietnam
Have you ever seen a bridge that's being held by two humongous hands? If you haven't, then you still got a chance to visit the Golden Bridge near Da Nang in Vietnam. The best thing about this bridge is the insanely beautiful panoramic view on the Ba Na hills. Needless to say, it's a real tourist trap!
2. Longest and Tallest Glass Bridge, China
This 430-metre-long monstrosity is the world's longest bridge which nobody wants to cross. Because it's made of glass! Simply looking down will probably give you vertigo, because mother nature never meant for us to see her creation from this high up.
3. Glass Bridge, Kyiv, Ukraine
Just a few months ago a new glass bridge has been opened in Kyiv, Ukraine. It's not as huge as its Chinese brother, but even at 20-30 meters above the ground, it may give you the butterflies-in-your-stomach feeling. The glass is very sturdy, and should hold up to 1150 kg per square meter, yet, on the first day it was opened, there were so many people, that one of the glass tiles shattered. Other than that, the bridge connects 2 very popular tourist spots, and the view is simply breathtaking!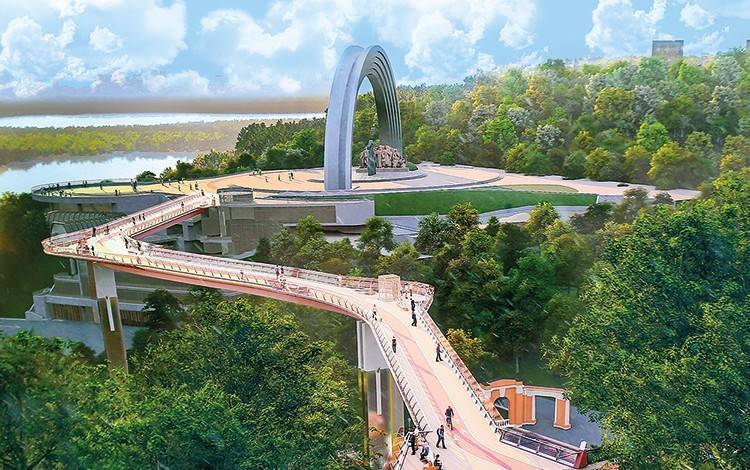 4. Building Bridges, Venice, Italy
I wouldn't call this one a functional bridge but Lorenzo Quinn's "Building Bridges" installation is a phenomenal work of art at the very least. These six pairs of hands coming together over the Arsenale are a masterpiece that symbolizes unity and brotherhood.
5. Dragon Bridge, Da Nang, Vietnam
Have you ever been on a bridge that breathes fire? Now's your chance! Not only does the Dragon bridge looks like a freaking huge dragon, it actually spews fire on weekends! This just may be the most picturesque way to get from the airport to central Da Nang. Totally worth visiting.
6. Langkawi Sky Bridge, Malaysia
Hanging at 2000 ft above sea level this 400-ft long bridge won't leave a single soul untouched. The Langkawi Sky Bridge's curved deck is only 6 feet wide but the panoramic view of the archipelago it offers to its visitors is more than enough to cover for this tiny drawback.