Huge factories, countless mines, sewing factories and assembly lines – all of these are not the only things the modern China is known for. There are also fascinating architectural projects that look as if they've been built by aliens. Like, seriously, look at those photos! Who even thinks of these designs?
1. Opera House in Harbin
This stunning opera house was built in the city of Harbin, famous for its winter festivals. This place actually used to be a swamp near the Sungari river, so now the Opera house organically fits into the surrounding landscape thanks to its winding and smooth lines.

2. The Shanghai Tower
The Shanghai Tower is a truly majestic 632 meter-tall skyscraper, with the total area of 380,000 m². Inside you'll find offices of various companies, entertainment and shopping centers, hotels, fitness studios, hairdressers, laundries, shops and pretty much everything else you may need.



3. Museum of the Revolution in Wuhan
Wuhan is the largest city in the central part of China in terms of population. It is famous for its history, which was reflected in this magnificent museum center, built in 2011. You can probably tell that it attracts visitors not only with interesting exhibitions, but also with incredible design. It's like something straight out of anime.

4. Galaxy SOHO complex in Beijing
Galaxy SOHO complex in Beijing is my personal favorite on this list. The 330,000 m² complex consists of five interconnected bubble-like buildings. The lower floors are occupied by a shopping and entertainment center, and the 12 upper floors are probably the best offices in the world. And all the way on the rooftop there's a bar and a restaurant with an amazing panoramic view.



5. Ordos Museum of Art and History
The city of Ordos was built from scratch in 2003. According to the schematics, it is designed to accommodate almost a million inhabitants, but for now there are only about 20,000 people living there. Obviously, the Museum of Art and History is its main attraction, gathering tourists from all over the world.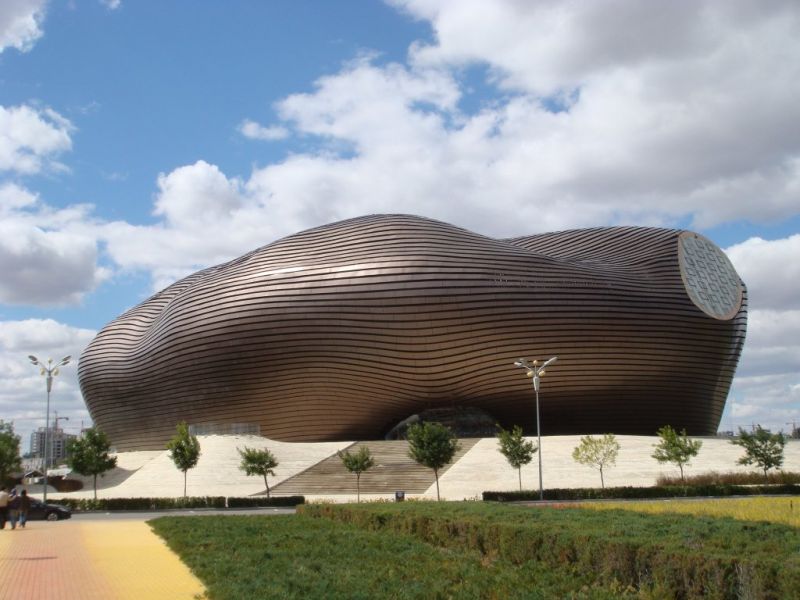 6. Beijing National Stadium
This multifunctional sports and entertainment complex is also often called the "Bird's Nest" because, well, it looks like one. It was created for the 2008 Olympic Games, as well as showcasing the pageantry of the opening and closing ceremonies. Can you guess how much this baby cost? Around €325 million!



7. Sheraton Hotel in Huzhou
This hotel may very well look like a horseshoe, but in fact it is a full-fledged circle, with two of its lowest floors being fully submerged. This donut cost the Sheraton network $1.5 billion, making it one of the ten most expensive hotels in the world.



8. National Center for the Performing Arts
The National Center for Performing Arts, also known as the "Egg", is an unusual building made almost entirely of titanium and glass, is located in the heart of Beijing, close to the famous Tiananmen Square.
The huge dome of the National Arts Center has the opera house (2,416 seats), the musical auditorium (2,017 seats), and a theatre (1,040 seats), all of which are connected by air passages for some reason.

9. Global Center "New Century" in Chengdu City
This is the largest single building in the world. At 100 m tall its total area is 1.76 million m² (MILLION!)! The New Century has 18 floors and is almost entirely made of metal and glass. Inside you can find shopping areas, offices, conference halls, two commercial centers, two five-star hotels, IMAX cinema, and a freaking water park with an artificial beach.



10. Ring of Life in Fushun City
This grand structure in Fushun city resembles a ring with an outer diameter of 170 meters and an inner diameter of 150. Naturally, the view from the top is breathtaking, and you can easily get there by riding high-speed elevators. Seriously, though, I don't understand how this thing was built or how it keeps standing, but it's freaking impressive, taking into account that the Ring alone cost $16 million. That's chump change!