Earth has a plethora of unique places you can visit but some of the most memorable and unusual ones are generally found in the less explored areas. Grab your travel bags, because we're about to go on an unforgettable journey through the most incredibly bizarre places around the world!
1. Chocolate Hills of Bohol Island, the Philippines
These things look as if someone poured 1700 chocolate hills in the middle of the island. Turns out, however, that these mounds are the uplift of coral deposits created by rainwater erosion.

2. Spotted Lake, British Columbia, Canada
I'm not even surprised that such a stunning beauty has been revered by the natives (Okanagan) as a sacred place for generations. Look at all those colors!



3. The Tianzi mountains, China
Imagine you're going through this scenery on a cable car and the fog rolls in… It's both astonishing and rather unsettling at the same time. These titanic limestone pillars in Hunan Province, China, were actually an inspiration for some of the alien world scenery in Avatar.



4. Pamukkale, Turkey
No thermal pools have ever looked as good as Pamukkale (Cotton Palace) in Turkey. And yes, you can actually get in there and have a dip!

5. The Hand in the Desert, Chile
Don't worry, this is not some ancient giant's hand in the middle of Atacama desert you're seeing here. It's a personal art project of Mario Irarrázabal. But this fact doesn't make this place any less breathtaking!



6. Plain of Jars, Laos
There are these giant jars spread all across Xieng Khouang province that are too big for normal people to use, yet, as you can see, there are dozens, maybe hundreds of them! Was there a race of giant? Maybe regular people did use them for brewing, since no matter how much you brew, it's never enough. Answers to these questions will forever remain unknown.



7. Cat Island, Japan
Welcome to Tashirojima – an island almost exclusively populated by cute kitties. You see, there used to be a lot of silkworm farms here, and that meant mice and other rodents were a problem. But not for long! The fishermen started relocating cats here and even built a shrine for them. Since then the local tourism has never been better.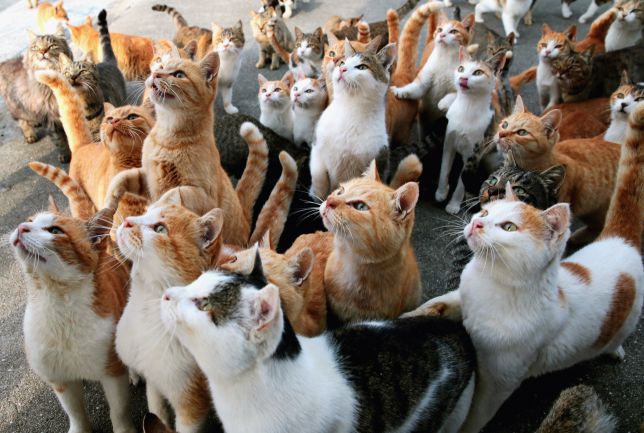 8. Goblin Valley State Park, Utah, USA
You can find these unbelievable rock formations around 200 miles southeast of Salt Lake City. What makes them so special? I mean, have you looked at them? They clearly resemble a bunch of rock goblins.