Here is a list of the 10 most insane and extreme water slides from around the world. Enjoy!
1. Summit Plummet, Florida
This incredible ski themed slide has a 120-foot slope. The Disney's Blizzard Beach water park is a high speed water slide with a large 12 story drop. Hardcore thrill-seekers will not want to miss this breathtaking ski-jump. Brace yourself before the thrilling-ride to the bottom.



2. AquaLoop, South Korea
This 17 meter vertical slide is something that will make your heart skip a beat. Simply irresistible! The riders are careening down the AquaLoop, speeding along at up to 60 km per hour. Not everyone can keep calm while taking this extreme ride. These 7 seconds of your life will be a major memory.



3. Wildebeest, Indiana
For whole who want to enjoy the longest water slide in the world, we present to you The Wildebeest. What can be better than two-and-a-half minutes of this mind-bending ride? Obviously, you will forget about your poker face. This amazing water slide will make you feel something very special. The coolest hills, drops, twists and turns are waiting for you.



4. Tantrum Alley, Dubai
Two large downhill waterslides and three tunnels will make you drop your jaw. Four-person tube travels downhill to meet the first tornado where it slides back and forth several times. After circling around in the eye of Tornado, riders hit the third one and splash out into the pool.



5. Bulletbowl, Beijing
The most famous in the Far East and China's first indoor waterpark. This place really looks magical and it's like a door to another world. The Bulletbowl drops riders down a tube and sends them whipping around like a corkscrew. Thrill-seekers all over the world can't miss this extreme place.



6. Scorpion's Tail, Wisconsin
It's slide is ten stories high and 400 feet long. The Scorpion's Tail will get you up to 50 feet per second with the craziest near vertical drop in its first section. It's more than enough for any rider, but in case if you want more this water slide has something special for you.



7. Atlantis, Paradise Island, The Bahamas
This 'bad boy' is called Leap of Faith and its slide offers a 60-foot drop from the top of the iconic Mayan Temple. Riders go through a clear tunnel in a shark filled lagoon. This water slide is a real challenge, hope you won't lose your faith while sliding down it.



8. Città del Mare, Italy
This famous Italian resort has the most unique water slide in all of Europe. People can easily slide into the Mediterranean Sea. Forget about sliding into a pool, this new experience is what you have to try at least once in your lifetime. And it's just another reason to visit Italy.



9. Ho Tay Waterpark, Vietnam
Ho Tay Waterpark has different water slides to beat the heat in its wave pool. This lazy river is too calm and you can simply enjoy your ride. Sometimes this park can be overcrowded, so be careful.



10. Area 47, Innsbruck, Austria
The main feature of this extreme aqua park is the catapult practice known as "blobbing."
Tourists flock to the Area 47 waterpark to enjoy looping slides and impressive high-dive platforms. Area 47 can offer you some of the best outdoor action in Austria



11. Head-first Racer, China
You can water slide alone and enjoy your ride or you can take on your rivals. The Head-First Racer in China has 8 different tubes, so you have all a chance of becoming the best racer.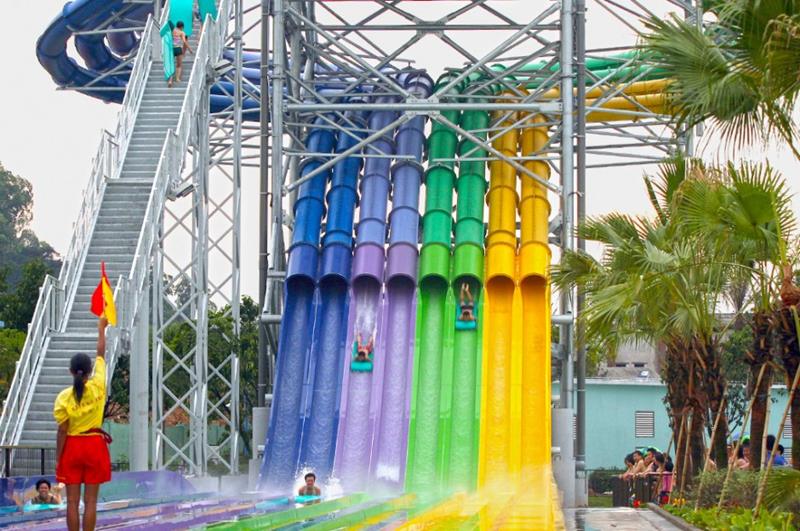 12. Insano, Fortaleza, Brazil
This gargantua is the tallest water slide in the world dating back to 1989. This water slide is 41 m tall and it has a crazy vertical drop. One must be crazy to slide down it. Riders are moving too fast and their speed is up to 105 km per hour.



13. Boeing 747, Oregon
Are you ready to slide through the belly of a real Boeing 747 parked on the roof?
This water park placed at Oregon aviation museum, looks exotic and futuristic at the same time. And this is one of the largest aircrafts ever built.



14. Siam Waterpark in Tenerife, Canary Islands, Spain
One of the most beautiful water parks in the world. Stunning beaches and palm trees surround it. This Thai-themed water park is a must see place in Spain.
This water kingdom has all kinds of water rides from Volcano to Power Of Tower.
All you ever wanted to try in a huge aqua park.



15. The Cyclone – World Waterpark, Canada
A person has to climb down into this capsule, after yanking the floor you are falling through a loop. It's hard to describe the whole action but it looks really funny. If you are planning to spend the weekend in Canada, this water slide is what you mustn't miss.