Animal House is a hilarious 1978 raunchy comedy directed by John Landis, featuring a whole plethora of fantastic comedians, led by the only and only John Belushi. It's all about the wild and crazy Delta Tau Chi fraternity at Faber College. These guys clash with the dean and a rival frat while throwing epic parties and causing mayhem on campus. It's a classic 70s flick full of wild antics, pranks, and efforts to stay in school while having a blast.
Animal House gave a jump start to some big-name Hollywood folks like Kevin Bacon, Karen Allen, and Verna Bloom. Nowadays, it's like a cult classic, so to celebrate the 45th anniversary of Animal House, let's catch up with some of the cast members and see where they are at today.
1. Stephen Furst
Kent "Flounder" Dorfman, a Faber College freshman played by Furst, joins the Delta fraternity thanks to the connections of his older brother and gets hazed by them, but eventually, everyone warms up to him. Stephen Furst used to be a pizza guy in Hollywood, sticking his headshot in every pie box he delivered, which is how he got noticed by Matty Simmons. Furst later appeared in shows like Murder She Wrote and Babylon 5. Sadly, he passed away on June 16, 2017, at the age of 63.
2. Tim Matheson
Matheson, who played the rizz master Otter, was mostly known for his roles in the classic 60s sitcoms like Leave It to Beaver and The Virginian. Animal House was Tim's doorway to more mature roles, and he was pretty good at what he did. He later appeared on The West Wing, which got him not one but two Primetime Emmy nominations. But acting was just the starting step for Matheson. The director's chair was his real calling, and he worked on classic shows like Psych, Lucifer, and even Criminal Minds.
3. Peter Riegert
Peter Riegert, known for playing the always-horny Donald "Boon" Schoenstein, had a solid career in TV and movies, with roles in Local Hero and The Mask, along with appearances in shows like The Good Wife, The Unbreakable Kimmy Schmidt, and of course, The Sopranos. And if you want to catch his work today, you better sign up for Apple TV+ because Riegert is starring in the 2023 drama series Extrapolations.
4. Tom Hulce
Tom Hulce played Pinto, the more reserved freshman who joined Delta and got a crash course in all the crazy frat activities, like partying hard and picking up women. Before Animal House, Hulce did a lot of theater and starred with Anthony Hopkins in a stage play of Equus. Later on, he was in movies like Stranger Than Fiction, The Hunchback of Notre Dame, and Parenthood. Tom Hulce even scored an Academy Award nomination for Amadeus as well as an Emmy for his work in The Heidi Chronicles.
5. John Belushi
John Belushi, the SNL legend, played the wild frat boy nicknamed Bluto. He juggled his SNL career and the movie set during its swift five-week production, but the result was worth it. His fantastic work in Animal House paved the way for a big-screen career, including the iconic comedy The Blues Brothers, where he starred with Dan Aykroyd. Tragically, he left us too soon in 1982 due to a drug overdose, leaving his new fans and family to mourn the loss of one of the greatest SNL stars in history.
6. Kevin Bacon
Kevin Bacon had his first film gig as Omega house pledge Chip Diller, but it took him a few more years to become a huge deal, especially after rocking out in Footloose. After that, all doors were wide open for Kevin, and he smashed his big screen roles in JFK, The River Wild, and Apollo 13. Bacon's got a bunch of awards. He even starred in the 2023 remake of The Toxic Avenger and will keep appearing in big titles for years to come!
7. Karen Allen
Karen Allen played Katy, Boon's girlfriend, who gets fed up with the Delta boys' wild antics and looks for a better man on the side. Karen later appeared in the big title Manhattan, but she became truly famous for portraying Marion Ravenwood in the cult classic Raiders of the Lost Ark, which won her a Saturn Award. She returned to the Indiana Jones series in 2008 and 2023. Did you catch her in that last one?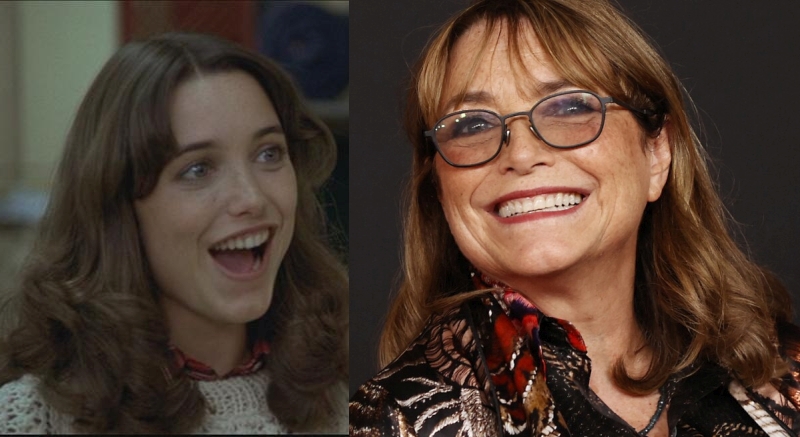 8. Donald Sutherland
Even back then, Donald Sutherland was a big-time Hollywood actor. In Animal House, he was the one who had an affair with Katy. By 1978, he was already a major Hollywood celebrity with roles in iconic shows like The Dirty Dozen and M*A*S*H. In the upcoming decades, he kept adding more and more titles to his filmography, including JFK, Space Cowboys, and The Mechanic. Of course, we have to mention Sutherland as Coriolanus Snow in The Hunger Games, as well as Citizen X, for which he snagged himself a Primetime Emmy. Despite being an 88-year-old frail man, he's still doing his thing. For example, he starred in 2022's Stephen King adaptation, Mr. Harrigan's Phone.