It's no secret that French cinema is famous for its beautiful actresses. Some of them became real etalons of beauty and are extremely popular in the US as well as many other non-European countries.
If you love French movies, you will surely recognize most of these wonderful, talented, and very beautiful actresses. And if you don't, be sure to check out some of their work!
1. Emmanuelle Beart
Emmanuelle did an excellent job with both comedy and drama. Despite the fact that she managed to reach Hollywood (the very first Mission: Impossible, among other things), she is more remembered, of course, for her work in French cinema: 8 Women, Natalie, Hell, and many, many other movies.
2. Eva Gaelle Green
Eva's film debut was in 2003's drama The Dreamers. Green is best known for appearing in the historical drama Kingdom of Heaven as well as playing the Bond girl in the action movie Casino Royale. She has starred in many independent films such as Cracks, The Womb, and Perfect Sense.
3. Audrey Tautou
Audrey is best known for her leading roles in Amelie and The Da Vinci Code. In 1998 she won a young talents competition which earned her first notable film role — in the 1999 movie Venus Beauty Institute. This was a huge win for her, as critics' attention gave her career a big boost.
4. Marion Cotillard
Marion is probably best known for her role in the French action movie Taxi and quickly became a fan-favorite. As a result, she got a Cesar, an Oscar, a Golden Globe, a BAFTA, and even a Cannes prize — all in the same year. After such a successful streak, Marion went straight to Hollywood. Fans may have seen her in movies like Inception, The Dark Knight Rises, and Macbeth.
In 2008, Marion won an Oscar for Life in Pink, where she portrayed the legendary Edith Piaf. She became the second actress in the history of the award, who managed to receive an Oscar for starring in a foreign film. Sophia Loren was the first one.
5. Louise Bourgoin
Since 2008, every Friday night, she has appeared on the TV show Le Grand Journal, where she reviews books. And at the end of each segment, the viewers are treated with a small clip where Louise parodies a character from that day's book. Of course, she also stars in movies, but that's not as fun as "Lu à la télé."
6. Sophie Marceau
Sophie Marceau got into showbiz by accident: one of her friends told her that Claude Pinoto was recruiting teenagers for his new film. As a result, 14-year-old Marceau was chosen for the lead role and became a star almost instantly. The movie Boom was a huge success, so they shot a sequel, for which Sophie received the Cesar award for Best Debut and Most Promising Actress. Not too bad for a young star.
7. Laetitia Casta
At the age of fifteen, Laetitia received an invitation from the Madison Models modeling agency and soon appeared on the cover of the Elle magazine. In 1993 she was the star of the ad campaign for Guess jeans and, at 18, became a leading model for Victoria's Secret, starring in commercials and doing more magazine shoots. In 1999, Laetitia made her first film debut in the hilarious Asterix and Obelix vs. Caesar. After that, Casta has appeared in over 30 movies, TV shows, and music videos.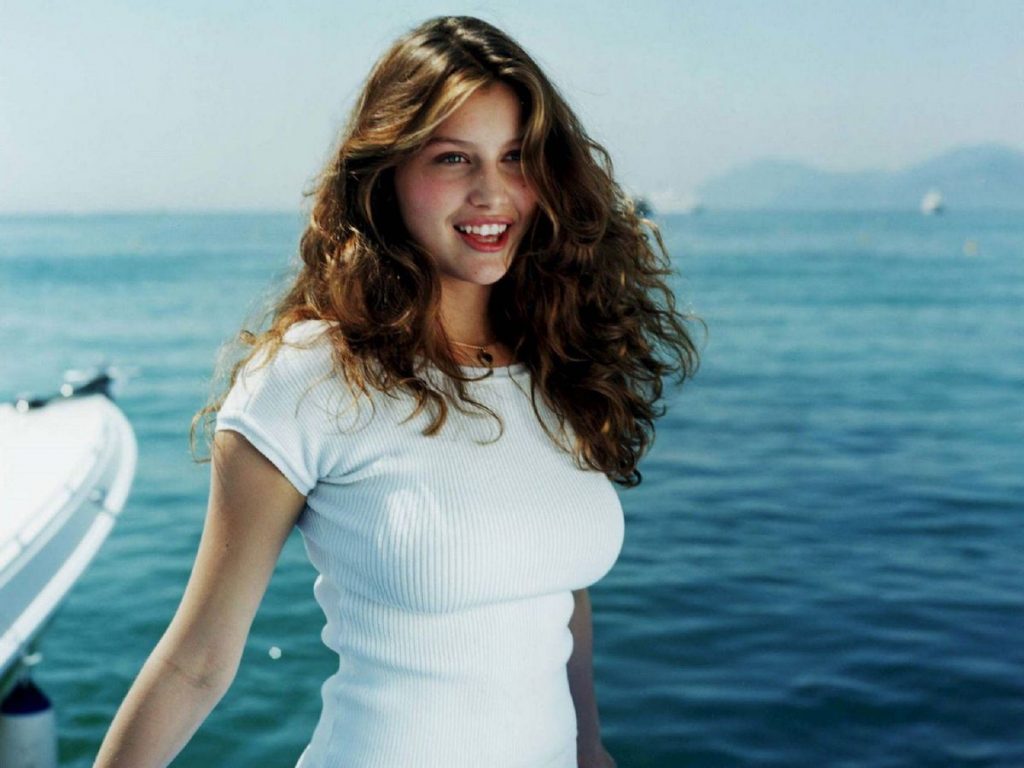 8. Catherine Deneuve
Catherine acquired the star status after appearing in the musical The Umbrellas of Cherbourg in 1964. The following year she starred in the psychological thriller by Roman Polansky Repulsion. Despite getting multiple invitations to Hollywood, Deneuve remained known in the US as the "French perfume lady" for being a star of all those commercials.