Many actors complain about being pigeonholed into playing the same role in all their movies, but these actors seem to be very happy with the type of roles they get hired for! After all—playing a villain is always exciting. You can count on having an evil monologue, a lot of screen time, and a memorable character.
Here are 12 actors and actresses that often get cast to play villains!
Christoph Waltz
Christoph Waltz really took off as the go-to cunning villain after his role in Quentin Tarantino's Inglorious Bastards. He was a truly harrowing character in that movie. He was scary not because he was a Nazi, but because he was simply a person who was really good at his job doing his job to help the Nazis. Since then he's acted in Tarantino's Django Unchained, the Tarzan movie, and was cast as the cardinal in the 2011 remake of The Three Musketeers.
Charlize Theron
Charlize Theron is a brilliant actress. I honestly haven't seen a single move with her where I wasn't absolutely blown away by her acting. Her villainous streak started with her role in the Oscar-winning Monster. Since then she's played the villain in a Fast & Furious franchise installment and the evil itch in Snow White.
Christopher Lee
Christopher Lee is the fantasy-nerd's favorite villain actor. He played Saruman in Lord of the Rings, he played Count Dooku in Star Wars, in addition to his role as Dracula in the 1958 movie and a Bond villain in Man with the Golden Gun!
Javier Bardem
While we're on the subject of Bond, let's talk about how brilliant Javier Bardem was as a Bond villain in Skyfall! Not only was Skyfall a brilliant movie in and of itself (basically a Home Alone for adults!), but the villain was scary too! He was a sociopath and psychopath. He just wanted to cause chaos and see the world burn, without any selfish motives.
But his true most villainous role was in No Country for Old Men, where he depicted Anton Chigurh. Sure, I might be a fan of this role because we share the same first name, but also Anton Chigurh is an all-time Top 10 Best Villains in movies!
Willem Dafoe
Willem Defoe just has a face and acting style that was made for playing villains. In addition to his role in Spider-Man, he also acted as a villain in xXx: State of the Union and the John Wick movie (where he wasn't so much a villain as a scary accomplice/ally to John Wick).
Ralph Fiennes
Unlike the people who appeared on this list before, Ralph Fiennes isn't a "mostly villain" actor. However, for a whole generation of kids he will forever be associated with the way he depicted Voldemort in the latter installments of Harry Potter. In addition to these roles, he also acted as a Nazi in Schindler's List and a hitman in In Bruges.
Marion Cotillard
Marion Cotillard doesn't act as scary villains, but she depicts manipulative and sneaky antiheroes. She played Talia al Ghul in Dark Knight Rises, DiCaprio's dead wife (who wreaked havoc on their entire operation) in Inception, and a manipulative lover in Love Me if You Dare. Her true calling, it seems, is to play the femme fatale in nearly every movie she's in!
Alan Rickman
A truly brilliant actor. His two most famous villainous roles were in Harry Potter, where he played Severus Snape and Die Hard, where he played the terrorist Hans Gruber. His mere presence on screen demands respect. You always know he's up to something, and it's never clear what hand of cards he's playing. He also played a cheating asshole husband in Love, Actually. That's definitely worth mentioning.
Helena Bonham Carter
If Marion Cotillard's calling is playing a femme fatale in any movie she's in, Helena Bonham Carter's calling is playing a chaotic character. Sometimes it's chaotic-neutral (Fight Club), and sometimes it's chaotic evil (Harry Potter and Alice in Wonderland). Whatever her role is, though — she's always playing a chaotic character!
Hugo Weaving
Hugo Weaving gives off much the same vibe as Willem Defoe. He has a face and acting style that's just cut out to play villains. He played Red Skull in The First Avenger, he played the absolutely haunting character of Agent Smith in the Matrix trilogy, and he also acted as Thaddeus Valentine in the recent move Mortal Engines.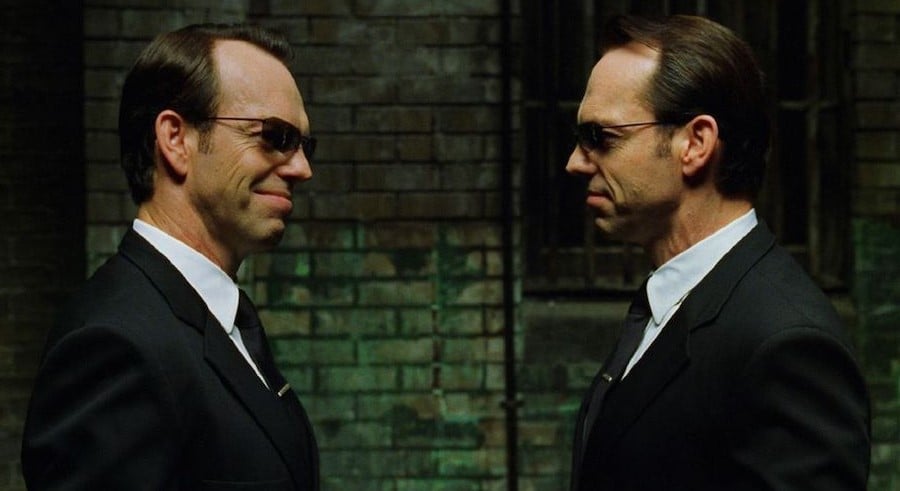 Mads Mikkelsen
Another actor who was destined to play villains. He played a villain in what is (in my opinion) the best James Bond movie of all time (Casino Royale), he played the incredibly creepy and manipulative cannibal, Hannibal, in the eponymous TV show, and he played in the music video to Rihanna's hit song "B**ch Better Have My Money"!
Kevin Spacey
Here's a person who, turns out, is creepy both in real life and in the roles he got cast for in movies. He played the manipulative political mastermind in the House of Cards, the incredible Keyser Soze in Usual Suspects, and the psychopath killer in the David Fincher's movie Seven.