Have you ever watched a kids pageant show? It's as weird as it sounds. Literal toddlers are dressed up to the nines, with massive elaborate hairdos and super over the top makeup looks, and are made to compete in a beauty pageant. Why? For what? Who are the parents who think it's a good idea? Who are the judges and how do they sleep at night breaking all those kids' hearts? And most interestingly, what happens to the kids who compete in these? Do they grow up fine or are they scarred for life? Let's take a look at some famous beauty pageant kids and what their life looks like years after.
1. Alana Thompson a.k.a. Honey Boo-Boo
Who hasn't heard of Honey Boo Boo? I mean that little girl literally went viral. There were so many videos of her and she kind of became a meme. She was this little girl with so much personality, but her whole family was weird. These days, she's not doing any beauty pageant, but that fame led to a whole bunch of reality TV show spinoffs for her entire family and she's still doing them now.
2. MaKenzie Myers
MaKenzie took part in the children's beauty pageant show called Toddlers and Tiaras, you might've heard of it. She has had small roles on a few other shows since. It was quite entertaining. But then she has actually completely quit her beauty pageant career and just enjoyed the rest of her childhood without the added stress. She still keeps up with social media and she did a reunion photoshoot with other kids who were on the beauty pageant, which made it look like she might enjoy a modelling career at some point.
3. Eden Wood
Eden was super popular as a pageant kid and since then she's become an actress and a tv personality thanks to reality TV. She also got the role of Darla in The Little Rascals Save the Day and did a great job on that. She also does some modelling, she walked the runways during fashion week, and she even came back to be a judge on Toddlers and Tiaras.
4. Taralyn Eschberger
Taralyn was such a little princess when it came to beauty pageants in her childhood, but eventually, she just gave it up and instead enjoyed normal childhood things like hanging out with friends and doing sports. She's still enjoying just being a regular teen and she's very much into sports.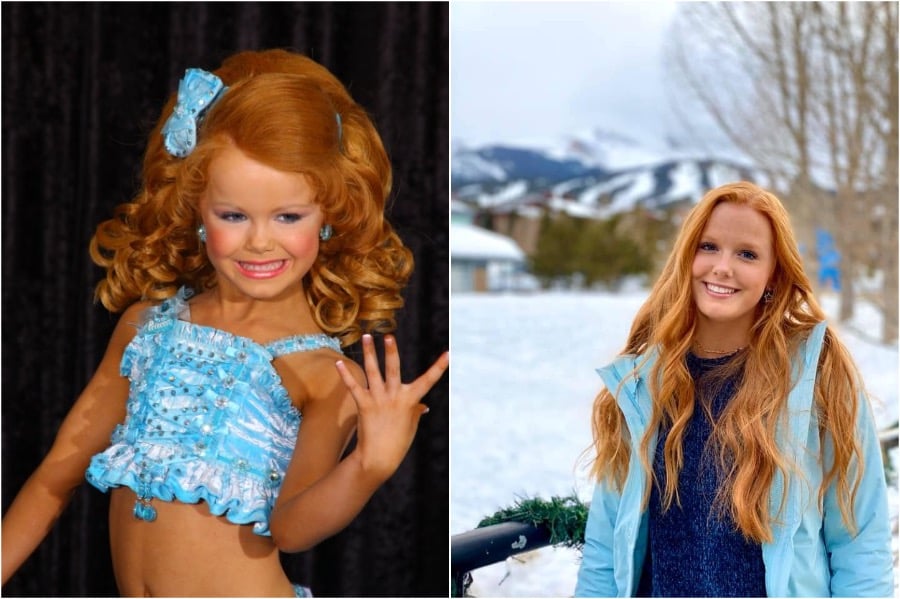 5. Madison Berg
Madison was such a tiny diva during her toddler beauty pageant years, but we hope she grew out of that. But she still continues to take part in pageants, she won Miss Teen Mississippi United and her goal is to win Miss USA at some point. And looking at how beautifully she grew up we think she might have a chance.
6. Alycesaundra & Giavanna ⠀
You might know these two as the tiara twins. Their mother actually has said that she spent over a million dollars on their pageant needs, that's including their outfits, makeup, renting studios with runways to practice the walk, their tour bus and the security. But it looks like her investment paid off cause Alycesaundra has become a very young designer and creates incredible collections to participate in fashion shows, while Giavanna is a successful model and has won Little Miss South Carolina.
7. Isabella Barrett
Isabella has been very successful in her beauty pageant career as a kid. Her net worth skyrocketed to around $2 million before she even became a teen, she had her own clothing line and a jewellery line that was very successful with kids her age too. She truly enjoys her success and has said that there's nothing to no like about being famous. Her parents are also proud of their girl and their plan is to invest the money that she made so that Isabella's wealth would only grow with time.
8. Destiny Christian
Destiny has quite a rollercoaster when it comes to fame and success. On one hand, she became instantly recognizable because her mother dressed her up as Sandy from Grease and gave her a fake cigarette to smoke on stage as she did her routine. Destiny was only 4 at the time. Obviously, the news blew up and there was a lot of talk about how scandalous and inappropriate that was. Destiny has since quit pageants and just enjoyed the rest of her childhood out of the limelight.