Looking for something cute? Look no further! These two twins, who are just 11 years old, are adorable and they do cosplay for some of the coolest pop-culture characters of the 21st century. The twins' parents are extremely supportive of their hobbies and spend hours creating costumes, doing the kids' makeup, and taking stunning photos of them in cosplay. And while sometimes their cosplay is just a great costume and a mask (still incredibly adorable!), the cosplay involving makeup is absolutely stunning. These cute twins make for an absolutely adorable (and yet extremely terrifying) set of Weeping Angels from Doctor Who!
They have been at it since they were 3, and the years of practice certainly show in these 10 pictures!
Sisters of Plenitude (Doctor Who)
This picture goes first because I love cats, I love Doctor Who, and I love cosplay that involves great makeup. These are the Sisters of Plenitude from an episode in the Tenant run of Doctor Who. They are doctors. And they are helpful and adorable, just like these cosplaying twins!

Weeping Angels (doctor who)
While we're in the subject, here are the twins in cosplay of the Weeping Angels from Doctor Who. Of all the monsters ever created for Doctor Who, these are, hands down, the most terrifying and memorable. I can't walk past a statue of an angel without staring at it, and I know for sure that if I was passing these cosplaying twins at a ComicCon I would not allow myself to blink. And that's 50% due to my fear and 50% due to how absolutely stunning the costume and makeup are in this cosplay.

Chihiro Ogino
This is some classic anime and, in my opinion, also a cosplay that should go down in history as the "Most Attention to Detail Cosplay of Our Generation". I mean, first of all, the costume is spot on. Secondly, the emotions displayed are just as in the anime. Awesome!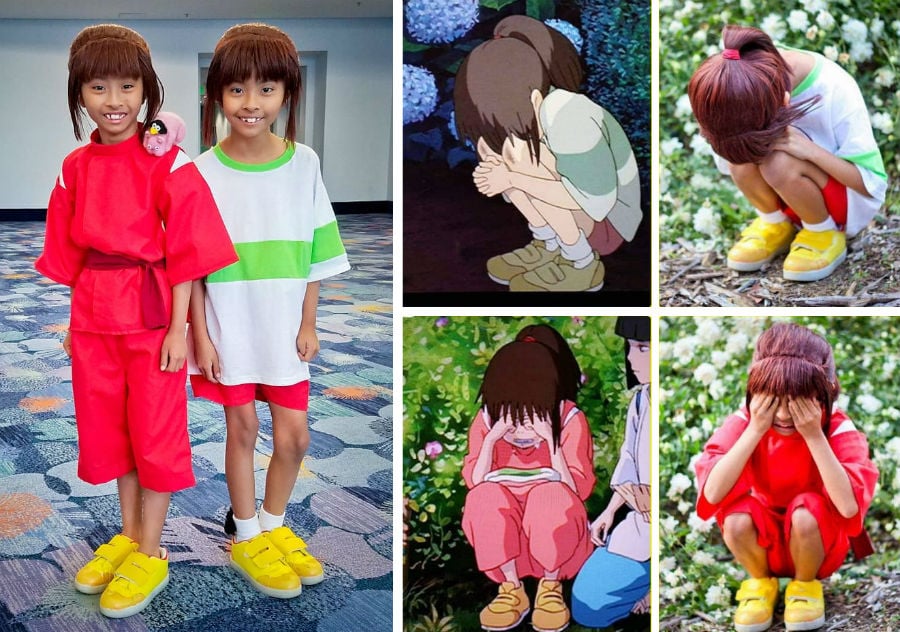 Yubaba and Zeniba
It's hilarious to think that two 11-year-old twins are cosplaying as ancient grandma twins. The costumes looks amazing, and knowing who's behind the mask makes it adorable. I'm sure their parents spent days making these masks. The dresses are great as well!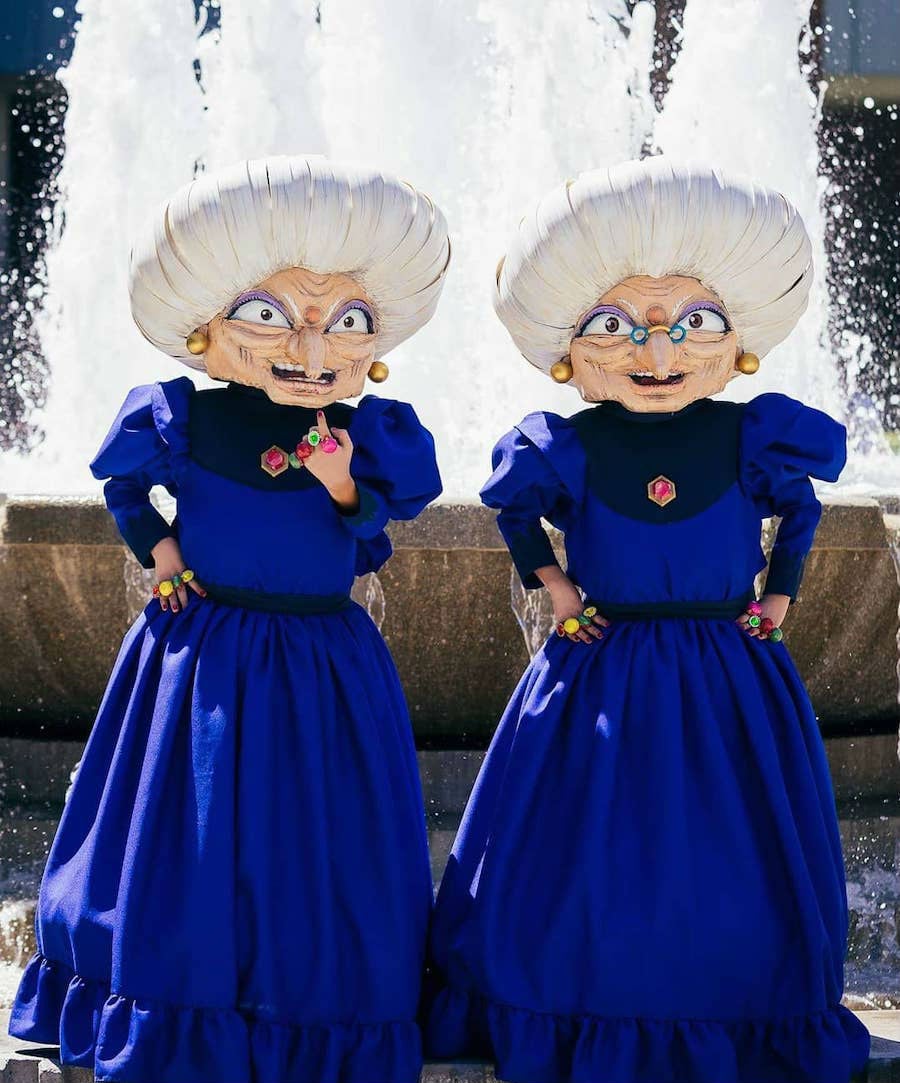 Kubo and the Two Strings
Ah, Kubo and the Two Strings, an instant classic. The amount of work that went into making this cartoon is mind blowing. If you have the time, look at some of the behind-the-scenes of how it got made. Every frame of the movie had to be perfected and animated. I'm sure just as much work went into making these costumes, too! It's almost as if the cosplay has surpassed the original in how cool it looks!

The twins (Peculiar Children)
I can't say much about this except how much I admire the attention to detail. They got the textures of the costume just right, the pose is perfect, and the little teddies are a nice touch as well!

Titans
I feel like this particular anime might be a little too gruesome for the twins (considering their age), but that shouldn't stop them from stunting with this amazing cosplay! Also, props to whoever did the photoshop in this particular image to make the background look this cool.

The Shining twins
A classic cosplay for absolutely anyone who has a twin sibling. Heck, I've even say dudes put on dresses, add some creepy makeup and wigs, and dress up as The Shining twins for Halloween. Needless to say, these 11 year old twins do the iconic image justice and look much more like the original.

Elsa and Anna (Frozen)
Frozen took the world by (snow) storm! It makes sense that these twins would cosplay as Elsa and Anna. And they do a stunning job. I wonder if they're going to say no to cosplay one day and #LetItGo.

Mystique
Oh man, now this truly is the best cosplay idea for these twins! Mystique's power is to transform to look like any other person, and here we have two Mystiques! I mean, technically, these twins could show up to any costume party and say that they are cosplaying as Mystique Who has transformed to look like their twin sister. Move out of the way Jennifer Lawrence, we have two new Mystiques ready to snatch the role away from you!