Men might have a gazillion of t-shirts for the summer, many pairs of cool sneakers and the same ripped pair of jeans they wear year-round. But for some reason, they rarely think of buying themselves a couple of staples for the colder months, so they usually end up in hoodies and puffer jackets in the winter. It's time to stop and think of a few simple essentials that will bring a men's winter wardrobe from basic to stylish. Here are the things you'll need.
1. Pea Coat
A pea coat is an absolute must for a man. It's the perfect thing to wear when it's cold outside but you still want to look smart and classy. It goes well with formalwear if you're going somewhere fancy, but it also can make a casual outfit of jeans and a jumper way more stylish and put together.
2. Leather Jacket
Alternatively, if you want to look cool AF and hot as hell a leather jacket is the way to go. You can wear it with absolutely anything and it'll look good. Wear a t-shirt under it for that "I might be in a rock band" look. When it gets colder wear a hoodie under it to be warmer. Even if you wear a nice button-down or a roll-neck jumper with it, the leather jacket will give you a bit of an edge.
3. Black Jeans
Black jeans should be a staple in anyone's closet, but it's especially important for the winter. They just go better with winter clothes. You don't want to be out and about in blue summer jeans when it's snowing. Just invest in a good pair of black jeans and they'll last you a while, not to mention they go with everything.
4. Cable Knit Sweater
Hoodies are nice and all, but there comes a point in life where you have to consider something a bit smarter and classier than just a hoodie. A cable knit sweater is a classic for winter. It looks good, it keeps you warm and it'll make you look more grown-up and put together.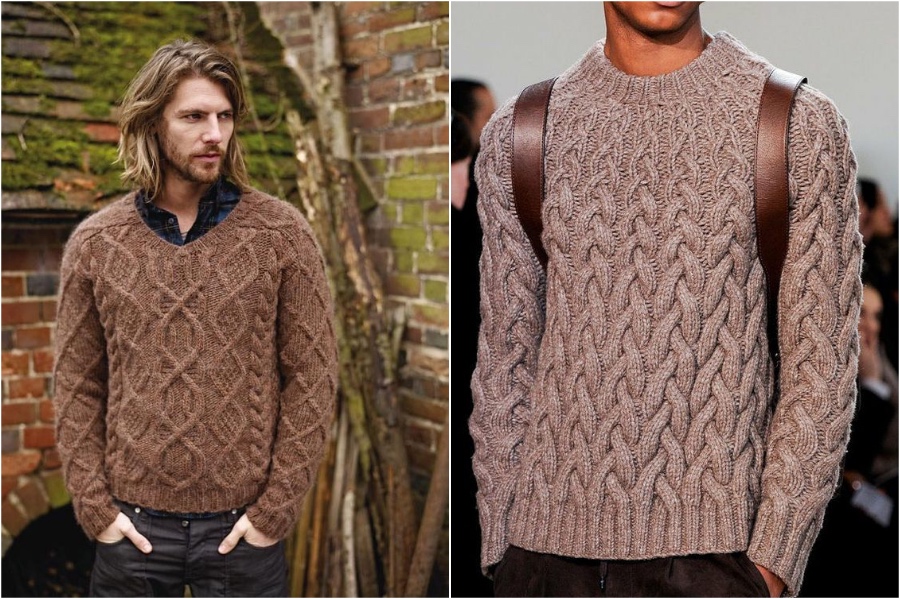 5. Scarf
Lots of men forget about scarves, they just never think to get one. Somehow they think about coats and hats, but scarves just aren't something they think of, as if their neck doesn't get cold in the winter. There's nothing more ridiculous than men trying to bury into their coat like a turtle when it's windy and freezing cold outside. So buy yourself a nice warm scarf, as a side benefit it might make you look a bit French in the process, and who doesn't like that?
6. Boots
The amount of men that wear sneakers in the winter months is astounding. Why do you do that? When there's plenty of beautiful boots available in an array of styles that will provide you with warmth and comfort and make you look incredibly stylish in the process. Chelsea boots are a solid choice that will go with everything, but you can always go for something more like a military-style boot if you want an edgier look.
7. Wool Socks
A detail not many men think of, but one that makes a huge difference. Wool socks provide much more warmth than cotton ones do. They also are much better at absorbing any moisture. They're an absolute must with a nice pair of leather boots.
8. Wool Coat
A nice long wool coat will not only provide you with much-needed warmth in the winter, but it'll also make you swoon-worthy in the eyes of the ladies. Go for a classy camel one to contrast the dark clothes most people wear in the winter or get a dark navy or charcoal one for that "cool guy with swooshy coat" look.