A watch is not just a piece of jewelry that helps you tell time, it's also a great way to brag about how rich you are without saying even a single word. Just flash your piece in front of your victim and watch their eyes fly out of their orbits! That is, of course, if your watch is hugely expensive. Because, trust me, you won't win any impression points by rocking a $5 Montana. Compared to the 10 watches you're about to see, even a $1000 Apple Watch feels like chump change.
Here are the 10 most expensive watches in the world! Try to memorize their design, because you never know what you'll find on the beach.
1. Breguet Antique Number 2667 – $4.5 Million
If you happen to have $4.5 million laying around, this bad boy can be yours! Great vintage design combined with luxurious 18k yellow gold case makes this watch a real steal!

2. Louis Monet Meteoris – $4.6 Million
In the whole wide world there are only 4 of these exquisite watches. This, combined with a moon rock inside each of them, makes the price somewhat more bearable.



3. Hublot Big Bang – $5 Million
Diamonds! Diamonds everywhere! For a measly $5 mil you can get the Hublot Big Bang watch, encrusted with 1280 diamonds. My point is, it's got rocks for days!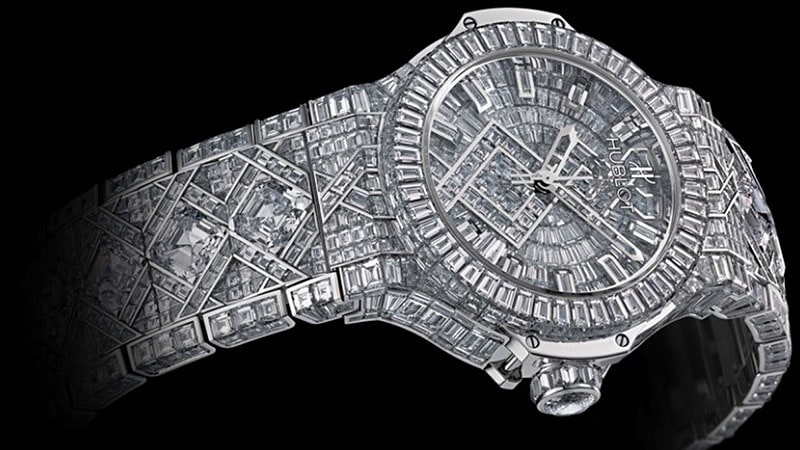 4. Patek Philippe Ref. 1518 in Stainless Steel – $11 Million
At first glance, this stylish watch looks no different from something you can buy in a good store, so where does the $11 mil price tag come in? Turns out it's a limited edition watch and its casing is one-of-a-kind – stainless steel instead of yellow or rose gold. … wait, what? They charge more for a stainless steel casing? That's not right.