Meet Michelle Liu, a 21-year-old travel Instagrammer who's sick and tired of 'perfect' social media photos that take all the fun from both travel and taking pictures with friends. It seems that nowadays everyone wants to make their photos as pretty as possible, often forgetting that the experience itself is more important than any picture (unless you're a professional photographer, but that's another story). Taking silly photos is one way of making fun of all those people trying to keep their social feeds picture perfect (when, let's admit it, life isn't all that polished at all). That's why Michelle came up with 'chinfies' – angle-high photos that look both incredibly ridiculous and cute at the same time.
Budapest, Hungary
The participants of this photo will definitely remember this moment for a long time. It's beyond hilarious!

Beijing, China
We don't think anyone has ever taken such a picture in front of Mao Zedong.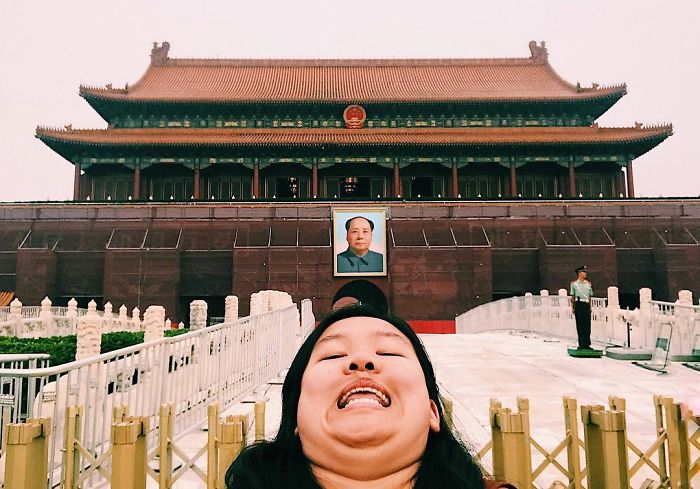 Germany
Now that's a picture that's worth a thousand words!



Prague, Czech Republic
Prague is one of the most romantic cities in Europe and there are different types of photos you can take there, but this? No one has ever done it like this before!

It's probably one of the happiest 'chinfies' we've seen so far. Can you make a funny face while still smiling? Obviously, you can!

Kaisermühlen, Austria
We believe the swan is not amused. But we most definitely are!



Revere Beach, US
We don't know what's more spectacular in this photo – the incredible ship in the background or the hilarious face made by Michelle.

US
Long gone are the days when people made such photos by mistake. Now they make them on purpose!

Brooklyn, New York City, US
The Brooklyn Bridge has seen a lot of faces, but none of them looked like this!



If you want to make your friends, family, or restaurant staff laugh like crazy – just pose for a 'chinfie' together!

Kraków, Poland
It doesn't matter whether you're in America or in Europe, you can make a 'chinfie' anywhere you want.



Newbury, Massachusetts, US
We believe this could easily become a stock photo!

Times Square, New York City, US
We've all seen photos of Times Square, but with a face like this? It's got to be the first one ever.

The Metropolitan Museum Of Art, New York, US
Even bad weather won't stop this girl from chinning!



Prague, Czech Republic
The word 'selfies' in the background kind of hints that it's the perfect place to make one. And so she did!

London, UK
A 'chinfie' with a flight attendant? Piece of cake!