Meet Michelle Liu, a 21-year-old travel Instagrammer who's sick and tired of 'perfect' social media photos that take all the fun from both travel and taking pictures with friends. It seems that nowadays everyone wants to make their photos as pretty as possible, often forgetting that the experience itself is more important than any picture (unless you're a professional photographer, but that's another story). Taking silly photos is one way of making fun of all those people trying to keep their social feeds picture perfect (when, let's admit it, life isn't all that polished at all). That's why Michelle came up with 'chinfies' – angle-high photos that look both incredibly ridiculous and cute at the same time.
Budapest, Hungary
The participants of this photo will definitely remember this moment for a long time. It's beyond hilarious!

Beijing, China
We don't think anyone has ever taken such a picture in front of Mao Zedong.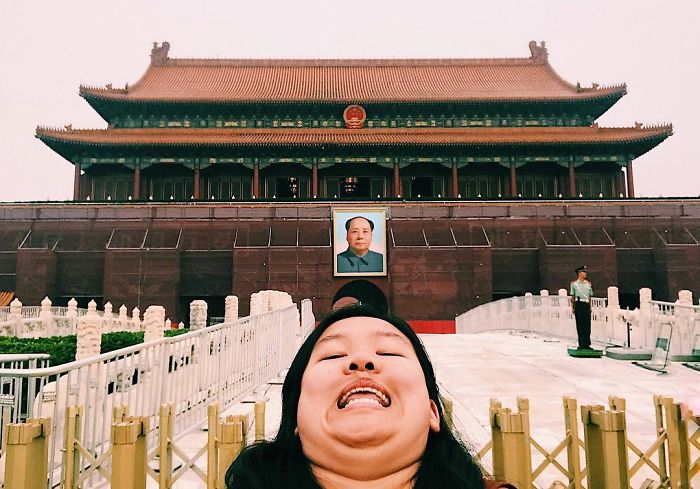 Germany
Now that's a picture that's worth a thousand words!



Prague, Czech Republic
Prague is one of the most romantic cities in Europe and there are different types of photos you can take there, but this? No one has ever done it like this before!

It's probably one of the happiest 'chinfies' we've seen so far. Can you make a funny face while still smiling? Obviously, you can!

Kaisermühlen, Austria
We believe the swan is not amused. But we most definitely are!