We do this weird ritual every Christmas. Millions of people, even celebrities, all over the world will start (or have already started) wearing their special holiday attire – the ugly Christmas sweaters. Oh what joy indeed! Who doesn't like that warm and fuzzy feeling when you notice someone staring at your X-mas swag, because you've cut out a Christmas-tree-shaped hole in your sweater? Yeah, they won't be able to unsee your epic chest hair for a long time now. Mission accomplished!
Anyway, the people you'll see below should either be banned from ever going outside or they're just doing this for fun, in which case they're even worse than those kids who did the Ice Bucket Challenge without knowing what it was for. Either way, Christmas sweaters are an abomination, and should be burnt at the stake. However, after seeing some of these "new gen" sweaters actually mocking their own existence – I say let them live. What do you think? Yay or nay?
Chest-mas tree, anyone? Sorry you had to see this.

Just 3 reindeer having fun, nothing wrong with having some fun.

Best Nutcracker sweater you'll ever see. And you won't see any other Nutcracker sweaters here.

Haven't you ever heard of shrinkage?

Emergency snowman rhinoplasty/junk enlargement operation in one swift scoop!



This one goes out to the Snowgirls

I'm not even going to bother commenting on this one.

Hide you daughters, hide your wives – Santa Claus is coming to town!

Happy birthday! Here's a sweater with your face on it.

Centaur Claus – pretty self-explanatory, right?



Break the internet, Santa!

A perfect present for Siamese twins or a Christmas Cho'Gal cosplay.

No more "Does the carpet match the drapes?" questions from girls. Or any questions, for that matter.

This monstrosity is ready to be sacrificed already! Hail Santa!

Human clones are slowly taking over!



Why would you put a giant sock on your sweater?

Speaking of "why", WHY?

Now it's time to see some stars!
Is that Snoop Dog? If so, I'm not even mad.

Matt Damon wore it best!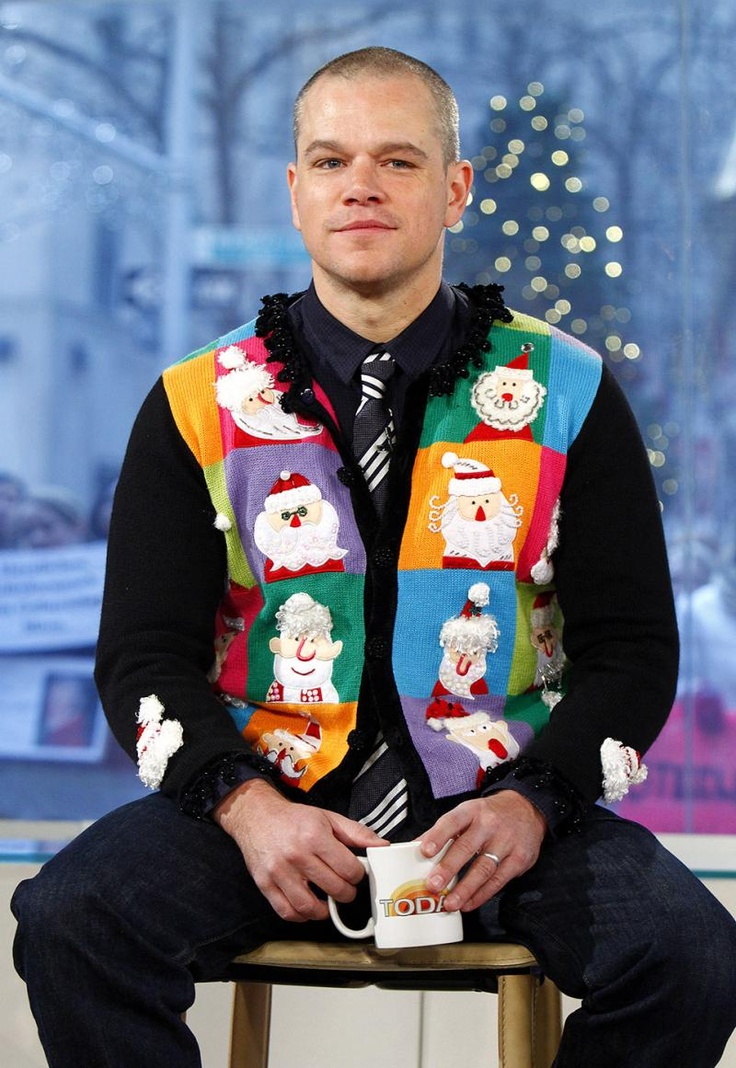 Miley's tacky sweater knows no limits.



At least Bieber's sweater looks half-decent.

I don't know who they are, but they're on TV and they're wearing something really ugly. Especially the
one on the right, geez.

Paparazzi caught Pixie Geldof wearing… you guessed it – an ugly Christmas sweater!

He should've thrown this thing into Mt. Doom when he had a chance.

These two are just oozing the Christmas spirit.



Jimmy Fallon, the guy who bashed video games, and his friends.

Actually Ariana Grande looks kinda sexy in this. Oops, nope, just my imagination.

I heard people like Harry Styles for going into the opposite direction.

Just TSwift. She's probably gonna dump this sweater and write a song about how much she loved it.

Katy Perry hugging Santa and wearing what appears to be a knitted Christmas dress? Yeah, enough
internet for today.