Tinder is a mess. It's full of awful, disgusting men and cat-fishing profiles. However, sometimes you stumble across profiles that are real, true gems! Here are 21 of them!
1. Jesus
This guy's overbearing and a strict father might be the problem, but on the plus side—he can turn water into wine!

2. The Car Karaoke Fergalicious
I can actually totally relate to someone. I mean, it's such a pain in the butt when a GREAT song has TWO vocal lines happening and there's a call-replay segment and you just don't have enough air in your lungs to do both. I, personally, would love a GF with whom I can do Kanye and Jay-Z's Otis together.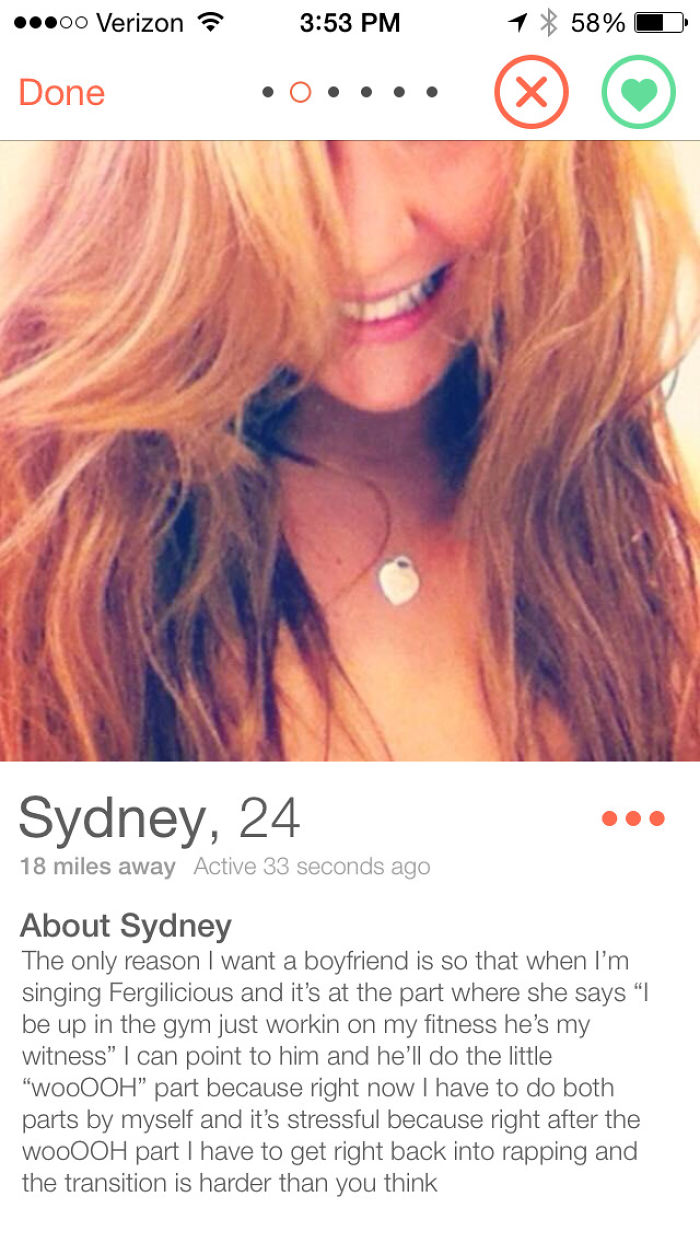 3. The Viking
He will protect you. He will fight for you. He will drink the blood of your enemies to let you know just how much he loves you!

4. The Honest One
I feel like in every single relationship article I write, I mention that honesty is the foundation of solid relationships. This tinder profile is painfully honest and immediately lets you know what to expect from this woman.



5. Uncool dad
It usually takes several dates to get to the topic of children and being a family and being a dad. This guy just gets right to it in his profile, letting you know what kind of dad he's going to be. And that is – supremely uncool.

6. Cat Family
Usually when you start a relationship the next big challenge is meeting the family and learning to live with them. Here, it's a huge cat family! Swipe left if you have cat allergies!

7. The One With All The References
I love a person who can make a good reference to pop-culture, but this person has references like their tinder profile is a job application. So many great people have said that they're a great person that I feel like swiping right is required. You're hired!