India is a land of wonders – you understand that the very second you step out of the airport and into the busy streets of Delhi, filled with honking rikshas, taxis, markets, vibrant clothing shops, aromatic spices, and mouth-watering dishes. So it comes as no surprise that India is also rich in wonders created solely by Mother Nature. No matter how many spectacular buildings we create, her imagination will always be better than ours. From gorgeous Reverse Waterfalls to the primordial nature of the Andaman Sea, we present you 7 natural wonders of India.
Barren Island
Explore the primordial nature of planet Earth as you visit this 1.8-million-years-old island set deep in the Andaman Sea. Known mostly for its dark purple-coloured beaches, Barren Island offers a trip to the times when our planet was like a huge bowl of boiling soup with volcanoes spewing lava and steam rising in swirling spirals to the sky. It is definitely one of the most spine-tingling experiences in India!
Balancing Rock
The state of Tamil Nadu attracts travellers from all over the world with its amazing heritage sites and ancient temples. But while you're exploring those cultural treasures, don't forget to stop by the mysterious balancing rock located in Mahabalipuram. Weighing 250 tons, this huge stone placed itself on a slippery slope at a crazy angle defying the laws of gravity. It has also received a nickname 'Krishna's Butter Ball'.
Reverse Waterfall
Perched deep inside the Western Ghats not far from Pune in the state of Maharashtra, there lies the picturesque Malshej Ghat, home to the popular Sinhagad Fort. While the place is beautiful all year round, it is only during the monsoon season that we get to enjoy the spectacular view of the reverse waterfall that is falling upwards! Yes, another gravity-defying phenomenon that happens due to high pressure created by strong winds. Stand atop the waterfall and get drenched in its upward-falling water!
Yana Rocks
Yana Rocks look like something straight out of a sci-fi movie about ancient alien space ships hiding deep in the jungles of planet Earth. This natural wonder of Karnataka state consists of limestone and has a cave with a temple at the base that hosts a self-manifested Lingam. The formation has two prominent peaks, each bearing its own name – Bhairaveshwara Shikhara and Mohini Shikhara respectively.
Amarnath Cave
Amarnath Cave of the Jammu and Kashmir State is one of those places you need to visit at least once in a lifetime. It houses an ice stalagmite in the form of a Shiva Lingam that is shrinking and expanding according to the phases of the Moon. The place is most sacred to Hindus all over the world as it is believed that here Lord Shiva gave the secret knowledge about the creation of this world to his wife, Goddess Parvati. It's perched on the impressive height of 3,888 meters and is said to be the earthly abode of Lord Shiva.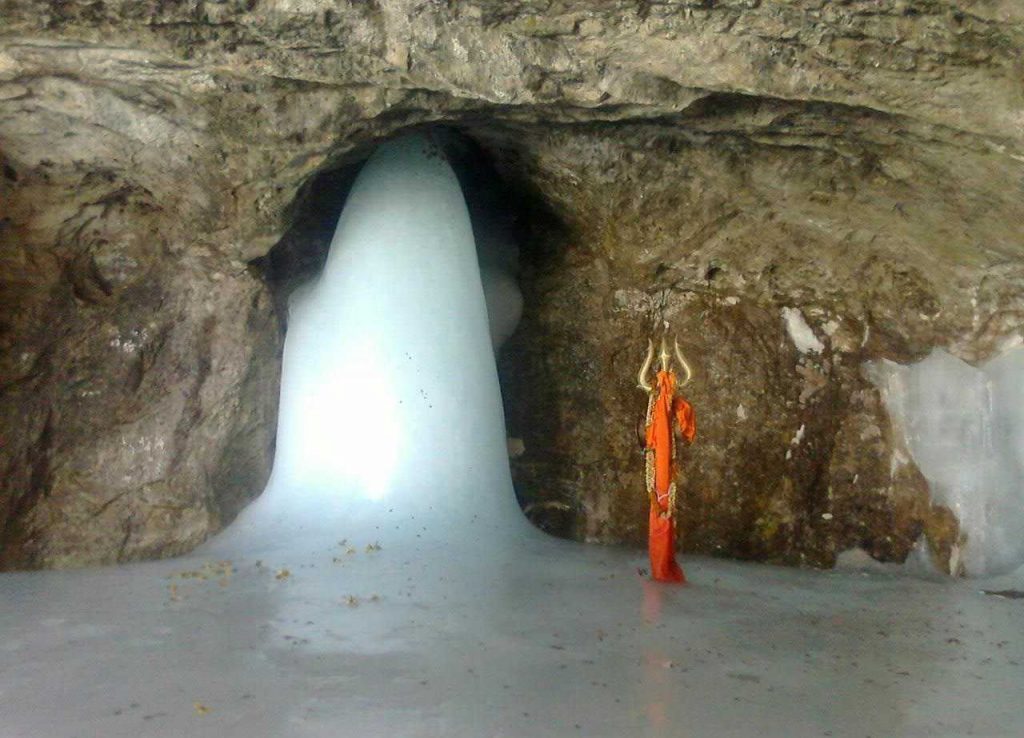 Lonar Lake
Being one of its kind, Lonar Lake is the largest crater lake on Earth that was created some 52,000 years ago, when a meteori hit the Earth, leaving a huge dent that got later filled with water. The jungle took over soon enough, turning a barren whole into a green lake sprawling with life, surrounded by lush vegetation and usual plant species. Not to mention rare micro-organisms that can hardly be found anywhere else on Earth!
The Magnetic Hill
As far as optical illusions go, the Magnetic Hill is one of the most mysterious places on the planet. As you roll along the Leh – Kargil – Srinagar highway in Ladakh, there will be a special spot marked by a white rectangle. Stop there, put your car on neutral gear, and enjoy the mind-blowing feeling of rolling up the hill at a speed of about 20 km/s. Scientists say it is a mere optical illusion, created by the road itself – It seems to be going up, but in fact it's going completely down!