4. Sense8
If I told I could relate to this show and what it is really about, I'd be lying. There are a lot of "uncomfortable" topics being raised in "Sense8", and in such a way that by the end you almost feel like most, if not all, LGBTQ issues could be easily solved by people in both camps not being jerks. But then you realize 90% of the people won't even consider this option and you go back to being sad. So what is this show about? It's about understanding instead of hating, and it does an incredible job without being super preachy like "Supergirl". It also has mind-reading, mind-swapping, and mind-wiping, so you know it's good.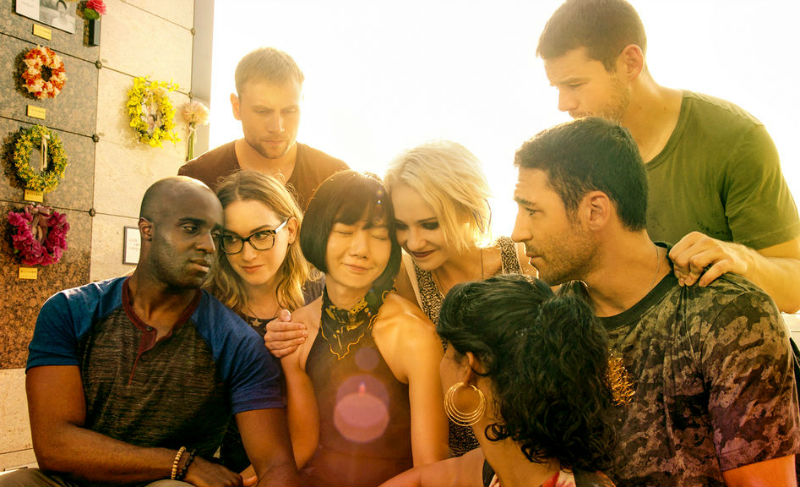 5. Sacred Games
Are you a fan of Saif Ali Khan, Nawazuddin Siddiqui or Radhika Apte? Boy, you're in luck! You'll get to see them all in "Sacred Games" – a glamorous and sometimes gritty story of love, friendship and betrayal, set in the magical city of Mumbai. It's got great reviews so it must be worth your time.
6. Altered Carbon
Speaking of mind-swapping, "Altered Carbon" is probably the best cyberpunk TV show out there. Visually it's a stunning example of how our cyberpunk-ish future should be portrayed. We may never truly understand what it's like to have your mind implanted into someone else's body. A body that used to be someone's son, husband, lover… You see how this can get interesting, right? You'd be able to solve your own murder! Or rather a murder of one of your bodies, that it. Very cool concept, highly recommend.