We've seen a lot of great movies this year, but TV is also staying up-to-date bringing elaborate plot turns, breathtaking drama and loads of cool effects to the screens. Comedies, dramedies, detectives, and sci-fi – this year had it all! Apart from great acting, superb directing and amazing camera work, this year's shows brought us some of the most thrilling moments ever. We couldn't help ourselves and just had to push the 'pause' button to savor the moment! Here's a list of 10 crazy cool TV scenes from various genres that made everyone's eyes go wide.
The Death of Ramsay (GoT)
Ramsay is definitely the next most hated Game of Thrones villain after Joffrey Baratheon. What he did to Sansa and poor Theon (who, despite all his vices, didn't deserve the punishment he got), was truly sadistic and horrifying on so many levels. He even killed Rickon, and you can't kill a Stark and expect to get away with it. And while Ramsay's demise was truly fitting (being eaten by his own killer dogs), the scene that really brought tears of sadistic joy to the eyes of viewers was when Jon Snow came to Winterfell and gave this bastard the beating of a lifetime.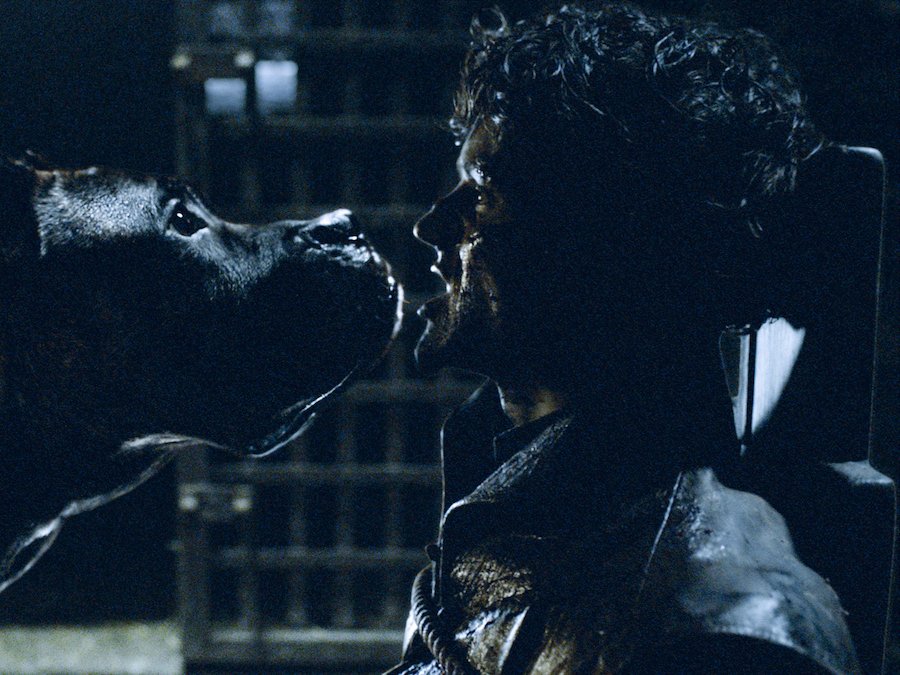 Demogorgon (Stranger Things)
The whole TV show exudes a sense of impending doom and spine-chilling creepiness. So no wonder that the show's number one monster looks utterly, well, monstrous! Although, we can argue whether Demogorgon is the biggest Boogie Man in town with all the creepy scientists going around killing people like it's their day job. Still, you can appreciate the otherworldly eeriness of this people-munching beast. He's one of a kind!



Daryl's 'Death' (The Walking Dead)
Directors of The Walking Dead surely know a thing or two about painstaking cliffhangers and wicked plot twists. The scene with Dwight creeping up on Daryl may not be our favorite, but millions of viewers have certainly spent a considerable amount of time re-playing it over and over again. Dwight fires his gun, we observe lots of blood splatter, ant then the scene ends with a black screen. The next week after the episode was out, fans were biting their nails trying to figure out whether Daryl was alive or not. Of course he wasn't dead, but the thrill of waiting was simply outstanding!

Mulder's Trip (The X-Files)
The New X-Files show has a lot of controversial episodes on its plate, and while some of them are pretty outstanding, others have been deemed unwatchable by thousands of people. Yet this episode, Babylon, showing us the trippy Mulder in search of some whacky truth once again, is somewhere in-between. Many viewers loved the humor and the message of it, while others thought it was the dumbest episode of them all. Whatever the case, it's hard to deny the fact that the freaky scene is fun to watch, even if it was only Chris Carter wanting to create some crazy visuals.



Young Ford – (Westworld)
Westworld isn't flashy when it comes to special effects, but the show has definitely brought some high-quality FX to the table. This brief display of young Ford back in the day, shows off the remarkable craftsmanship of the show's special effects team. We were shown a young, skinny Anthony Hopkins and that's not something you get see every day! Hundreds of people just paused and marveled at this disturbingly good CGI. It was also a great reminder that despite Ford's creations staying the same for decades, he, like all human beings, has to age and hopefully get wiser along the way.

"Hold The Door!" – (GoT )
In terms of plot twists this might have been one of the most jaw-dropping we've seen on TV this year. It was a truly vicious and elegant turn of events, brilliantly thought through by the evil genius of Mr. Martin. It appears that none other than Bran himself has made Hodor what he was – a speechless giant, who, nevertheless, stayed caring and helpful until the very end. He even gave his life to save Bran one last time! It turns out that during one of his trips to the past Bran accidentally got hold of Hodor's body, revealing to him the scenes of the horrifying future. Those visions crippled his mind, but not his heart.



The arrival of the Punisher (Daredevil)
Jon Bernthal has delivered an amazing performance more than once portraying Punisher in the new masterpiece 'Daredevil' by the Marvel Universe. His Frank Castle is a strong example of a powerful (and angry) character that still has some humanity buried deep inside the murderous layers of his dark soul. He's got more than a few iconic moments throughout the second season of the show, but what really made fans ecstatic was the scene when he finally appeared as a fully formed Punisher. He's got his own show now and we hope that it will be just as amazing as his performance on Daredevil.

The Snake Chase (Planet Earth II)
It turned out that real life can be just as thrilling and exciting as fictional shows. While in 2015 the price for the best chase scene went to Mad Max, in 2016 the winner is Planet Earth II. The show has captured an incredibly creepy, yet fascinating scene of snakes chasing a bunch of baby iguanas. It is the most nerve-wracking scene ever! One iguana almost made it to the end, but was still engulfed by a speedy snake. It seemed that hundreds of them were chasing the small lizard! And the best part of it all? One lucky guy did make it alive out of the deadly beach!



Cersei and Wildfire (GoT)
Game of Thrones is all about expecting the unexpected, but even the most seasoned fans weren't prepared to see a catastrophe (or should we rather say murder?) of such breadth and scale. Cersei has really outdone herself this time. It seems that the madness of Westeros' rulers didn't end with the crazy Targaryen slayed by none other than Cersei's brother. When everyone gathered in the Great Sept, including Margaery and High Sparrow, Cersei was quietly sitting in the palace, sipping on wine and waiting for the 'fireworks' to begin. The greatest explosion of them all wiped most of her enemies from the face of the Earth. Yet, her beloved son couldn't bear to see his wife and religious mentor perish in the fire and took his own life.

William and the Man in Black (Westworld)
Westworld has been an exemplary show in terms of elegant plot turns and nail-biting twists. It has created a maze for the viewers, and in the very heart of it we found a mirror, reflecting humanity's vices and fears. The last season of the show has revealed one of the most stunning transformations that have taken millions of viewers by surprise. The timid and loveable William that was so desperately searching for Dolores for weeks, months and maybe years, turned out to be the greatest villain on the show, the creepy and violent Man in Black. Almost nothing gave it away! Apart from the increasingly violent behavior of 'gentle' William who was slowly turning into a monster right in front of our eyes. Well, yeah.