If you've been to Imgur, 9GAG, or whatever site you're using to get your daily laughs, you've probably seen Ryan Reyniolds' tweets pop-up here and there during the past 2 years or so. Before, during, and after his movie "Deadpool" was released. And since you already know who the man is (a goddamn National Treasure, that's who), it won't come as a surprise that he's ridiculously hilarious. And not just as Deadpool, that's a whole different story.
His awesome tweets and Twitter responses have made my day at least 3 times today, so without further ado, let's see those 40 Ryan Reynolds tweets, that prove he's the hero we deserve!
1. What kind of monster would do that to their kid? The BEST kind!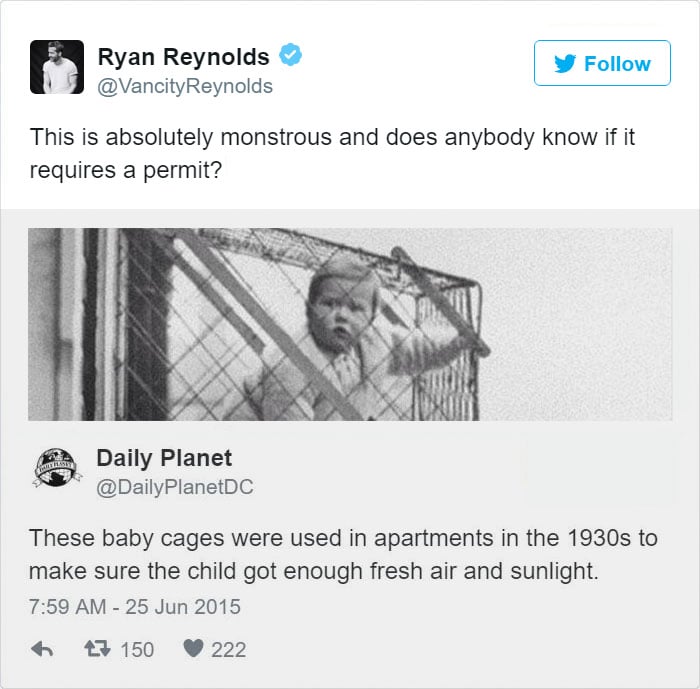 2. Was her name something like Sssandra Sssneakysssnake? … Wow, that was lame, sorry.

3. Too real, Mr. Pool…

4. INB4 someone offers a hand in finding the "it".

5. Costume origin #1: the Slicepool



6. Or realizing they will never understand how old technology works.

7. Sick burn, bro!

8. So… it's a mmmaybe?

9. You heard it right here folks, the SkullPoopL has spoken!

10. What is this, amateur hour on Twitter?