When we think about tattoos we usually imagine some relatively beautiful pictures, symbols, and even portraits. Rarely do we envision something weird and simplistic, looking like a kid's doodle. But you know what? Doodles can be cool as well! A young artist from Brazil couldn't draw a nice picture even if her life depended on it, but instead she creates funny drawings that she later turns into tattoos. She has founded Malfeitona – a special home studio where you can get your very own tatuagens peba ('trash tattoo' in Portuguese). Think no one would like to have a poorly drawn ink on their skin? That's where you're wrong! People love this 'original ink' and leave 5-star reviews on the artist's site. Here are her best (or worst) tattoo designs.
Is it possible to live a 'life without worries' wearing such a tattoo? We certainly hope so!

How about a monster-kitty playing with a ball of yarn? It actually looks cute!

We all used to draw pictures like this when we were kids. Some people just never grow up…and that's a good thing!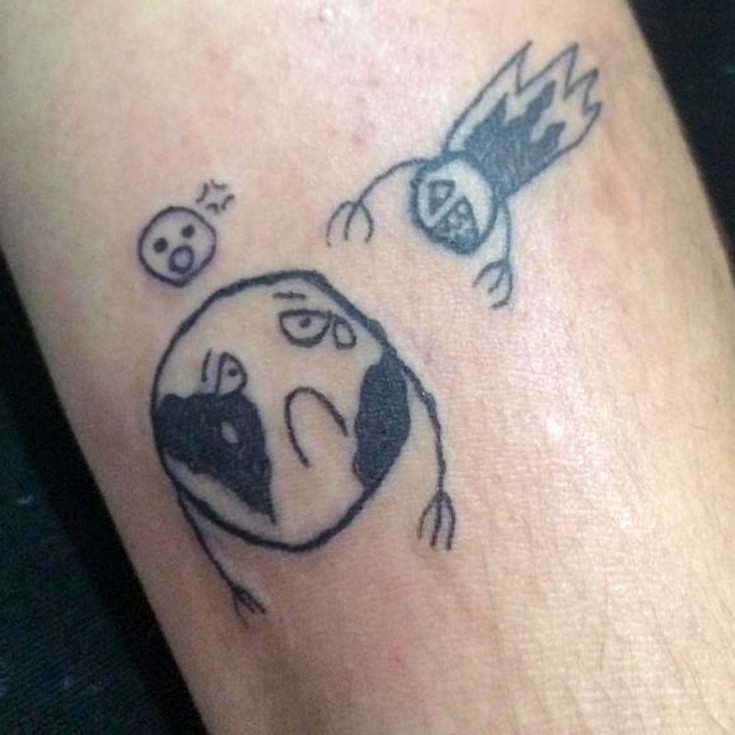 It seems that the artist's motto is 'the worse – the better'. It's hard to say whether this tattoo is actually cute or totally ugly.

When dinosaurs roamed the Earth…

This may very well turn into a new minimalistic tattoo trend with a touch of 'my 4-year-old drew this'. Also, dragons are beyond awesome – any Game of Thrones fan will second that.