Meet Andrea Tamme , a digital artist from Canada, who came up with the most unusual and fascinating idea to take classical works of art and reimagine them using modern pop culture characters from movies and TV shows. Sounds interesting? You bet! We've seen these paintings, we love them, but now it's time to fall in love with them even more. The artist incorporates equally popular modern characters like Sailor Moon and Rick and Morty, mixing old and new in a geeky and unpredictable way.
Rick and Morty – The Scream by Edvard Munch
If you've watched at least a few episodes of Rick and Morty you know just how genius this reimagined work of art is. This would be Morty's expression most of the time! The original was created by Edvard Munch and depicted a fit of anxiety. Very fitting for Rick and Morty!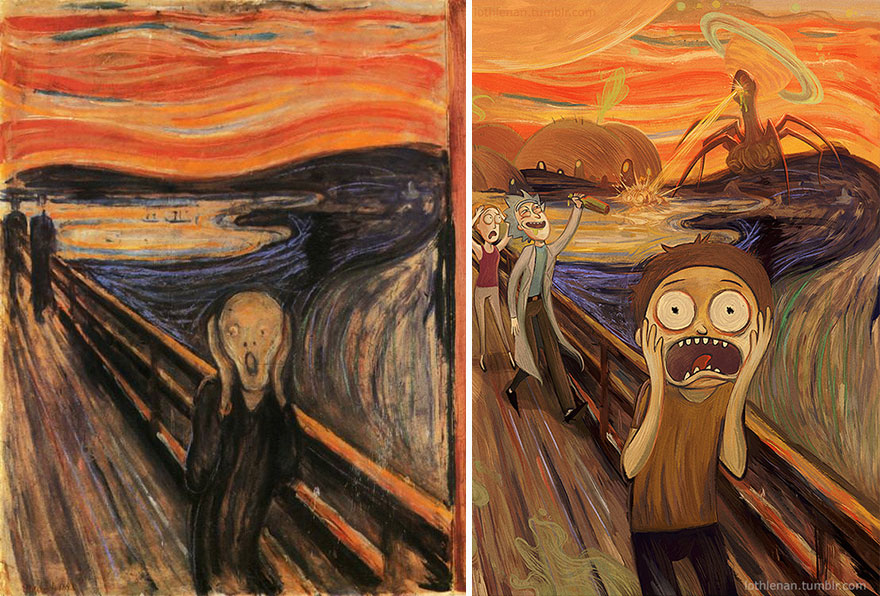 Link and Princess Zelda – The Accolade by Edmund Leighton
Link and Princess Zelda fit perfectly into the subject of chivalry chosen by Edmund Leighton for the original painting from a romantic medieval series. It was the time of knights, damsels in distress, kings, queens, and beautiful gestures. Zelda fans were probably ecstatic!



Chu Totoro – Woman with a Parasol by Claude Monet
The airy atmosphere of Claude Monet's original painting goes incredibly well with light-filled style of Hayao Miyazaki and his cute characters. It's a match made in heaven and we can only applaud Andrea Tamme for this choice!



Neo-Queen Serenity and Small Lady – Self-Portrait With Her Daughter by Elisabeth Louise Vigee Le Brun
A Mother and daughter relationship is one of the most beautiful things in the world. Andrea Tamme took the sweet characters of Sailor Moon to depict the closeness and sweet sentiment that accompanies this kind of relationship. The colour palette is just wonderful!

Tina Belcher – Mona Lisa by Leonardo Da Vinci
Mona Lisa's facial expression has become truly legendary. There is something mysterious about how Leonardo Da Vinci depicted this woman. The subtle use of colour creates spectacular photorealism, while her eyes seem to be brought to life by some unknown force. She looks absolutely alive on the canvas!



The Earl Of Lemongrab And Lady Lemongrabs – Mr. And Mrs. Andrews by Thomas Gainsborough
This is the first work of Andrea Tamme that started the whole series of reimagined classical art pieces. In this one the Earl of Lemongrab and Lady Lemongrabs are depicted in a natural setting Thomas Gainsborough was famous for. This is beyond realistic!



Princess Peach – Girl with a Pearl Earring by Johannes Vermeer
Princess Peach, Mario's famous damsel in distress, is depicted as a Girl with a Pearl Earring created by Johannes Vermeer. In this painting the artist captured the fleeting moment of a girl that was about to say something, turning swiftly in a beautiful lighting. It's a real masterpiece!

Ice King – Portrait of Louis XIV by Hyacinthe Rigaud
What king wouldn't like to have a portrait as royal as this? The Sun King was certainly impressed by the final result when he ordered this piece of art. With beautiful royal regalia and rich colors, it's a portrait definitely worthy of a king!



Howl's Moving Castle – The Kiss by Gustav Klimt
This one is our favorite, because Edmund Leighton's medieval style fits too perfectly with the visual aesthetic of Hayao Miyazaki. The painting is both romantic and incredibly tragic!