Size isn't everything (especially when it comes to art), but sometimes the sheer size of an art installation blows your mind. Here are the world's largest art installations.
Giant Rubber Ducky
This giant rubber ducky was created by Florentijn Hofman, a Dutch artist who has made a name for himself by making playful urban installations. In 2007 his giant, inflatable duck was first blown up and released on the waters of Saint-Nazaire, France. Since then, every time the Rubber Duck is presented somewhere in the world it makes the news. It's 26x20x32 meters!
Sunflower Seeds
This might not be the largest installation in size, but it's certainly the largest when it comes to the number of "components". Ai Weiwei's seminal work is over 100 million ceramic sunflower seeds, each hand crafted and hand painted, spread on an installation that covers over 1000 square meters. The piece symbolises the people of China and encourages people to think about the role of an individual in society at large.
The Leviathan
I mean, with a name like that, of course this art installation is going to be huge. Its highest point is 35m above ground, and the overall area of the piece is over 14 thousand square meters. It's impossible to see the entire thing from any one place, so the work encourages people to walk around and inside it to truly experience it.
The Matter of Time
The writer inside me loves the name of this piece. It's a play on the fact that scientists think "space and time are a material", as well as the phrase "It's only a matter of time".
This piece by Richard Serra is huge, and encourages the audience to go inside. Because it's so tall, you can't see anything around you except the corridor that leads you ever forward (just like linear time does).
The Crack
Here's a dangerous installation! When it was presented at the Tate Modern, several visitors actually injured themselves. The crack in the ground was created in 2007, and was 167 meters long, about 1m deep, and about 25cm wide. The ever-present London Underground announcement of "mind the gap!" Seems very relevant.
The installation was removed one year after it was first opened to the public.
Planet
This giant sculpture is of the artist's (Mark Quinn) 7-month old son. It's made out of bronze (painted white) and highs over 7 tonnes! With the art installation the artist was trying to show, in a physical space, the giant amount of love that a parent feels for their child.
MetaLmorphosis Fountain
This fountain is aptly named for its subject's most famous work of fiction. The fountain of Kafka's head consists of many metal plates. It weighs over 14 tonnes. And the shifting plates only "coalesce" into a proper head shape once every 40 minutes.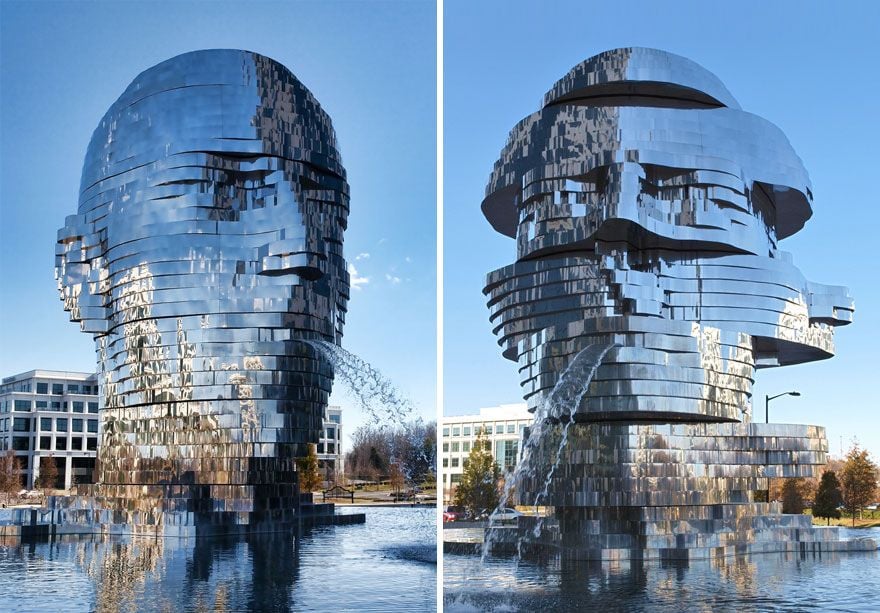 Atomium
This giant sculpture in Brussels symbolises (you guessed it) the dawn of the Atomic Age. It's 102 meters tall and consists of 9 spheres, each of which is 18 meters wide. It was erected in 1958.
Lake of CDs
Bruce Munro is famous for his large art installations. This particular one included over 600,000 CDs that were spread across a like like plastic, reflective water-lillies. After the installation was over, all 600 thousand discs were sent to be recycled.
The Kelpies
These two giant horse heads (each 31.8 meters tall) are the shape-shifting water spirits. The sculptures were designed by Andy Scott and were completed in October of 2013.